When I bought this, I thought of it as the ultimate pen, without any needless jewels, artificial scarcity, or brand name. Later, I came to the realization that for me, an ultimate pen must be piston-filled, but this is very close. Unfortunately, the manufacturers design the pens, not the consumers, but I've found myself liking this pen very much despite the conventional filling system. Mine is the older version of the pen, with a trim ring at the grip and the old, simple nib engraving (which I think looks much better, hence the effort to make sure it was this particular model).
Build Quality: 10/10
Sailor's pens really shine in this category, their pens are top-notch. The trim bands are etched in around the edges to give them more depth in appearance. The clip is its own piece, not a cheap contraption attached to a ring. The body and grip are sealed with an o-ring, just in case. After seeing the attention to detail that Sailor applies to its resin models, I was curious about what they would do with a Sterling silver one. Unfortunately, it is a snap-cap, but it clips on firmly with some metal leaves in the cap. Everything fits together perfectly. The finish is hand-polished, and is smooth enough to be reflective, but also matte enough to not show scratches and fingerprints so clearly. The cap has an imprint saying "sterling silver .925." It came with a nice velvet-lined balsa box, too.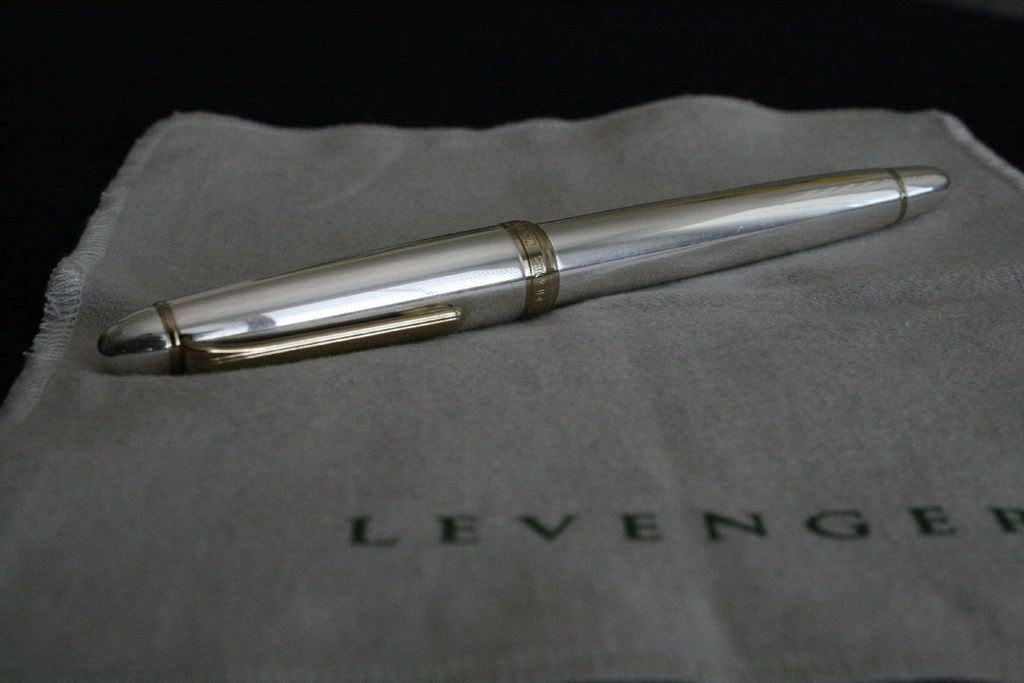 Grip, Balance, and Feel: 10/10
It is a little heavy, being a metal pen. But this is not very noticeable unless you write with it posted, and even in that case, it's still very well-balanced. It does not appear that the cap scratches the body very much when posting, despite the all-metal interior of the cap. The absence of threads is a real plus in this category: the grip is smooth, uninterrupted, and comfortable. It's not an oversized wide grip, but it has a comfortable size.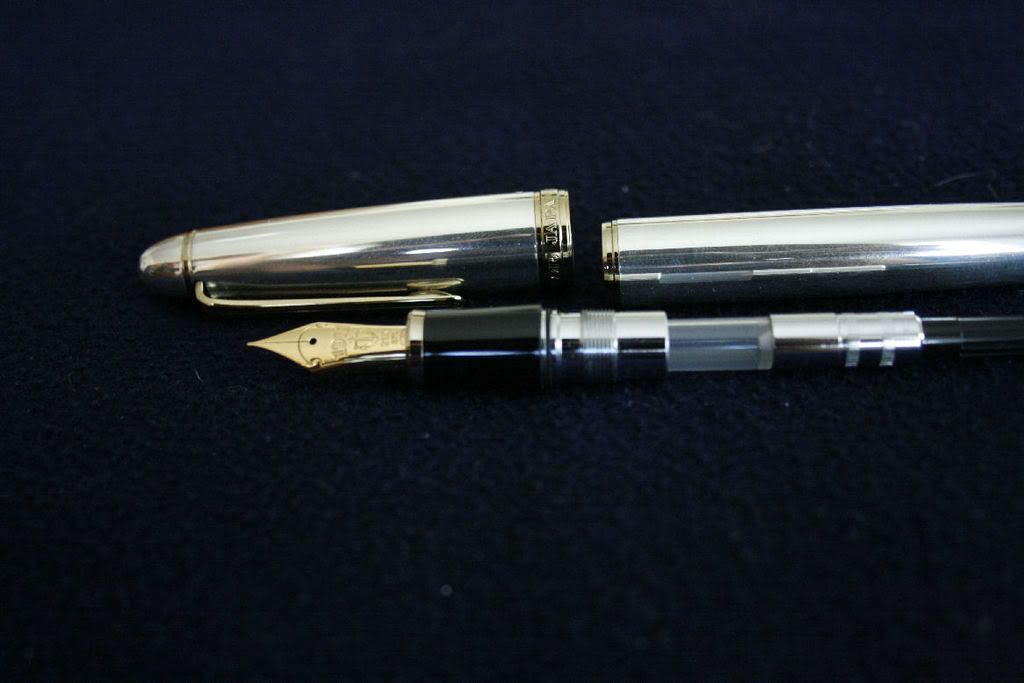 Filling System: 6/10
Cartridge/converter… so boring. But at least it is functional and reliable. Sailor uses a different size of converter, that has a wider mouth to keep the ink flow up. It seems to work well, as I've never had any problems with skipping, and this pen is particularly good about starting up immediately after being uncapped for a while, or left alone for a few days. But that is most likely an attribute to the feed.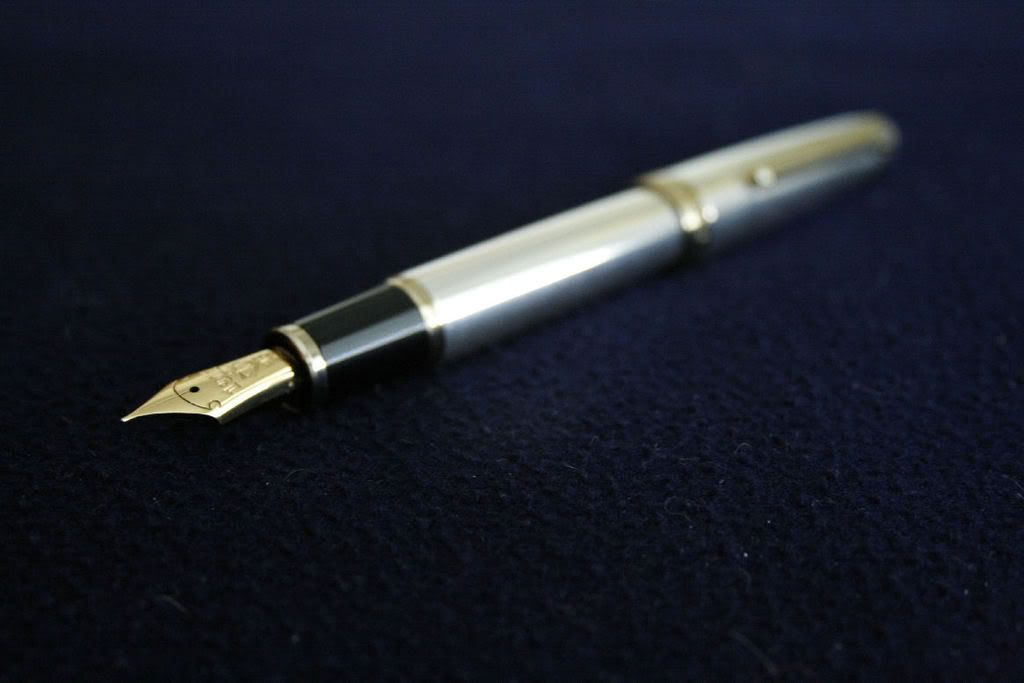 Nib: 10/10
This is my favorite nib in my collection. It is incredibly smooth, with just a tiny bit of feedback to remind you of its presence. I'm not the type who likes tooth, I want my nibs as smooth as they can be, but this is really the perfect feel. It feels expertly-made, not just like a crude hunk of machined iridium, like so many others do. This nib feels personal, which it is true, as all Sailor nibs are handmade and hand-tested. The company has really done a stellar job with this: Montblanc is the only other company who makes their own nibs of which I have a pen from, and it does not come close to paralleling this masterpiece of craftsmanship. The lines the Sailor nib makes are wet, clear, and dark, but also precise and even. Many pens make lines with fuzzy edges, but not so with the Sailor. This large-sized nib (Within Sailor's lineup, that is. Larger than the 1911m) is 21k gold, the highest karat value I know of in any modern pen. This does not translate into a better writing feel, but it is a nice touch. There is very little flexibility to this nib, and only if you press rather hard. It is not meant for ornate writing, but it does make regular writing a more pleasurable experience than I could expect to experienced elsewhere. The size I got is the Medium-Fine, a size unique to Sailor. It is approximately the size of a western fine, perhaps a little larger. This size has proved for me to be the perfect size for any occasion: bold enough to be noticed, but fine enough for most small writing. The thinner size of the nib also makes its smoothness all the more remarkable. I can honestly say that I have encountered no match for this nib.
Value: 10/10
These seem to be discontinued now, but they are still easy to find. They run for about $300, I got mine for that much from Swisher Pens. For a Sterling Silver pen with an amazing nib and executive build quality, I would consider this a good value.