This review has been a long time in coming. Hopefully the photos will be better than my previous efforts, though they still will not measure up to most others here. Also, I forgot to turn the date stamp off on the camera, so some photos will have the date in them - sorry about that. Without further rambling, here's the World-Lux Stipula Duetto LE #037/050:
World-Lux's photo of my Amethyst Duetto LE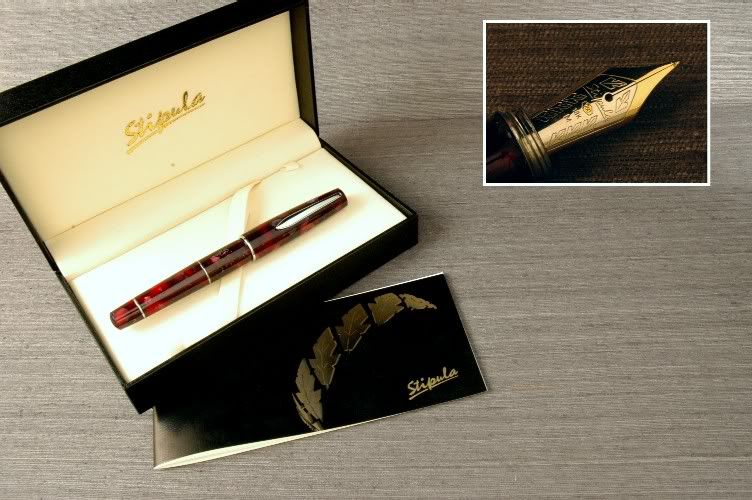 Background and Overall Design
Stipula was a brand I had never even heard of until a certain devout proselytizer of theirs kept mentioning them over and over and over and over
. . . I then began to take notice of some of their pens that I saw at various places and the Duetto caught my eye quickly with its daring Italian lines and wonderful celluloid-like material. No doubt all of the Stipula proselytizing was subliminally at work as well! Once funds were saved up to get one, the hunt was on!
When the hunt began, I was seeking an Pacific Blue one, but always just seemed to miss on the Green Board. Then one day while browsing the 'bay, I saw one, but it was different . . .
very
different. World-Lux was unloading the last of their Duetto LE pens that were is a dazzling material they called amethyst (but it's not purple like the stone, so I'm a bit confused on their choice of names, but . . .). It was even more alluring than the regular Cellocride material. I went after the one they listed and missed it – sniped out from under me by $3! I was saddened, but two weeks later I noticed another one on Ebay (at the time I didn't know there was another one left and I wasn't paying the regular $275 for it!). I managed to win this one, and now the waiting game began.
About a week later, a DHL package arrived from World-Lux. Tearing into the shipping package, I quickly found the Stipula box and opened it. There was the black leather (genuine or faux I do not know) Stipula pen case. I opened it and . . . there it was, just glistening in the light. The material chosen for this LE is truly spectacular. I just stared at the pen for a few moments. I took in the easily recognizable Stipula clip (spring loaded and easily accommodating most pockets). I also noted the barrel engraving: "World-Lux, 037-050, Stipula, Made in Italy."
Enough gawking - time to ink this puppy. I picked it up and — ooohhhh, enjoy the tactile sensations of Cellocride for a moment — then unscrew the cap. Very cool – the threads of the cap are on the end of the section right at the nib, so no chance of gripping the threads! The all resin section on the Duetto is a pure delight. Combined with the threads on the end of the section, it allows flexibility of grip for all but the very lowest "nib grippers." If you do grip
right
above the nib, this pen probably isn't for you as the intersection of the section with the threaded metal insert is rather sharp and would make an uncomfortable grip surface.
Next, I unscrew the barrel (the joint is actually midway up the barrel and not just above the nib) and . . . NO CONVERTER!!!! A quick double-check of the box reveals the same – NO CONVERTER!
Disappointment sets in – no writing with my new Stip today (just can't handle carts). I grab the phone and call World-Lux. No problem – they're shipping a Stipula converter out today. While I'm thinking about it, I remember Wim mentioning that Stip converters have sticky ink syndrome, so I order a Pelikan converter while I'm at it, along with some ink (just to make myself feel better).
The next day the Stip converter arrives via DHL – all the way from Seattle, WA to eastern NC in a day! Talk about service! I decide to ink it up with Waterman Purple for the first converter full just for fun. But of course, a special pen needs a special ink, so while I used up the first converter, I mixed up an ink to match a particularly nice portion of the Cellocride material. As a bonus, it's made from two of Noodlers eternal/contract inks, so it's permanent, but more on this later.
For what it's worth, here is Stipula's description of the regular Duetto from their website:
'The structures captured in Cellocride regale the finished fountain pen with singularly brilliant chromatic variations. Along the striations, the color shades off gradually to create luminous, intense chiaroscuro contrasts similar to the crystalline effects we see in fluids. Each Duetto pen is fully hand-crafted and thus each is different from any other, unrepeatable, and numbered individually.
'Duetto', a pas de deux that recalls the implicit advantage of the twosome, that creates a perpetual bond between yesterday and today, that gives life and form to a synthesis of contemporary taste and the excellence of times past.
The Duetto is available in six colors: Montalcino Red, Cognac, Pacific Blue, Seaweed Green, Arctic and Limoncello. Clip and rings in Duetto collection are chromium finished."
Rating: 5/5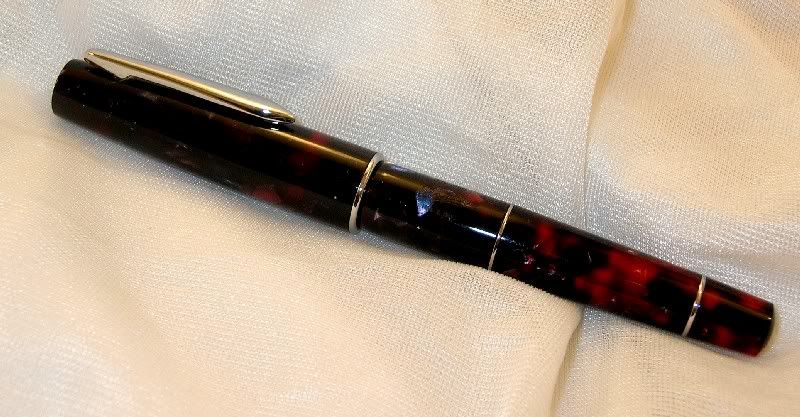 Size & Weight
The Duetto is a nice sized pen. It's not small, but it's not huge either. It's just a little bit smaller than a Visconti Van Gogh Maxi – about the same size as a Signum Orione. The dimensions and the comparison photo probably help more than my feeble attempts, so I'll move on.
Uncapped, the pen feels very light in the hand. The Cellocride has a nice, warm feel to it. You definitely enjoy the tactile sensations with this material. Posted (my preference) or unposted, this pen has excellent balance. It just begs to write!
Dimensions on the Duetto LE are:
Pen length capped = 140 mm, uncapped = 126 mm, posted = 160 mm, grip = 26.5 mm,
Pen barrel diameter max = 13.6 mm, grip = tapered from 13.4 to 10.1 mm
Rating: 5/5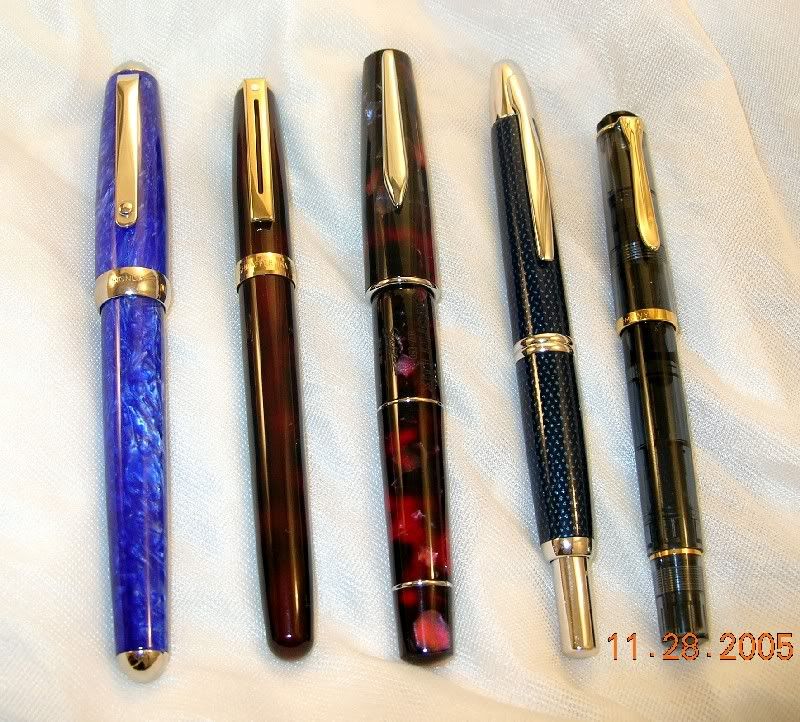 Left to right: Signum Orione, Sheaffer Prelude, Stipula Duetto LE, Namiki VP, Pelikan M200
Filling Mechanism
It's a cartridge converter filler, so nothing spectacular here. The only twist is where the Duetto barrel unscrews, which does give you more to grasp when refilling.
On the down side, there has been some reports of ink getting in between the barrel and the metal insert that holds the nib. This is visible provided the ink is dark enough because of the translucency of the standard colors. How the LE will do – who knows! The material is darker, so it's not as likely to show up, but I'm not going to try to find out.
In addition, there is the reported sticky ink syndrome with their converters. To date I have not experienced this, but a Pelikan converter is standing by should it be a problem. Nonetheless, this really should not happen given all of the converter designs out there. Stipula should fix this problem – and perhaps they already have.
Rating: 3/5
Fit & Finish
Stipula did an excellent job on this pen. The trim rings and clip are perfect, but the highlight is the finish on the Cellocride. The depth, sheen, and color variations are spectacular. Pictures – especially my shoddy efforts – truly cannot capture this pen.
Rating: 5/5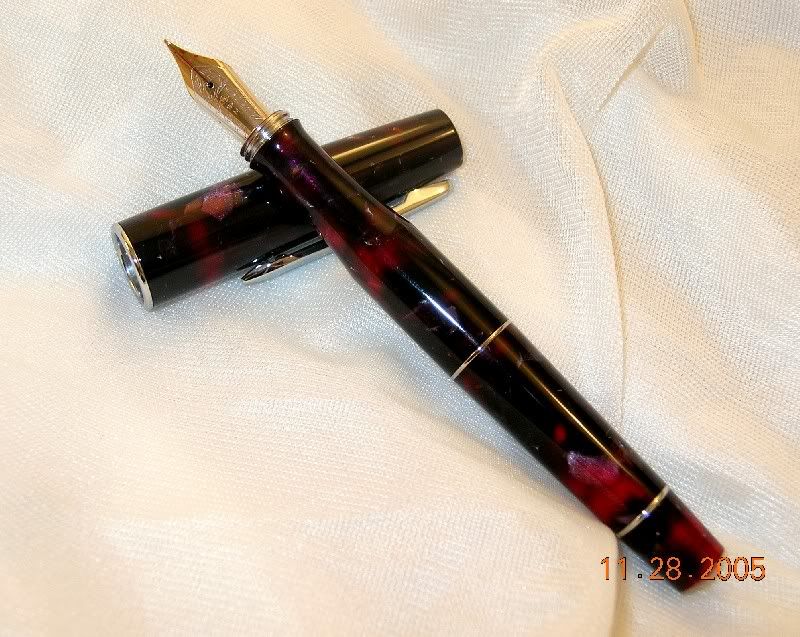 Nib
We've all heard a certain FPNer go on and on about Stipulas. Stipula this and Stipula that. "You've got to try a Stipula nib. Their nibs are soooooo great!" Many of us actually wondered if he got commission on Stips bought by FPNers. So I'm sure the question in your mind is, "Well?"
Wim was right (boy that hurt to say
)! The nib on this pen IS the best part. Sure, the material is gorgeous. Sure, the trim is perfect. Yes, the design is great. Yes, attention to details like fit and finish are amazing. But the nib!!! The best way to describe the nibs is Sx5:
S
mooth.
S
pringy, for nice feedback.
S
tunning good looks.
S
uperb flow.
S
mooth.
Thanks Wim!
Rating: 5/5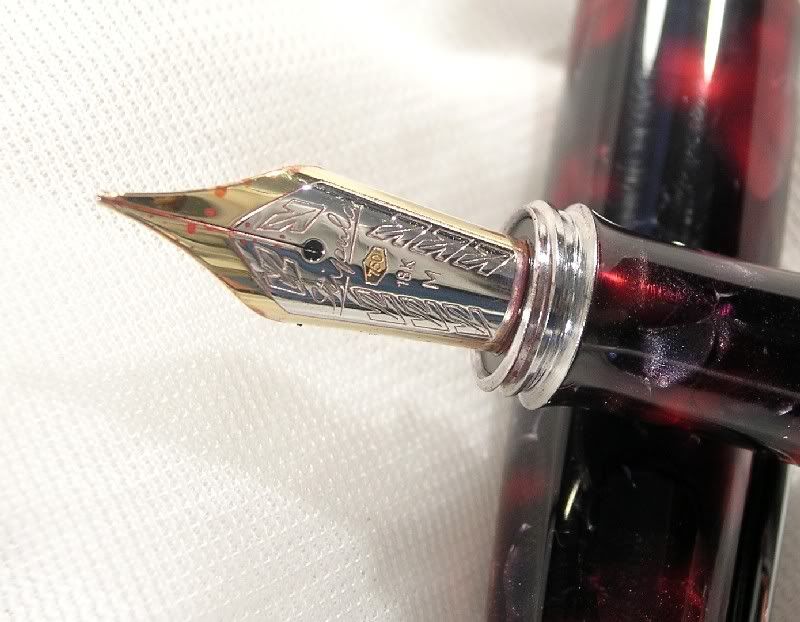 Value (?/5)
This is my first LE, so that will likely affect the value assessment. It's #37 out of only 50. It's a material that is not available on the regular Duettos (which, by the way, look great). The MSRP is $275, which isn't that much more than the MSRP of the regular Duettos. However, it was available only from World-Lux at full retail whereas regular Duettos can be found in numerous places at quite a bit off MSRP.
Having said all that, I managed to get mine from World-Lux's Ebay auction and got it for $100 less (ITALICS) than the MSRP, including S&H! When you consider the pen, especially the material, design, and incredible nib, combined with World-Lux's great service, I think I got a great value.
Rating: 4.5/5
Summary