So, I asked for some suggestions on a new pen in the area of $400. I received a lot of replies and went to Altman Luggage ready to try a few pens out. I told the salesman, who knows me well enough at this point, that I needed something in the 400 dollar range. Fastforward 3 minutes he comes out of the back with boxes of Limited Edition Delta's, etc. I look over quite a few pens and try out the Edson before he brings over two Stipula LE's, both are Stipula Etruria de Architectura except one is cracked ice and one is black. For some reason I liked the black more. He was going to offer me the set, FP and rollerball, for $500 but I stuck to my guns and said no more than $400! So after trying it out, I decided I liked it more than the Edson and would purchase it for $250
. So, here it is in all its glory:
The box it comes in is the same as other Stipula's so I saw no need to take pictures of it as I already did in my review of the Da Vinci Infinity (which I am trying to sell at the moment, so any takers??)
. The pen itself is all black aside from the cap and a ring on the bottom. To ME personally the 'colorful' stuff you see reminds me of a coral reef. I have number 51 out of 193 by the way. It's a nice pen to hold, not too small (the aurora is a bit smaller) not big at all, as you can see the Visconti and Pencraft Herald are both bigger (see picture further down). It's a NICE pen, it isn't extravagant, it isn't something oh so special, but it's something that can undoubtedly be a conversation piece. And it's not THAT expensive that you can't take it out of the house every now and then.
The Nib:
It's a nice 14k white gold nib which is quite smooth and puts down a pretty fine line although this is a Medium nib. I would compare it favorably to my Cross Compact (although the new Visconti Divine Proportion is rivaling it as my best writer
). It has a little flex to it, but mind you very little. The M nib is just a bit wider than my Cross Compact's fine nib. But I'd say that the Visconti, Stipula, and the Cross have a similarity in them that they both give you the slightest bit of feedback and you can more so HEAR yourself write than feel it. The ONLY pen I have thus far that glides without you feeling or hearing much of anything is the Perchin MP5.
In terms of overall pen size: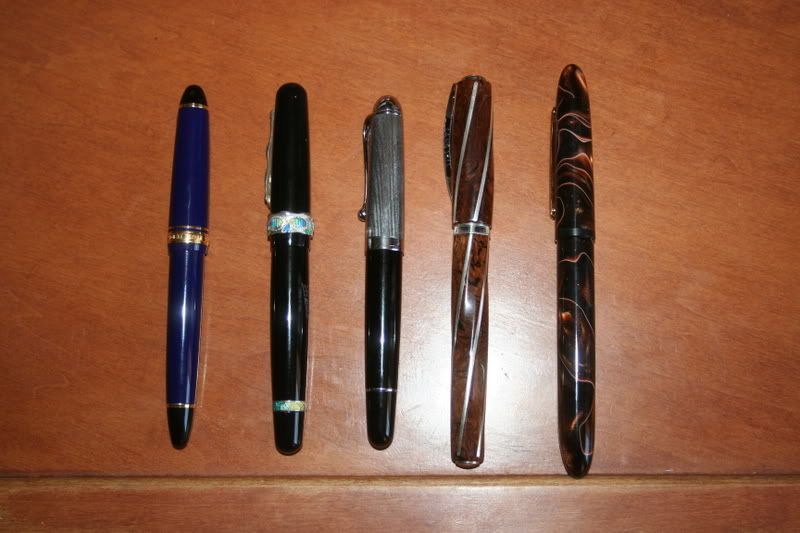 Here we have the Sailor 1911, Stipula, Aurora 88, Visconti, and one of Brian's creations
Writing sample: