The original design that I saw and really liked can be found here (as well as all the dimensions, etc):
Edison Pen Company
Well, what can I say? When I first came to this board Brian was nice enough to PM me to offer advice on some small issue I was having in regards to inks. I then saw that he had a site of his own and was building custom pens. I instantly fell in love with the idea of having a nice pen designed for me, even though it might not be totally custom in all aspects. I let that sit on the back burner for a while and finally found the time and money to place an order with Brian. As many others have already noted he's an absolute pleasure to deal with. No matter the questions or requests he will offer advice, assistance, and explanation to the Nth degree if necessary taking his time to make sure you understand everything. He was even kind enough to send me samples of both the ebonite and acrylic so that I can feel them and see which one I liked more. It was a toss up between the green and black ebonite and the Cappuccino Acrylic and once I felt and saw the Acrylic I knew that this was the pen for me. To begin with, the packaging:
The pen came 3 days after it was sent out (Tuesday AM came today, Friday) in a small white box, which was quite light when I lifted it up. Here is a picture of the pen in its packaging taped down so it wouldn't bounce around too much and in a bunch of bubble wrap.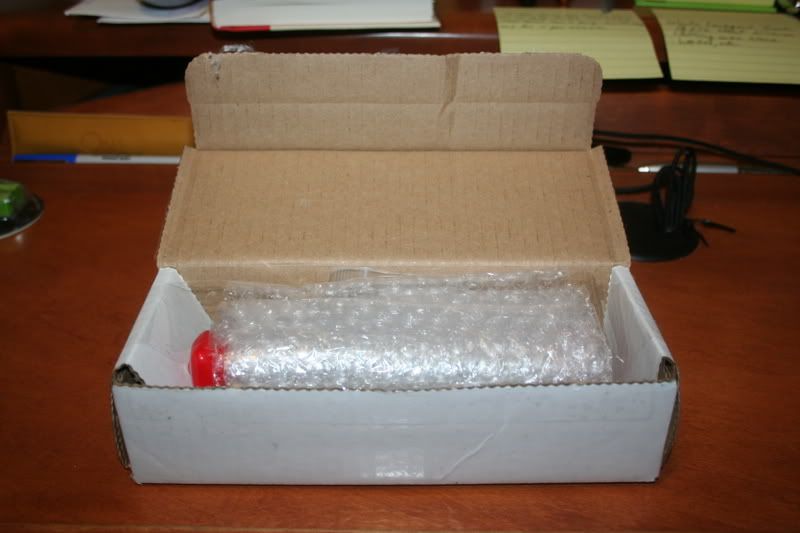 Getting to the inside of the bubble wrap we find a pen! It's enclosed in a cylinder and at both ends are cotton balls to keep the pen in place so it doesn't slide around within the cylinder itself.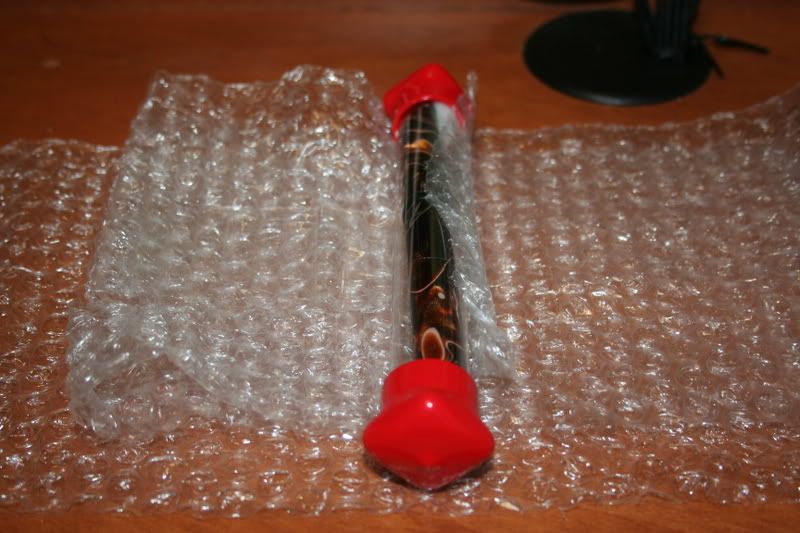 You can see the white cotton ball to the right, the pen, etc. I'm actually going to keep the cylinder, perhaps when/if I move for PhD studies I'll take it with me so I know that the pen will be secure during the move
. So a thumbs up on the packaging.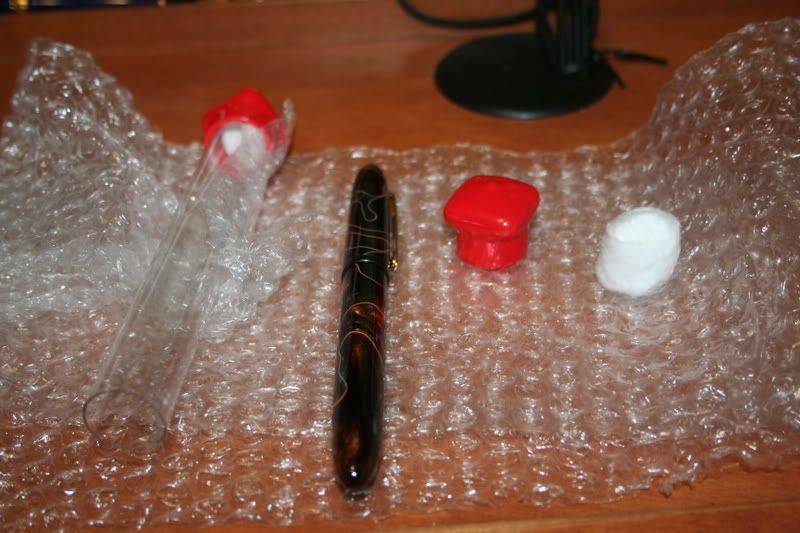 The nib, I decided to go with the Medium Taccia Steel Nib, two tone.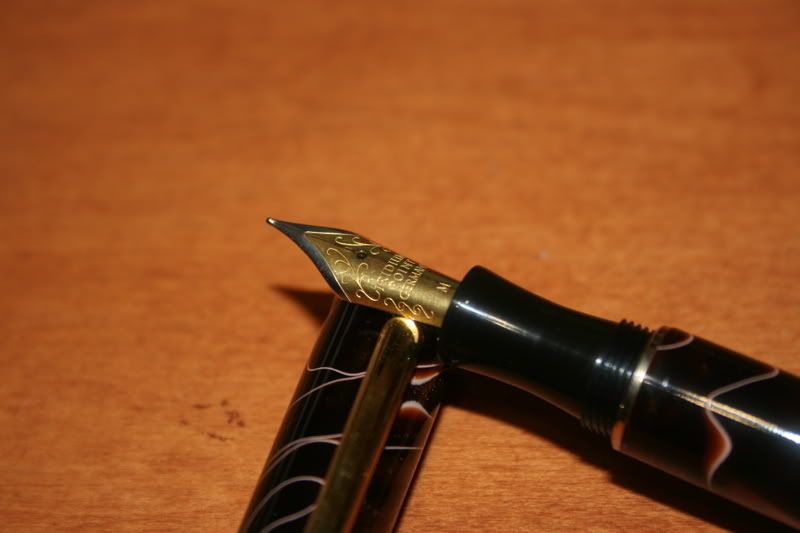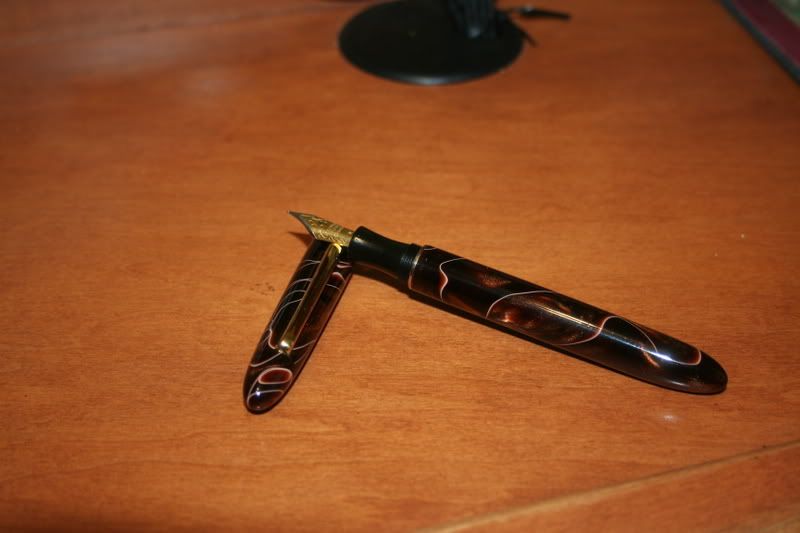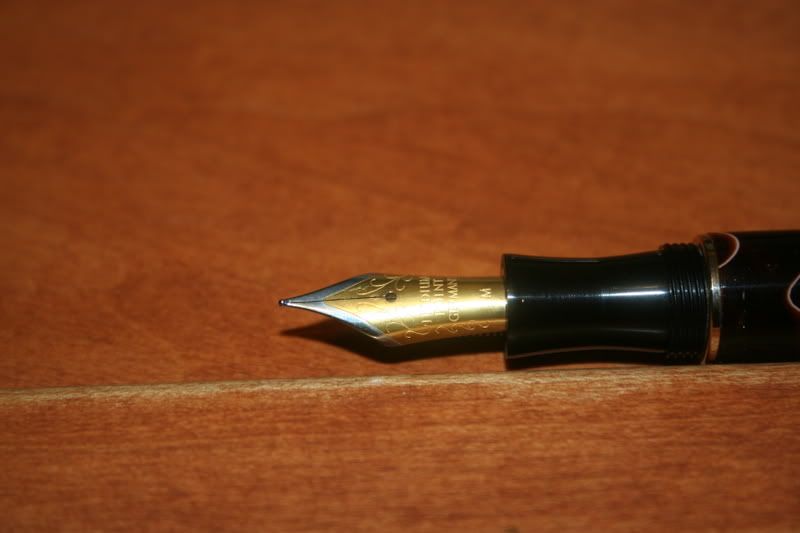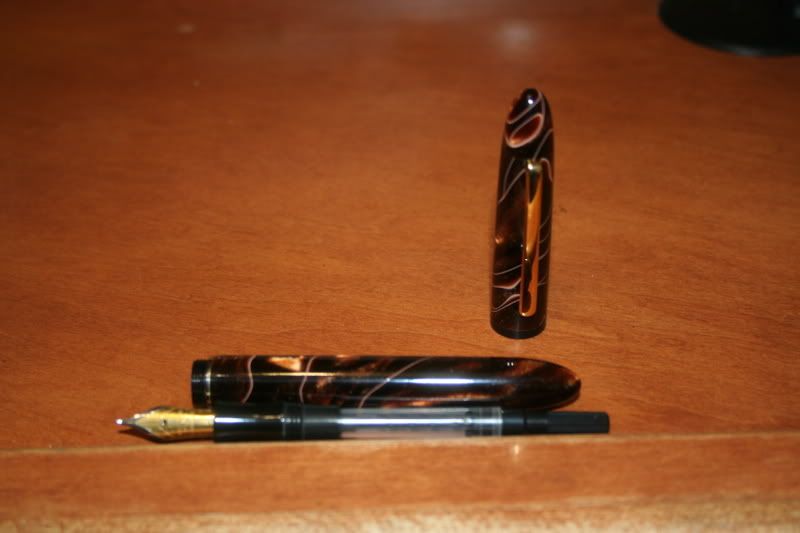 So, the pen does come with a converter and one cartridge which I didn't get in any of the shots, but it's a standard one.
I filled up the cartridge with Noodler's Red Black, I didn't want to get the Nib Dirty so I took the cartridge out of the pen, filled it up, put it back in, gave it one twist and then began to write with it on paper until the ink came out. Took about 10-15 seconds and I have to say it has an excellent line width, pretty much what I was looking for. I don't know if it's wet enough for me though, at least not with this ink. I'll try a few other inks along the way to see how it comes out. But overall it'll definitely be one of my better writers very smooth and a very stiff nib which I love. At some point in the future I will probably order one of the smaller pens with a Bexley Nib. The pen itself is LARGE, but not very heavy at all, here is a comparison with an Aurora 88, my Perchin MP5, and my DaniTrio: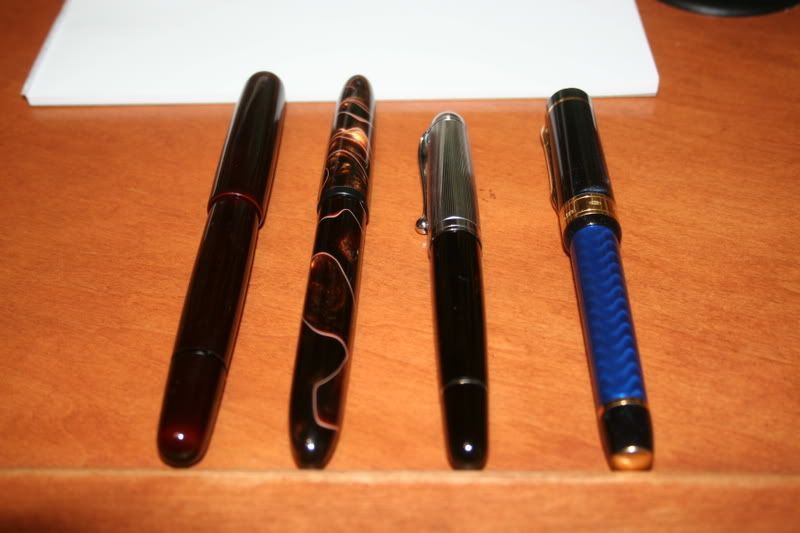 And a writing sample:
The pad is from Richard Binder and well worth the money
for those who might be interested.
So, the pen feels very nice, it looks beautiful, writes quite well out of the box, great service from Brian, in this case I'd say you EASILY get what you paid for. And of course what is it I paid you ask:
160 for the pen
25 for the Taccia Medium Nib
30 for the Ebonite Section
and 5 for shipping
total $220.
Edited by MYU, 13 October 2008 - 14:12.