First Impressions
(5/5)
When I read SteadyHandís review, I thought ďthat is a nice looking penĒ, and I didnít really think too much more on it. That is, until winedoc posted in The Marketplace that he had purchased a bunch of these and was selling them at the blowout price of $27, and I jumped. I have a bunch of black pens, but no white ones in my collection, so I decided to go for white. I had the good fortune of being able to pick the pen up in person, while meeting Kevin for dinner in San Francisco a couple of weeks ago. The box is satisfactory, cardboard sleeve, decent cardboard inner box. Big pen inside.
Appearance
(4.7/5)
The pen is white with a black section and gold plated nib, trim and greek key motif. The words "Trio Classic" tastefully interrrupt the greek key motif on the cap band. The white is pearlescent, shimmery as you rotate the pen in relation to the light source. Kevin told me Danitrio uses crushed pearls in the coating of the pen. I have no reason not to believe him, and the pen really does look like a nice pearl.
capped pen
uncapped
capband detail
Design/Size/Weight
(4.9/5)
This is a big, heavy pen. It weighs more than a Cum Laude, Hero 100, P51, or Lamy 2000. However, it is very well balanced unposted. I very rarely post, and this pen is long enough to be comfortable unposted, so I canít comment on the posted balance. Iíve written several journal pages using it, and I havenít had any sense of hand fatigue. Overall, the pen feels solid, the fit and finish are excellent, and the design is well done. Perhaps my favorite feature is that it takes about 1/4 turn to uncap the pen. This is pen is almost as convenient to uncap as a slip cap pen, and slightly less convenient than a Vanishing point. However, unless you are extremely dexterous, you still need 2 hands to uncap. A very nice application of the classic cigar shape.
Nib
(4/5)
I purchased the IPG medium nib. The nib writes a true medium line, with the slightest hint of tooth. While I can write with a medium, I have a small hand, and a fine works best for me. My initial thought is I will bring this to the next pen show I attend and have a nibmeister turn the pen into a fine. Granted the nib work will effectively double the cost of the pen, however, even considering that, I believe it will be worth the cost.
writing sample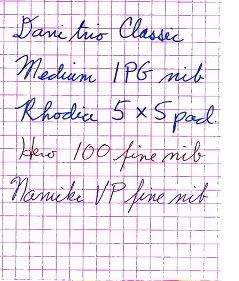 Filling System
(5/5)
Iím not a big fan of cartridge/converter fill pens, but they work and, the bright side is if the filling mechanism breaks, the repair cost is $5-10, not whatever a restorer or service center would charge to fix a piston. Iím giving this a high rating because it works as you would expect a converter to work.
Cost and Value
(5/5)
Once again, Danitrio and winedoc really hit a homerun. This pen has as good a feel as my more expensive pens, good heft, great balance. As I mentioned in the Nib section, this pen will be an even better value once I pay to have the nib reduced to a fine. Easily, this, along with the original $27 pens and the $33 pens are some of the greatest values in the fountain pen world.
Conclusion
(28.6/30)
Another excellent Danitrio purchase. I consider 95.3% an excellent score, and this pen deserves it, a fine nib and we would be at or above 97%. As usual, Kevin is a joy to deal with. When we agreed to meet for dinner, he brought the pen already inked, so I would be able to try it out at the restaurant, you just canít get service like that anywhere.
If you are looking for a relatively inexpensive pen (same price range as a Lamy Safari or Al-Star, or a Hero 100), but want a pen with high dollar good looks, this is a pen I would recommend without reservation.