The Office Depot in a somewhat trendy shopping center carries a selection of upscale writing instruments including fountain pens.
I decided to take a chance on the $40 Foray Fountain pen.
Note: This pen costs more than a Waterman Phileas.
The packaging is spartan, but at the same time is designed to look minimalistic and "slick".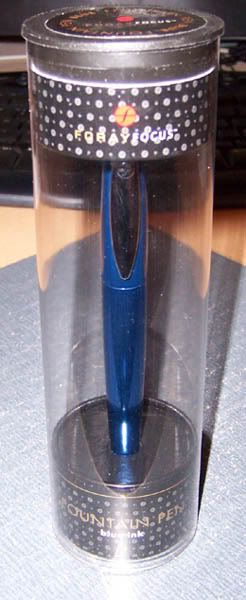 As you can see, the pen itself is quite attractive in a sleek, clean lined way.
The pen it self had a nice heft. It appears to be made of solid anodized aluminum. Not as heavy as brass, but not easily dentable, either.
I unscrewed the cap to discover:
What The Frell?! Was it some sort of semi-hooded nib? Nope, it screwed out to reveal that it was an IPG, with no marking about nib width. It looked like a medium when compared to my Lamy and Pelikan. It takes international short cartridges and comes with one.
It really looks pretty ... and the section is a nice width.
But, the pen is a
way overpriced
roadapple. For all of the "oooohhhh, shiny" of the design, a closer look at the nib and section tell the tale.
Note the off center alignment of the feed.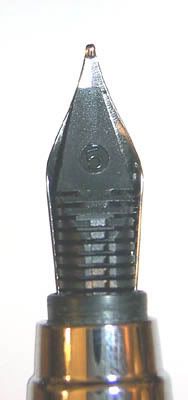 And if that wasn't bad enough:
The width of the gap was wide enough for me to wedge a straightened paper clip (medium guage wire) in there.
Which means as I attempted to write, the inner mechanisms were flopping back and forth against the outer metal sleeve.
(Also, note the word "attempted" in the previous statement.)
The pen did not write. Just scraped a few furrows in the paper and even deposited trace amounts of ink in a few of them. And this was with me squeezing the cartridge, giving it a shake, etc.
But the capper?
You cannot screw the cap back on the pen with the nib fully exposed!
You have to disassemble the pen and get the nib back down to "semi-hooded" to screw the cap back on!
So: Avoid. Avoid. Avoid.
Unless you want to give a $40 (plus tax) gag gift to an FP loving friend of yours.
Because, seriously, the craftsmanship of the most important parts of the pen? It made a Pilot Petit/Varsity look like a masterpiece.
---
And I've had my laugh and will be taking the pen back tomorrow and getting a refund.
But, I'll keep the $5 off of Select Purchases over $25 coupon that I got for buying this Dren in the first place. There's some paper I want to try.