My latest pen from Brian Gray at Edison Pen (formerly Pencraft) arrived about a week ago. It is a custom commission design that I have been using every day since I opened the package. This is my second custom pen project with Brian. The other was done by making some minor changes to one of his designs, using a different material and by doing some custom engraving. But this one was from scratch!
It all started several weeks ago with an email from Brian asking for some commentary on a new creation of his. That feedback led to a conversation regarding a pen I would like to see. Then one "what if" led to another, which led to "oh.. can we do this…?" and "how about if we add this and remove this…?" and before you know it a pen is born. So I am now the proud owner of a pen that several weeks ago was nothing more than some "what if's" and a really bad sketch
Which is a pretty cool feeling.
First Impression 5/5
My first impression when I saw the pen was that Brian hit the nail right smack dab on the head, yet again! Amazingly, he took what I envisioned and made it into a beautiful pen.
The attempt was to combine many of the classic features of vintage pens into a new modern pen. Basically to create a pen that was modern but left subtle reminders of popular vintage pens that many of us enjoy without being a replica.
Reminders such as:
- The cool streamlined body of the button fill Duofold's
- Blind caps hiding button and vac mechanisms
- The flat-tops of Sheaffer, Parker, Waterman, Wahl, etc.
- The beautiful ripple coloring of Waterman's
- The colored grooves of the Conklin's
In my opinion it worked. What do you think?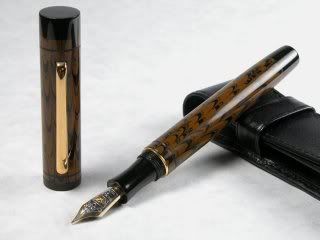 Design 5/5:
This pen has terrific balance and feel. It fits the hand well and has a nice weight to it, most of the weight is in the cap. When writing the pen is very comfortable and the ebonite section feels warm and comfortable between your fingers. I have found that the mustard ripple ebonite body is light enough to keep fatigue away when writing for long periods of time.
The pen is just a shade over 6 inches long capped (maybe 6.2") and uncapped it is approximately 5.3". The diameter is .592" at the cap, and .536" at the barrel. As far as weight goes it is just a tad heavier than other Pencraft pens at approximately 15 grams uncapped and 30 grams capped (yeah it's a big cap).
The cap is heavy and like many custom pens will not post. But honestly for me this doesn't pose a problem as I would not want to scratch the ebonite body by posting and I typically do not post my pens anyway. So I would not take points off for this but for others this might be slight deduction. As an added bonus, the cap has just enough weight and the body is light enough that it comes in handy as a stopper to keep the pen from rolling off the desk in a pinch.
Appearance 5/5
The mustard ripple ebonite looks great and I really like the way the ebonite black ends (blind cap & finial), the black cap lip and the dark grooves break up the flow of the ripples. I think the grooves are a just small touch but they add immensely to the appeal of the pen. The clip is intentionally unassuming, just the straight bar pocket clip, I think anything fancier may have drawn attention away from the pen's subtler details.
The section which is made of black ebonite leads nicely into the two-tone Bexley Fine nib, the gold ring can be a little distracting, but I haven't completely made up my mind on it.
There is no denying that this is a big pen. It is longer than my CS Churchill and Danitrio Ban-ei capped, but thinner than both. Uncapped for writing it is the same length (roughly) as the Ban-ei and my Parker 100 but smaller than the CS Churchill. So when the cap is off for writing it slims down nicely.
Nib 4.5/5
The nib is a Bexley Fine point two-tone gold nib. It is an optional upgrade and Brian smoothes them up a bit, so when they go out the door they are glide across the page and this one does just that very, very smooth, right out of the box. I filled it the first time out with no skips, hard stops, nothing but perfection.
So you are wondering – Why 4.5 stars and not 5? Well the Bexley nibs do not come in an extra fine size. Although, the fine is nice it's still a little wider for my taste than I like. So an offering on this nib of EF would have been sheer perfection.
Filling System 5/5
The filling system is your standard cartridge/converter set up. Of course considering the nostalgia factor of the pen, a lever filler would have been cool. But the convenience of the C/C means when I travel I can easily use cartridges which is nice. So again, a modern touch with a throwback pen.
Cost/Value 5/5
This is a tough call. But only because cost and value in the fountain pen world, in my opinion, can be somewhat subjective (e.g., the great Montblanc debates). I think from my cost perspective the pen is not expensive and is a great value. I can say that by factoring in that it is custom made, has a two tone 14k gold Bexley nib that was smoothed and adjusted, is made of ebonite and it has a throwback appeal in a modern package. Taking all of that into consideration and throwing in the quality craftsmanship, it's a bargain in my book. Of course the cost of the pen can always be controlled by opting for a less expensive nib, standard section or an acrylic body.
Service 5/5
I'm adding an additional section here because think it is worth noting. Every time you read a review of an Edison pen, you read about Brian's excellent customer service. Brian adds the little touches that matter when you are buying a pen from him, whether you are having him do a custom pen or a standard pen. In fact, even when you are buying a standard pen from him he gets you involved so you feel like you have a say and are part of the process.
Conclusion
For me this pen holds a special place because of my involvement in the design. But for others I think it will hold appeal as a modern day throwback (homage if you will) to the glory days of Fountain Pens. At the present time Brian created this pen as a custom commission for me. But I am hoping and he is hinting that he will put it out there as full production model.
I have now carried it for a week and have received several comments and questions on it. It's been cool explaining the basis of the pen (i.e., the pseudo blind cap, the ripple ebonite, etc.) in some cases I may have even sparked an interest in fountain pens that wasn't previously there.
Thanks for reading!!
Important Note: I am not affiliated with Edison Pen Company. Just a very happy return customer.
Here is Brian's site for quick reference:
Edison Pen
Alex
Edited: Because something funky happened with my parenthesis and apostrophes.
Edited by MYU, 13 October 2008 - 14:29.