So, at least two people asked for a review of this new acquisition and after finding myself doing nothing on a Friday night aside from sitting at the computer and listening to Chris de Burgh I decided I'd just write one up right now
.
I first learned about this pen while trying to find some good/excellent 'paper' stores in NYC in one of my earlier threads. Someone happened to mention that they bought an Aurora 88 and they weren't even thinking about what to get next. Well, that in and of itself said something! I was intrigued and inquired at Altman Luggage if I could try it out the next time I was there. I didn't wind up buying it, rather another pen which I later returned (if that isn't a sign I don't know what is!). So finally after a few months I remembered how much I enjoyed writing with the 88 and how light it was. Today, taking my car into the city I stopped by three locations and wound up purchasing some inks, notebooks, and a brand new Aurora 88!
I noticed that people do their reviews by 'category' so I figure I'll try it that way as well:
Appearance: 5/5
Starting with the outer and inner cases: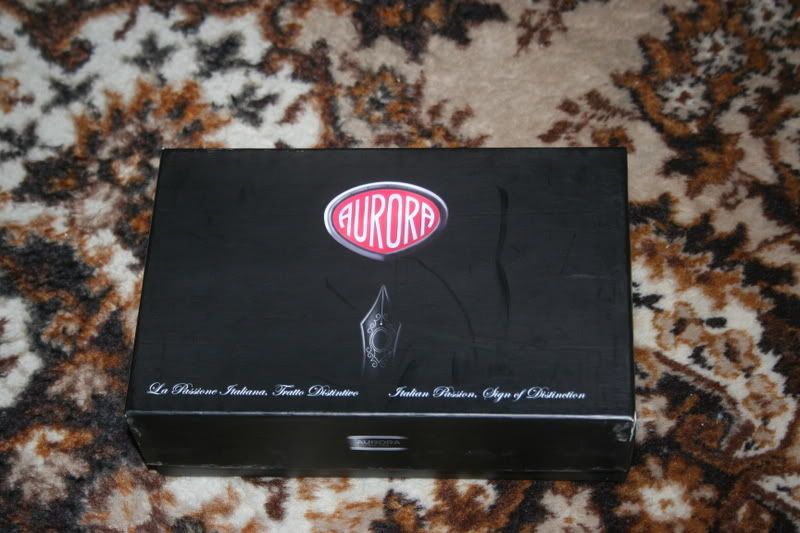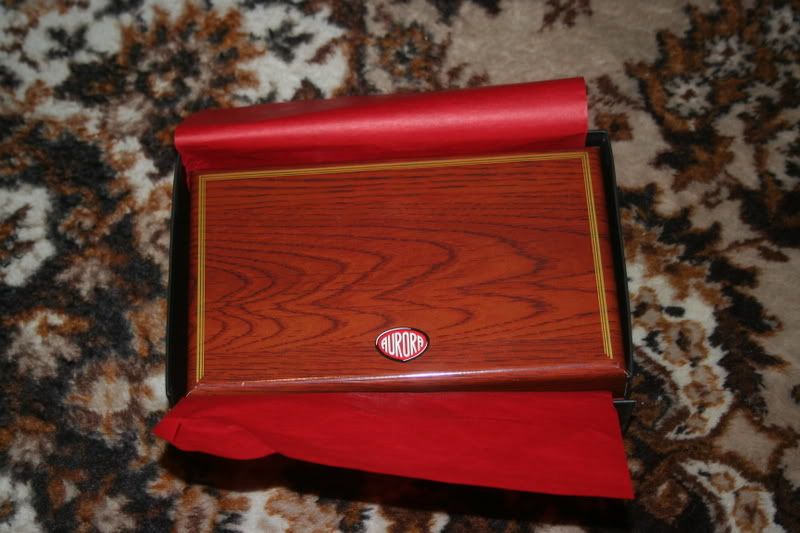 I definitely like Aurora 'inner' case as it reminds me of the Visconti case I received with my Black Storm. The outer seems a bit 'abused' but that's fine by me, I care more about what it has in it!
Now the pen itself: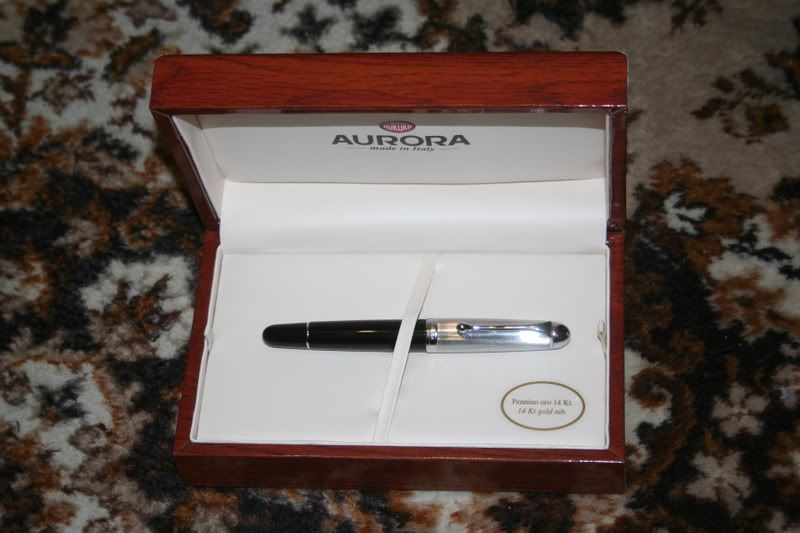 This pen was actually all black aside from the clip, but I wanted the 'chrome' looking cap so they took it off another pen from the display and put it on this one
the rest of the pen is the exact same so I saw no problem with that. The pen's design is quite simple; black with a silver band close to the end and between the two smaller silver bands is an 'ink window' which you'll see in a later picture(s) so you can see how much ink is left, a very nice feature. Some might think it nothing special but I think it's perfect in its simplicity.
Pictures of the cap and the pen: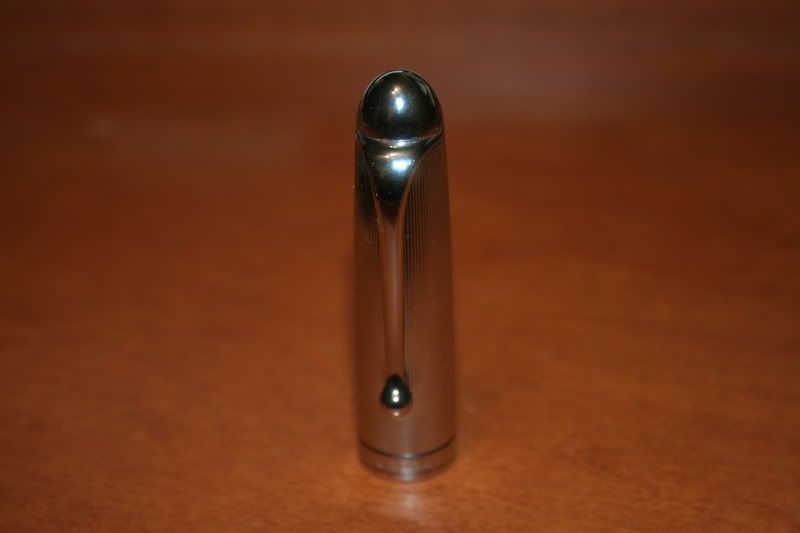 Here you can see the 'ink window.'
A comparison shot with my 1911 Sailor, it's without the cap the Aurora is a bit longer, with the cap the Sailor is a bit longer. The Aurora is LIGHT the cap is heavier than the pen itself. That's probably what I love most about this pen, the light weight.
The Nib (5/5)
So far I think the nib is excellent if not perfect, some pictures:
14K white gold nib, I took the Medium. I wanted to try out the Fine but they didn't have any, and personally, the medium writes like my cross compact fine (see next picture) so I was perfectly fine with getting a Medium. I dislike having to order pens, if I come for one, I usually like to get one.
Filling System (5/5)
Piston filling with a 'hidden reservoir', as pointed out, you can see how much ink you have left through the ink window and it's quite easy to fill up. This pen also holds a very good amount of ink. When filling up you don't have to drown it in ink past the nib and you can even see if any is being 'sucked in' through the window in the beginning.
A picture of how it writes:
I don't know how well you can tell, but its line pretty much resembles the Cross Compact F, which is my favorite writer (well, perhaps until now!).
Price/Value (5/5)
The best price I was quoted for this pen was $210, Altman Luggage (as pretty much always) matched the price and it was mine! I think it's a fair price for this pen, it might not have the nicest outward appearance, but it's elegant enough for me and of course it's light weight and great nib make up for any 'lacking' the outside might have.
Edited by AKAGodSent, 02 February 2008 - 04:51.