Days like this make fountain pen life happy
Few days ago, I saw an ad in the Green Board that said:
"Black Pilot Custom 743 fountain pen with super flex 14k size 15 nib, grade FA. No other modern pen made today has this much flex. Brand new never inked or dipped so in mint cond complete with boxes and instructions etc. Only usually available in the Japanese domestic market, so rare outside Japan. Pen will be shipped from the UK. I'm asking only $175 to include FREE worldwide insured shipping which represents a significant saving on list."
I have seen several good references to Pilot Customs, I new that 15 size nib is relatively large and I googled to see what really FA means (in fact I posted
this message here on FPN
, but I did not wait - good pens rarely stay long on the Green Board
I checked quickly the e-mail address of the seller (I hesitate to buy from hotmail-like address if I do not know the seller). He had an RAF address from UK. The price was right (actually $87 less than
this auction
and I fired the "I want it email". Five days later the pen was in my mailbox. Thank you Ritchie!..
The box etc. is not of any importance to me. Actually it was a plain vanilla pen box
The pen is the typical cigar shape. My words are poor, so here is a comparison with a 146 MB.
The nib... The nib... How does it write? This is what counts!
Here is a comparison of the FA nib with a pink Waterman #7
Note the cuts on the sides of the nib to increase its flexibility.
It flexes
Here is a sample and essentially a written review of the nib.
Compare if you wish with
this review of the #7 pink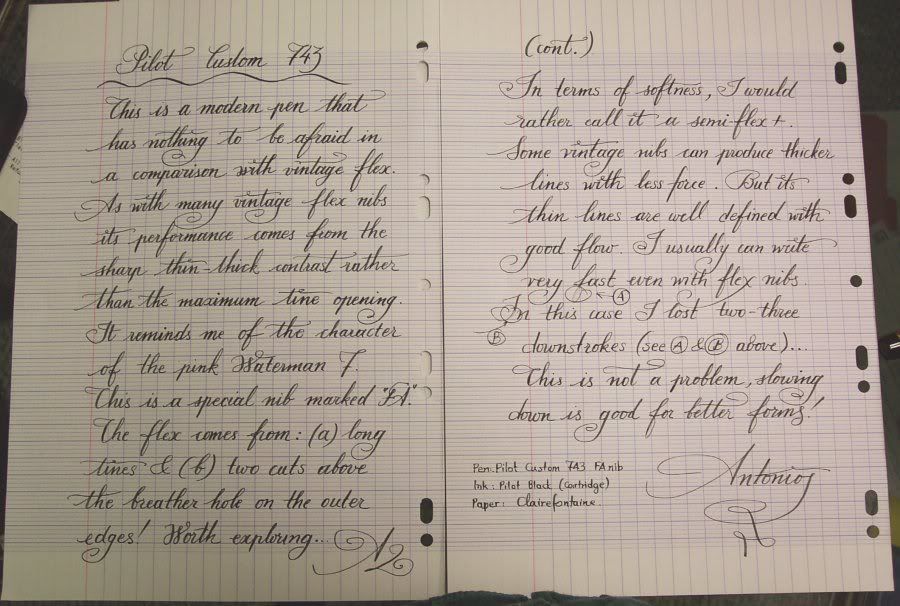 UPDATE
As I had already writen in the photo-review above, I write (very) fast (e.g., see
here
with flex nibs, and contrary to other vintage flex pens, this pen has been missing occasionally a line, particularly along long pressed downstrokes.
I found this to be highly dependent on the ink. Namiki ink was OK (few misses), Noodlers was better at the beginning but after few fills it would become worse and would require extensive cleaning. Waterman Blue-black was also OK (similar to Namiki).
During the last few days, I have tried Diamine and I really like the way it performs, but even this very nicely flowing ink does not completely eliminate the "problem".
Perhaps the issue is that the "capacity" of the feed is optimized for the short japanese strokes rather than the long flourishes of copperplate.
I have also been asked by many backchannel to compare this pen with the Namiki Falcon. The two pens are completely different. I believe that the Falcon has a slightly softer nib.
I have only tried the medium Falcon and I was not happy with the contrast but I am sure that the fine would be better. I do hold my pen at a relatively low angle and I
found that the feed was hitting the paper too often, something that I did not like and made me sell the Falcon. In addition to the nib, the 743 is a substantially large pen than the Falcon.
Pen (no cap) length Falcon: 122 mm 743: 131 mm
Pen closed Falcon: 136 mm 743: 149 mm
Pen posted Falcon: 150 mm 743: 164 mm
Cap Diameter Falcon: 12.1 mm 743: 13 mm
Diameter at threads Falcon: 11.9 mm 743: 12.5 mm
Diameter at 38mm Falcon: 10.9 mm 743: 11.3 mm
Diameter at 25mm Falcon: 10.2 mm 743: 11.0 mm
Dimensions for the Falcon are form JRG's compilation of FP data:
http://www.aiusa.com/loesljrg/misc/pendata.pdf
Edited by antoniosz, 16 May 2007 - 16:24.