First Impressions
(5/5)
The first time I saw the Raden VP was in the Mont Blanc store at the Pittsburgh International Airport. I had some time before a flight and went into the shop. There was a "glittery" VP, and I was hooked. The clerk asked if I wanted to test a VP and I said 'yes'. The clip worked for me and I asked the price. The clerk gave an answer and I told her I would take the one with the sparkles. She informed me it actually cost 3x as much as the others because it was raden. I thanked her for her time and went on my way, unsure if she was honest or thought she had a live one on the line. Well, she was honest, but I still couldn't bring myself to pay full retail for this pen. Time passed, I bought and sold pens, and kept coming back to wanting a Raden VP. Enter Pam Braun. I emailed Pam and asked about cost. She quoted me the best price I had seen, so I sold a bunch to finance it and placed my order.
Appearance
(5/5)
The Raden is amazing. There is such depth to the abalone shell, and the lacquer is flawless. I often find myself pausing while journaling just to watch the different layers of abalone shell catch the light. While I think the finish is amazing, it doesn't scream "look at me, I'm expensive" to a non pen person. I have gotten more comments about the "fancy" Wing Sung 237 in brown celluloid than about the raden VP. All the better, it would be much easier to replace a $15 Wing Sung, than the Raden VP.
whole pen, camera flash used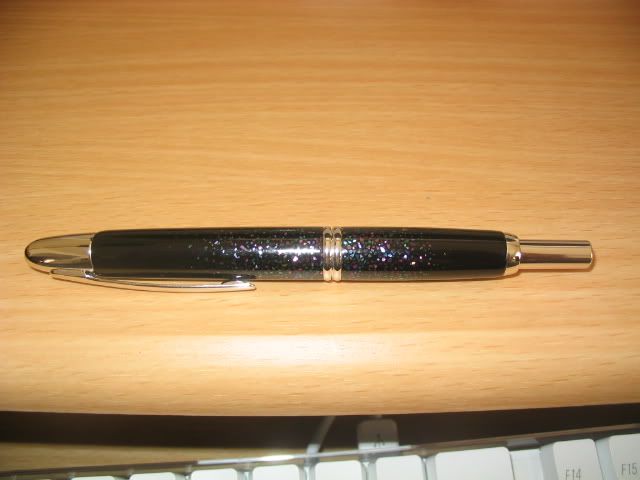 center band showing the abalone shells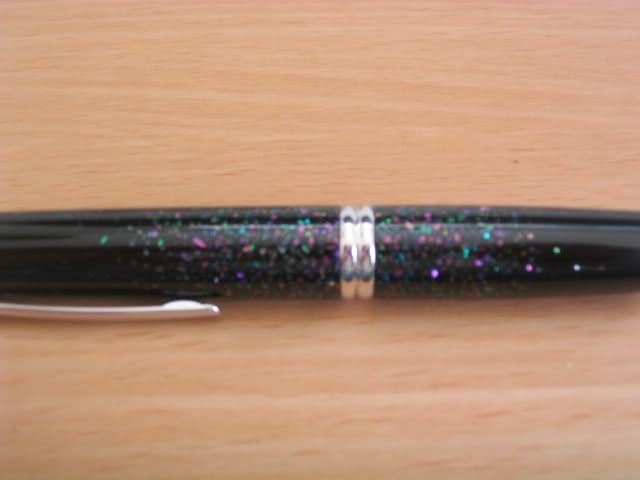 Design/Size/Weight
(5/5)
The Vanishing Point pens are a bit hefty, and this is no exception. In my hand this is not a big issue, but I can imagine it not being comfortable for extended sessions for someone with small hands or for someone who prefers a lighter pen. Before I held my first VP, I had the mental image of a small pen (probably to go along with the small nib); I could not have been more wrong. Closed the pen is about 142mm, and open it is about 140mm. (for those who dislike the metric system, or just think better in inches that is about 5.6 inches), which is good sized.
Nib
(5/5)
The nib is the soul of a fountain pen. So many people have written it, but it is so true. My pen has both a fine nib. The fine nib really has reset my standard for how smooth a fine nib can feel, not to mention this actually lays down more of an extra fine line. Namiki really seems to have rock solid quality control on their nibs.
I also enjoy the nib set up because for $20-$55 you can have one pen that writes in different ways. Swapping the nibs is simple, open the pen, take out the assembly and replace it with something else. When you factor in the nibs are 14k Gold, it is almost as if Namiki is giving them away.
writing sample on Rhodia 5x5 pad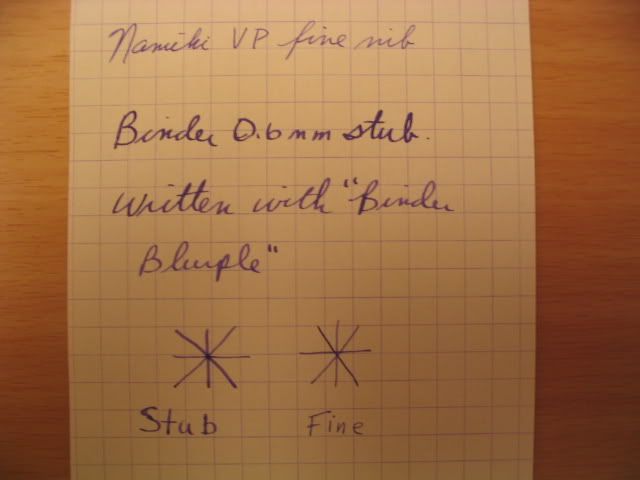 Filling System
(4/5)
Cartridge or Converter, nothing exciting, both work, the cartridge seems to hold more ink than the converter, but neither have what I would consider a large ink capacity. I've only used the cartridges so far (the Namiki Blue that came with the pen). I've ordered a box of blue-black and am looking forward to trying this color. I've noticed the Namiki ink has no nib creep, so I've decided to stay with the colors that have shown some water resistance.
Cost and Value
(5/5)
Purchased from Pam at Oscar Braun Pens. Pam has a great price, and great selection. I would have to say at MSRP, the pen is probably a fair value, maybe a good value. However, at below MSRP, the pen is, in my opinion, a great value. Incredible workmanship and engineering, as well as artistic skill go into these pens.
Conclusion
(29 .5/30)
Even at reduced price this is, by far, my most expensive pen. I believe it scores well, and writes like I would expect an expensive pen to write. When you factor in the ability to change nib size, this really is an excellent pen. Sure the pen has issues, the ink capacity is small, the clip is in a funky place (apparently it either works for you or it doesn't), but this is a pen I enjoy taking from the pen case and using.