After hearing so many great things about Kevin (winedoc) and loving some of the pens he had on his site (www.internetpens.com) I decided I should finally try one out. I don't have too much experience with fountain pens in general but I wanted to try out all the different types of pens that people here think are a must, and from what I've seen, Danitrio is one of those pens. I contacted Kevin to first find out about a totally different pen and when Kevin found out what my preferences were he recommended the Densho and I picked out the Tamenuri color. I have yet to try any flex nibs and being told by at least one FPN member that I should give one a try I decided to experiment. At first I wanted the F Flex Nib but Kevin said that I would probably be happier with the XF Flex Nib since it runs wider. In the end this proved quite true as it runs wider than my 1911 Sailor F, so I was glad to have taken Kevin's advice. All in all, he's a great guy to deal with, I'm sure I echo many here when I say that, but it is true. He responded to all my questions and concerns, tested the pen out for me, sent the pen with instructions which I then even went so far as to confirm with him via PM
(can never be too careful!). The pen was sent out on Tuesday and I SHOULD have had it on Friday but USPS claimed to have come by my house and left a notice since, supposedly, no one was hope. The truth is that I was home all day on Friday and this isn't the first time USPS did this, worse, is that they did NOT leave any type of notice and it was only thanks to tracking the order online that I was even aware a delivery attempt was made. This of course is not Kevin's fault and as I said this is not the first time USPS did this. So on Saturday I went and picked up my package
.
The outerbox:
The box the pen is held in: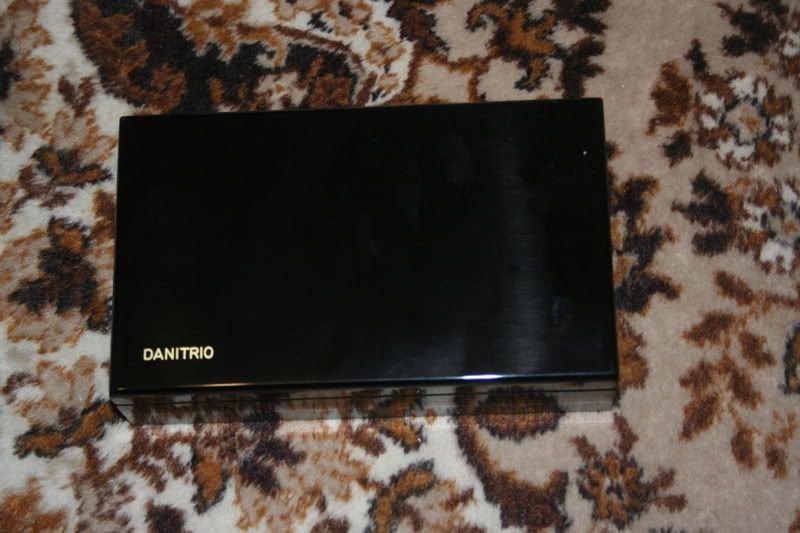 Inside the box, you can see the pen, the piece of cloth it comes with, the eye dropper, and on the left, folded up, are the instructions and a writing sample of the pen.
The pen cap is very simple yet very nice, with Danitrio running down the gold. It's quite sturdy and looks great with the Tamenuri color of the rest of the pen.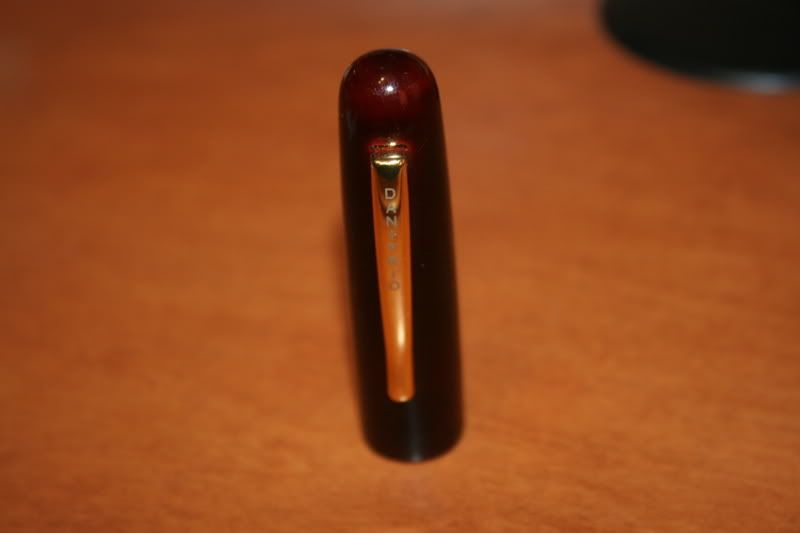 The pen itself isn't light, this is the pen on the Danitrio 'pen pillow' I bought from Kevin a while back with my Perchin MP5. It is longer than the MP5 and I think weighs a bit less, but not a light pen by any means.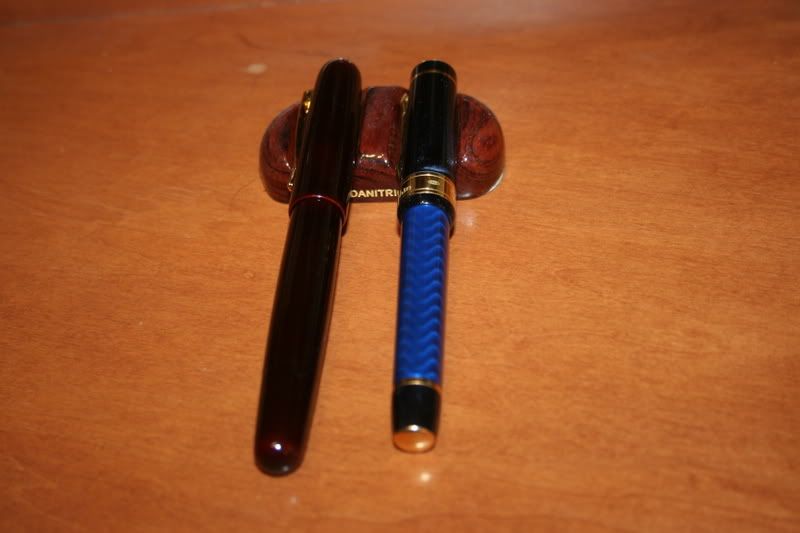 Now, the nib. As I'm new to fountain pens I have yet to figured out how to get a good line variation with the Flex that this nib offers. It is a wonderful writer in and of itself without the flex, so it's quite easy to use on a day to day basis on whatever writing tasks you need to get done. The nib is quite smooth, surprisingly so, and even with my fast style of signature there is no skipping, few pens would measure up to that. This will undoubtedly be one of my favorite writers as soon as I find the perfect ink for it. At the moment it has Noodler's Old Manhattan, but as Kevin cleaned the pen out I think when I put in the Noodler's it mixed in with some of the water that was left over in the nib section and that made it run a little watered out, which I do not like at all. I also made the mistake of overfilling the pen by a little and as I tightened the nib some of the ink got out and onto my hands, so, to all those reading this, follow Kevin's instructions to the letter
. I'll eventually give this pen a good wash and let it dry for a few days and put in some Aurora Black, hopefully that will give me the color I want.
Filling the pen is by eye dropper and not hard at all, the only hard thing is measuring when the right moment is to stop and not overfill the pen. The section in the back has to be unscrewed 2-3mm for the pen to write continuously, otherwise I'm told you'll get a page or so out of the nib before the ink runs out. You can leave the pen unscrewed for the day and screw it back up at the end of the day. The pen feels good in my hands, very smooth surface and a lot of fun to write with. Highly recommended, both seller and pen!
Edited by AKAGodSent, 27 January 2008 - 22:26.