When I first took a look at photos of the Sheaffer Legacy II, I thought that they weren't that attractive. They look boring and clunky. But when I got a chance to purchase one at a good price, I gave it a try. And I've fallen in love with them.
I guess that they're very similar to the Sheaffer PFM. Until now I've not understood why the PFM was so popular, but now I do. A pen that initially looks clunky changes to 'solid' once you've held one. The pen has a strong masculine feel, and I wonder whether it would appeal to women. (The thickness of the pen is slightly thinner than a Pelikan M800, but almost exactly the same length.)
The finishes look quietly elegant, with brushed metals rather than shiny. This is not a pen that screams 'bling', but instead expresses quiet confidence. A nice touch is the raised Sheaffer white dot near the top of the clip.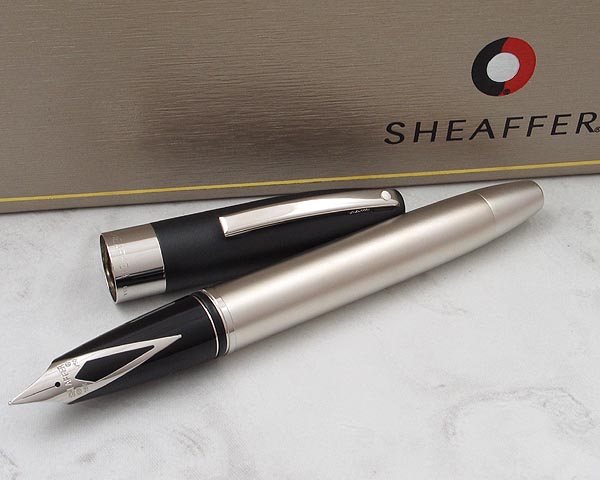 There are also some very limited Legacy II's, manufactured for Jim Gaston. There is a glossy Cobalt Blue, a brushed light Copper, and one model with a matte black body and a gold cap. There were only 300 pens made for each of these special editions.
Sheaffer manufactured a 'Black Pearl' special edition, which is a rich dappled blue. Definitely a beautiful and unique pen.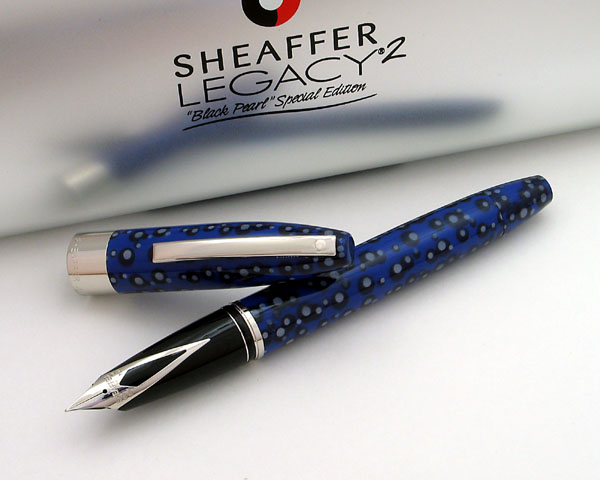 The pen writes incredibly well, too, with a ready flow. I've let one sit capped for a week, and it wrote immediately on touching it to paper. I've tried writing upside down (which didn't work) and the ink flowed back to the nib in less than a second after inverting the pen to normal. The nib is smooth and even has a little flex to it, which surprised me given its inlaid design. I expected it to be very stiff, and it isn't.
If you've been considering purchasing one of these pens, you can still get some from either
Jim Gaston
or
PenHero.com
. I've already bought two more, and would buy more if my budget would allow. As it is, I'm going to have to get 'the look' from my husband when he brings in the mail.
coyote
Edited by coyote, 03 December 2004 - 16:59.