First Impressions
(4.7/5)
The pen comes in a plastic box with a cardboard outer sleeve. Tucked inside the box is the pen and instruction booklet. Not the 'flash' of the Danitrio wood box or a FILCAO presentation box, but, functional packaging.
Appearance
(5/5)
If you are a fan of the 'flighter' look, and I am, this pen does not disappoint. Brushed stainless steel with a polished, spring loaded clip. This pen pays homage to its inspiration, the Parker "51" flighter while not being so close of a copy that it looks counterfeit. I don't believe anyone could or would mistake this for a "51", but, this is a handsome pen nonetheless. The black section nicely compliments the steel cap and body, and IMHO, the style works. The cap has Chinese characters (I believe they translate to "Hero", but I may very well be wrong) and the number 100 near the lip below the clip, and on the opposite side of the cap, there is a logo that looks like an atom and "Made in China". Both engravings are tastefully done and very subtle. Happily, the pen doesn't attract fingerprints as well as stainless kitchen appliances.
capped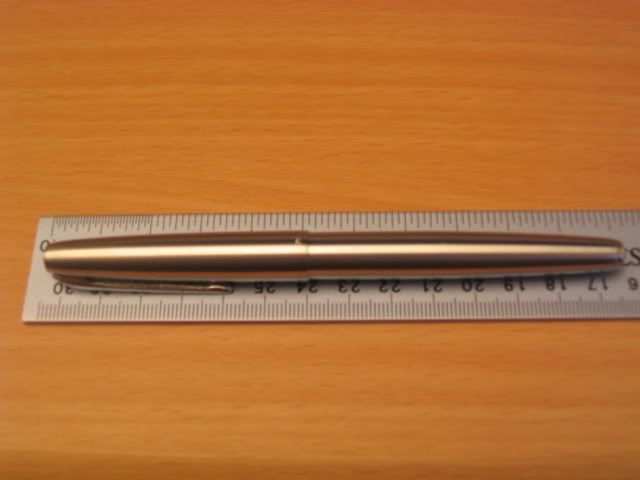 uncapped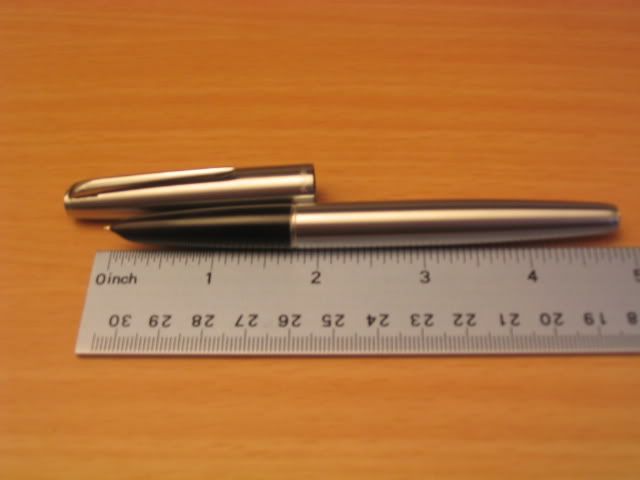 I had no idea just how tricky photographing stainless steel pens can be
Design/Size/Weight
(4.5/5)
The Hero 100 is designed to have similarities to the venerable Parker "51", so the design is spot on (if you like hooded 14k nibs). The pen is 5.56" capped and 5" uncapped. I don't post my pens as a rule, but wouldn't post this because I would be concerned about scratching the body. Using my kitchen scale the pen weighs 23g capped and 16g uncapped (both weights with some ink in the converter.
The reason I felt the need to deduct 0.5 points is the pen could be a bit wider where I grip it. The pen is 0.44" at the section where I grip, and if it were 0.5", it would be very near perfect.
I find this pen very comfortable to use unposted. I would be concerned that if I posted, the cap would shift the balance a bit to the back of the pen. However, the cap isn't heavy at all, so it may not have that much of an effect.
Nib
(5/5)
As long as you don't absolutely hate hooded nibs, it is hard to find fault with the nib on my Hero. The pen lays down a medium wet line, about a 6 on a scale of 1-10, and a true western fine line. My pen has a smooth nib, with just enough feedback to remind you that you are writing. Of course, since this is a hooded nib, there is no flex. The nib is firm enough to use to write carbonless duplicates, however, I have trouble convincing myself to push that hard with a fountain pen.
Filling System
(4.9/5)
True aerometric, not simply a pump converter. The converter is attached to the section, so bottled ink is the only option. I can only find fault that I would prefer the pen to hold a bit more ink. I can do a lot of writing with one fill, but, more ink is always better.
Cost and Value
(5/5)
A gold nib fountain pen for less than $30 (from isellpens.com), how is that for value? Remember the rating is based on my pen, not any of those that have had reported QC issues. If a pen doesn't write well, I don't care if it costs $0.02, it is a bad value. This pen excels at putting ink on paper.
Conclusion
(29.1/30)
97%. Not a bad score at all. Is this pen a "51" flighter...no it isn't. Is this pen a good writer that looks at home in a business meeting as clipped in a flannel...yes it is. At the 2006 Long Island Pen show I was finally assimilated by the "51" borg. I decided I wanted a flighter, then I saw what one costs. I changed gears to find an affordable "51" (non flighter) and took the mindset that this pen could be a very good substitute. It is.
My children got me this pen for Christmas 2006. I've carried the pen every workday for 2007, now the pen gets a rest as it rotates with the Namiki Bamboo the got me for Christmas 2007. However, externally it looks as good as it did the day I received it. The sac has a blue stain to it, I think from Legal Lapis, but it could be from any of the blues I use. I enjoy writing with the pen, and the kids love when I need to write something, "the pen we gave you for Christmas" is always an option in my 2 pen case.