After I broke the feed off my Haolilai 801 and after I decided that I might need a gold nibbed pen to turn into a dedicated iron-gall writer, I purchased the Hero 200a and 200c from Todd @ isellpens.com.
First Impressions
Both of these pens are variations on a theme. The silver metal 200a, which takes its styling cues from a classic Parker, is the cheaper of the two and comes in fairly plain plastic clamshell box.
The black lacquer and gold 200c, the fancier and more expensive of the two, comes in a slightly fancier box -- though nowhere near as fancy as the box in a box, black velvet luxury of the Haolilai 801.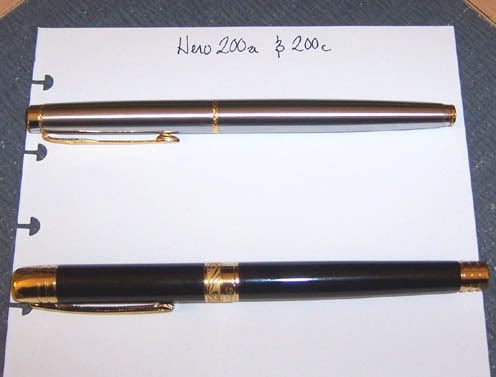 Fit and Finish
Both of these pens look well made as soon as you open the box. The 200a has evenly brushed metal and the understated gold trim on it is nice and bright. The lacquer on the 200c was dark and shiny with no chips. The gold trim on it looked nice and bright and satiny.
The caps on both pens seat with a nice tight click. The caps are not unduly hard to tug off, but when seated, are snug enough that turning them starts unsrewing the section from the barrel.
The sections and barrels screw together properly and smoothly. No crooked or shallow threading here.
The clips are properly mounted on the caps. No gaps which let air in to dry the ink. Nor do the clips feel flimsy or brittle.
Design, Size, Weight
I can't find where I buried my ruler on my desk, but these are utterly standard sized pens. I imagine that the 200a is almost exactly the size of the Parker it copies. The 200c is about half a centimeter longer, but that's because it has a fancier, longer cap.
The 200a is slightly narrower than the 200c in the section, and while neither is "skinny", they are both narrower than I like pens to be, but not narrow like a Bic ballpoint.
Of the two pens, the 200a is noticibly lighter and the body is made either of stainless steel or anodized aluminium. The 200c is nearly solid brass, and it is a medium-light pen, where the 200a is undeniably lightweight. That said, the 200c is not so heavy that I cannot write comfortably for several pages before my hand grows fatigued.
Both pens are well balanced when used unposted, but become (to me) top heavy when posted.
Nib Design
The Hero 200 series pens have 14k gold nibs; not plating over steel. At under $30 for the 200a and under $40 for the 200c, that makes both of these pens a screaming bargain. That's a "daily driver" price.
The nib itself has spartan decoration. Except for a few small Chinese characters, "14k" and the Hero logo (which reminds me a bit of an atom), the nibs are plain and have a sort of angular cut to them.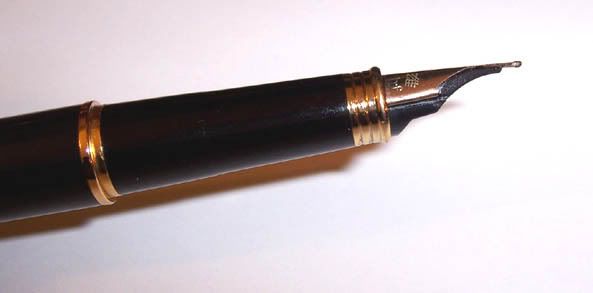 The same almost spartan aesthetic extends even to the feed mechanism.
Todd stocks only F nibs in these models, and I was a bit worried about how stingy and scratchy they might be. Both pens were smooth, wet writers as soon as I got them inked, laying down a line almost as generous as my M nib Pelikans. The design of the nib and the shortish length of the tines means there's not as much flex in these nibs as in my Haolilai, but there is a hint of give to them, unlike in a Lamy Safari or Pelikan Future.
I was worried that they might not play well with Noodlers, but they even do well with the very dark blue color of "BB Proof" ink I make by mixing Aircorp Blue-Black with Le Coleuer Royal.
Filling System
Both of these pens use a squeeze bladder filling system. I'm not particularly fond of this method of filling a pen because the dark rubber precludes seeing how much ink, exactly got in there, and there's no way to see how much remains after an extended use period. However, both pens suck up a surprising amount of ink.
These pens also supposedly take international cartridges, but I haven't had a burning desire to take the ink bladders out.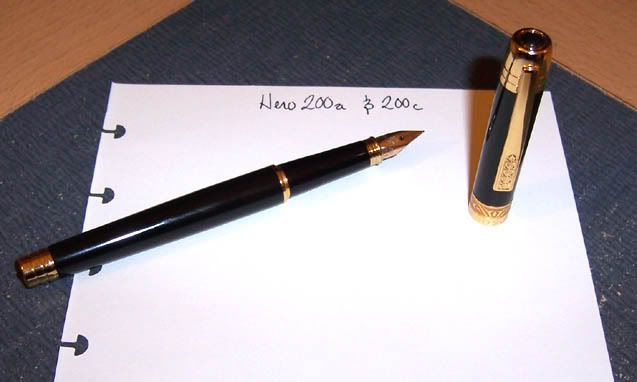 Cost/Value
Did I mention that both these pens are screaming values for any body looking for a gold nibbed pen? Hell, even if they were "mere" steel nibbed pens, I'd say they were good values because they write so smoothly.
(If they were fatter through the section, they'd be my daily office drivers.)
Conclusion
Hero makes a lot of el-cheapo pens that are hit or miss in terms of how well they write and just in general overall quality. But in reading through the reviews here, I noticed that as soon as someone stepped up to one of Hero's 12 or 14k nib pens, the build quality improved markedly.
Don't bother with those $5-10 Hero pens. Get one of the 12 or 14k nib models for $25-30 more.
At the moment I don't happen to need or want any more pens (this will probably pass soon), but when it's time to buy buy somebody a pen as a gift, I will consider the Hero 200 line.