This pen came to me from hisnibs.com. I had originally just e-mailed to ask when his majesty was getting more red and black stubs in stock, and he replied with a kind word and a payment request, so I went ahead and bought the in-stock green. I am happy I did. The pen arrived a few short days later, my first peice of mail at my new address (I recently moved), packed securely and with this great sealed note.
Man! Look at that seal. And I hear it's on a ring! Norman Haase is a badass. I hope that word is allowed. The note was very useful as well, for he demonstrated the other nib sizes of the Pilot and allowed me to see PR Chocolat and Sherwood Green. Judging by the quality of my pen, I may very well come back to this pen in another size. So, thank you Norman for a lovely transaction.
The Pen.

This pen was $25, about $30 shipped. It is not a showpiece. The plastic is plastic, nothing special or less-than there, the faux-gold used on the clip, rings, and nib looks very faux, the cap rings are printed on (I think this is the main thing contributing to the cheap look). It is, of course, very light, and the size is such that I always post. The clip is very secure, which is nice. I know this is an inexpensive Japanese pen, not a cheap Chinese pen, but I had begun to take loose clips on my Heros as a given. The screw on cap adds a bit of quality feeling to the pen.
Not a beauty, but by no means ugly; a completely neutral nib. For some reason I always smile when I read "PILOT SUPER QUALITY JAPAN" on it. I mean, what other kind of quality could it be? The tipping is invisible from above, it is miniscule. As for performance, it slides around the page with a pleasing feel, smooth but not like butter, ice, vaseline, or anything on glass; the nib feels like a finger running over the page, if that makes sense. There's no resistance, just a tactileness which lets you know you're writing. I like it. I can easily imagine what a higher-end stub might feel like, and now more than ever want one, but I don't think a "better" nib would displace this one, they could co-exist happily.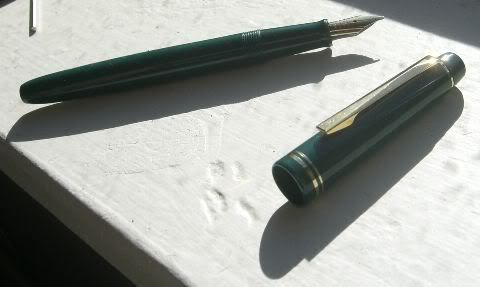 Though I've been happily tossing (shoving) this pen into my pocket lately, it's not really what I use for casual script. It's more a pen for writing
to
people with, not for writing things for oneself. This is my first stub and I love the built-in line variation for letters, not so much for class notes (and definitely not for sketching). I love having a pen I can very casually play around with practicing calligraphy (for some reason I have a strong aversion to calligraphy set pens).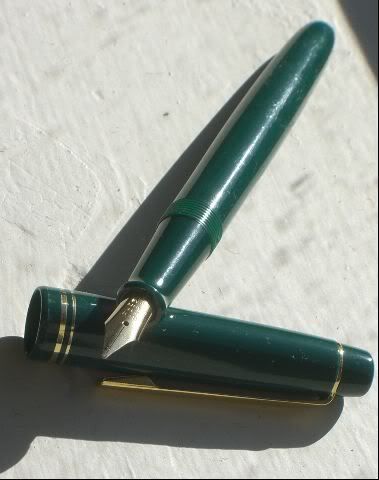 I say: buy this pen. It writes very well and without issue, it doesn't skip at all if you're holding it correctly, is fun to play with and write with, and is inexpensive. I'll go ahead and recommend the M and F as well, based on this nib's performance. I'm not really sure what else to say. The Pilot 78G is a great guy.