This is my first pen review, and from the three pens I own, I chose the Namiki Sterling, as I think it's a really unique pen, and I found no review of it yet on FPN. You can also find some comparisons with my two other pens (Namiki VP, Rotring Initial) on the pictures. So, off we go!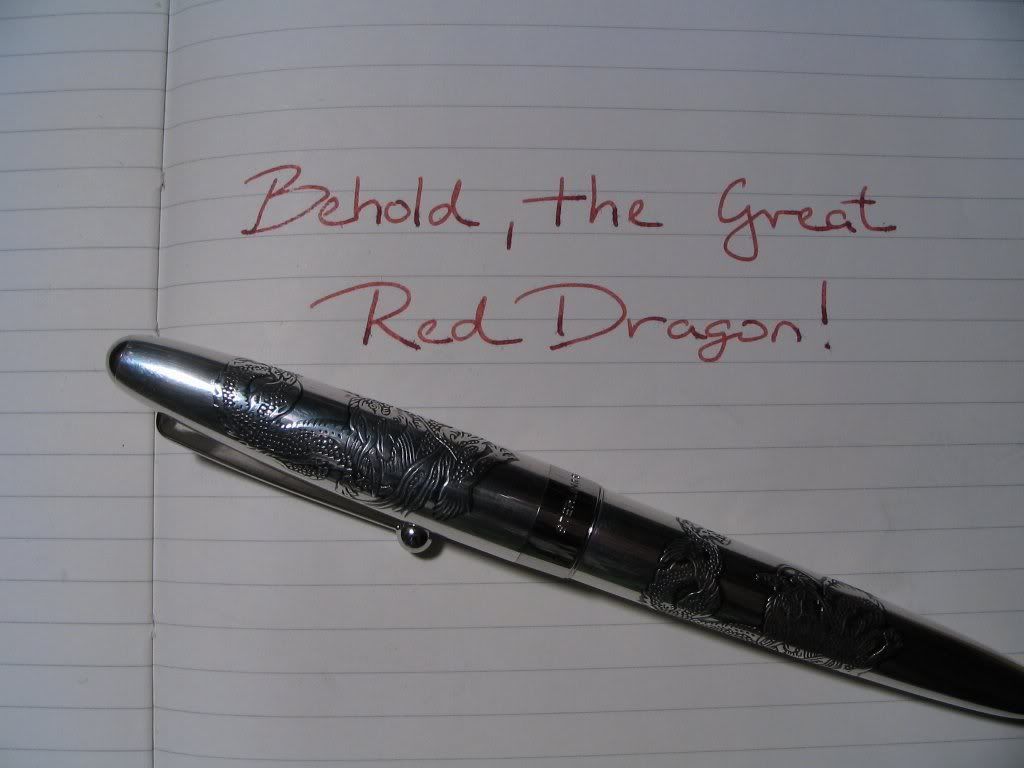 First Impressions 5/5
It all began with my graduation from college, my birthday nearby and the death of my Parker Insignia (broken in half at the neck, awful) around the same time. I decided to ask for a pen as a birthday and graduation present from my family - a pen which I will keep for all my life. It had to represent value, had to be a unique and of course a pen which I like. The first dream was the Sailor Hanzi Special Edition, but I just found it too expensive even for a present, so asked for another silver pen - the Namiki Sterling with the dragon design. I'm learning Chinese and my job is also related to China, I found the design appropriate to these and my taste. The sterling silver gives the unique value for me, and last but not least - it gives a decent weight, and I like heavy pens.
The pen arrived in a beautiful black leather box, with warranty card, a converter, a cartridge and a fine polishing cloth. Very exclusive.
Apperance and design 5/5
Two detailed dragons rest on the shining silver body. The neck is more polished with the text: "sterling silver" on it. The cap is a perfect fit, and the clip gives some dynamism to the pen. It makes the dragons seem more alive. Sure this pen is an eye-catcher and a true piece of art and workmanship, even tough some probably don't like the design.
Uncapped, the long, integrated golden nib continues the dynamism set by the clip. The nib is really long, occupies almost half f the grip. The pens looks like a deadly poisonous arrow - or rather the claw of a dragon? Your choice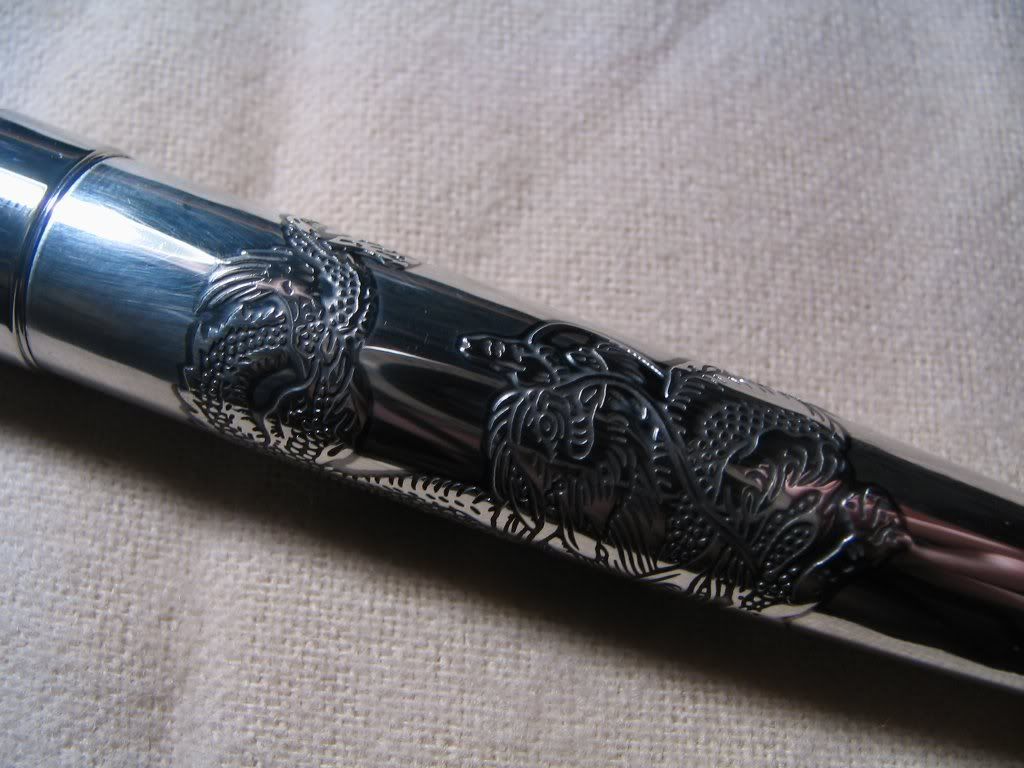 Size and weight 5/5
I don't have much experience, but the pen is probably close to standard size, but weighs considerably more than most of the pens. I like the balance posted and unposted too, but as the nib forces you to move your grip up (explained later), I prefer to use it posted.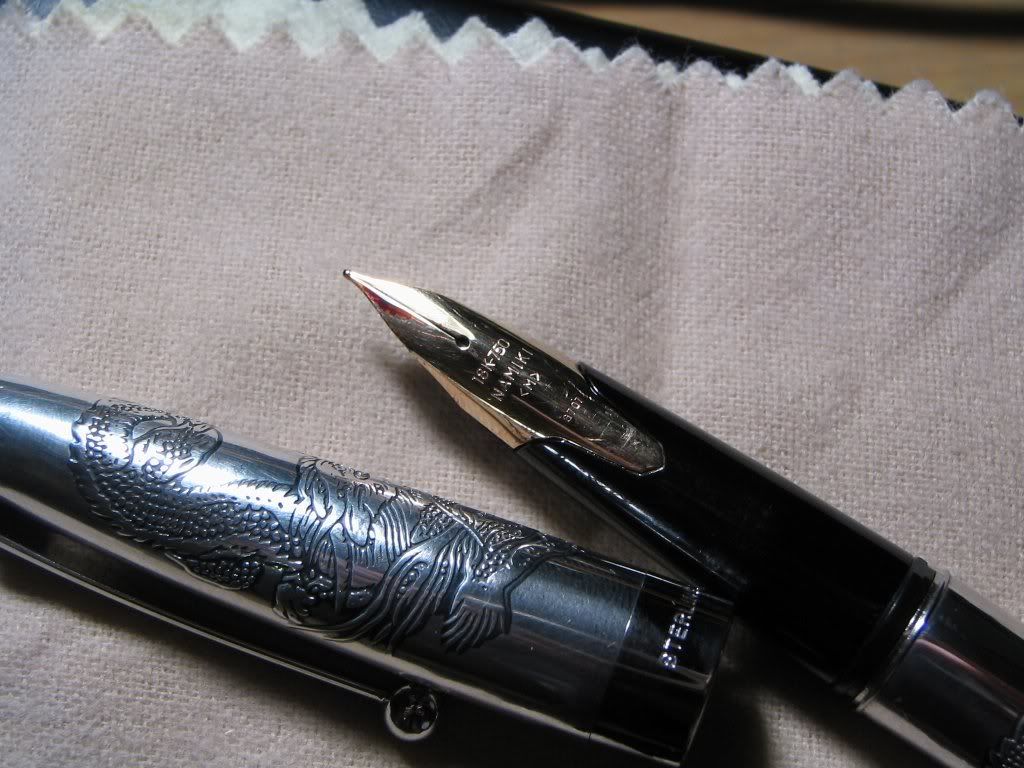 Nib design and performance 3/5
I asked for a fine nib, but due to an error I received a medium. Guarantee exchange was offered, but as I live in Europe and bought the pen from the USA, I would have to pay the custom fees again - and I could buy an additional nib from that amount. So I settled with the medium for now, and found a good use for it.
The nib is made of 18K gold, single tone, and as stated earlier, really drawn up on the grip. The nib is very flexible, and needs to be flexible, as surprisingly it needs to be pushed slightly to the paper, when starting writing, else it won't draw a line for the first millimeters with most of the inks - on some papers. The supplied Namiki ink is very fluid, and doesn't produce such problems on any paper.
I was really surprised by this behavior, and it makes the pen completely unsuitable for writing Chinese characters, as they need lots of interruptions between the strokes. For Western writing, the pen is great. The line and flow is usually smooth and continuous, but when you stop for some seconds, when re-starting writing, you have to press the nib down again, else it'll skip the beginning of the line. You have to get used to this!
The line width is very dependent on the quality of the paper, but not that much on the ink. Bad quality papers make the pen almost unusable, and you almost faint by the beauty of the lines produced on good papers.
Another interesting thing is the long nib. I tend to hold my pens quite close to the nib - here it results in lots of ink on my hand, as where I usually hold the pen, here you can still find the nib itself.
With red ink, this becomes especially funny, as the dragon is bleeding on you. But at least now I'll learn how to hold a pen correctly!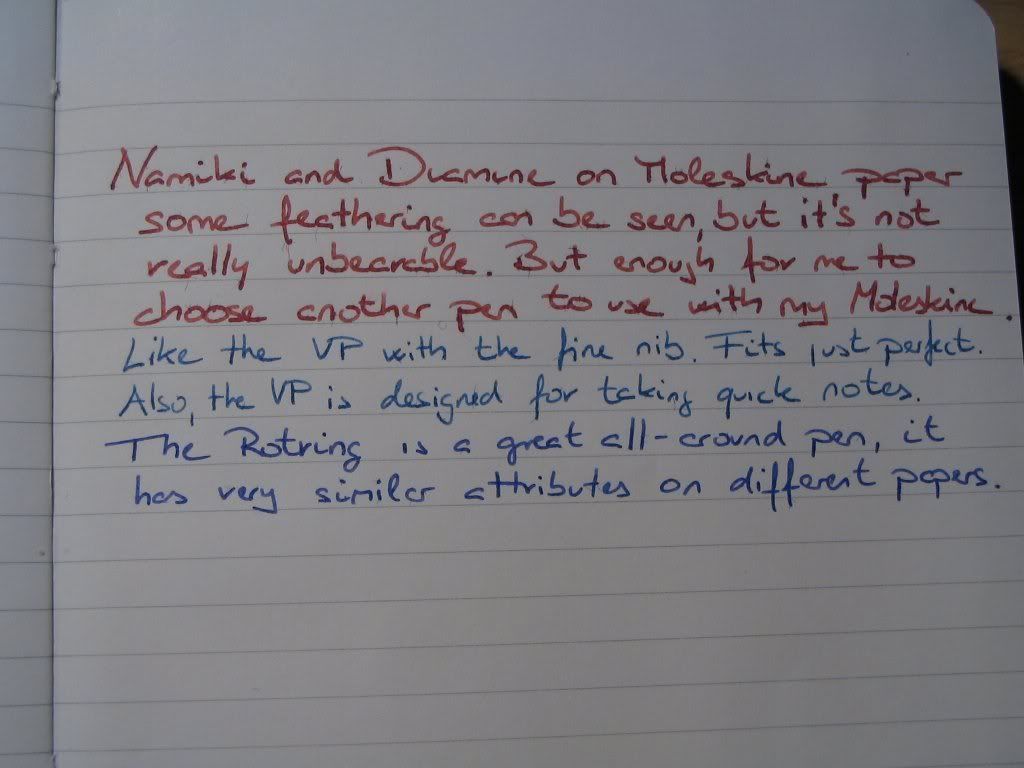 Filling 4/5

The pen is a cartridge/converter, which suits me fine. The twisting converter supplied holds only a little ink, so better be prepared with some excess ink or a spare cartridge all the time.
Value and cost 4/5
This pen was brand new, and a present, but I happen to know that it was 320$ + custom fees from eBay, which is on the upper borderline of what I would pay for a pen myself. Retail price is around 480$ as I know.
I believe that even when mass produced, the silver body represents a long-term value, which is worth the price. Definitely wouldn't buy it as an everyday writer, but it can be a proud part of any collection. Given the excess value, that it was given to me by my whole family, whom I love, this pen - even when not the best value for the price when talking about it as "only a pen" - has a huge value for me, and I don't consider it as a pen only, but also as a piece of art.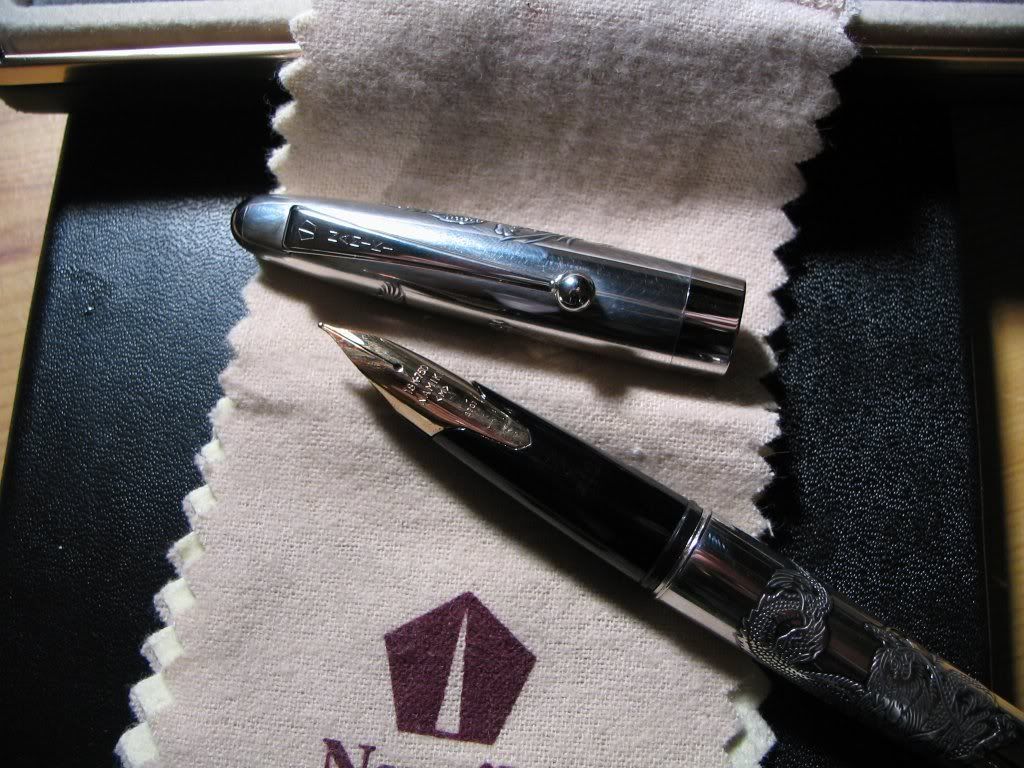 Conclusion 26/30
It is really hard to get well along with a dragon. It is really sensible, and very erratic. You have to give it the paper it wants, the ink it wants, and yet, if you don't hold it as it wants, it will bleed all over your hands.
You can't only grab this pen and "just write". You have to give in and adapt yourself completely. But if you do that, this pen will be your true companion.
This pen has a really unique character. Don't buy it -at least with not this nib- if you only want a good pen for daily writing. Buy it, if you want a pen for unique and important occasions: signatures, love letters, diaries. Sit down to the desk at home, adapt yourself the dragon, and feel your joint power.
I wanted to use it for completely different things and reasons, but this pen converted me and changed my plans. And I don't mind at all.
Edited by zaqrack, 17 January 2008 - 23:05.