I purchased this M nib Pelikan Future from Todd at isellpens.com about 3 months ago because I liked my Pelikano Jr, and wanted a durable "daily driver" with a finer nib.
First Impressions
Like the Pelikano Jr, it comes in a no frills cardboard box. Then again, this is an under $20 pen at most retailers.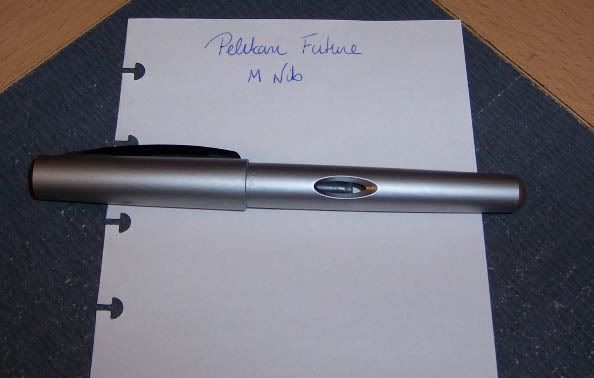 Design
Like the Lamy Safari and the Pelikano Jr. this is a love it or hate it pen. In addition to Silver, it comes in Red, Green, Blue, and Yellow, -- bright, bold, command colors.
The nib is the same style found on the Pelikano family of pens. No decoration, just "M" for medium.
The section has an ergonomic grip different from those on the Pelikanos, made of three lobes of hard rubber embedded in plastic. I find it as comfortable to hold as a Lamy Safari, but unlike the Safari, a user is not forced to hold the pen a certain way in order to write.
The barrel of this silver Pelikano is made of a lightweight metalicized plastic. It's not 100% metal, and it's not 100% plastic -- tapping on the barrel makes a metalic sounding ring, but not the tone that would be produced by something 100% metal. About half way down the barrel is a cut out window which allows the user to check (to some extent) the amount of ink left in the pen, or see exactly how short a small ink cartridge is.
The clip is made of what looks like plastic and rubber. I reguarly clip it to my shirt at work and it shows no sign of fatigue so far. The cap seats with a soft snap and is not hard to pull off.
I find the pen lightweight, with a good balence, and IMHO, it writes best without the cap posted, although posting the cap does not make it unusably top heavy.
Ink System
This pen takes Pelikan's cartridges and piston converter as well as international cartridges.
Performance
DO NOT USE NOODLER'S INK IN THIS PEN! When filled with Noodlers, this pen becomes a balky, scratchy, utterly unpleasant writer. (Odd because my M205 -- different nib design -- does just fine with Noodler's.) It performed so badly with Noodlers (even Aircorp Blue-Black, an ink noted for excellent flow properties) that I considered giving up on it.
On the advice of Old Griz, I tried using a different ink in it. It was like getting a whole new pen! When filled with Pelikan, Private Reserve, or Lamy ink, it writes smoothly and reliably, just like a Pelikan should. Ironically, I get the smoothest and best performance with Lamy Blue-Black (iron gall). With proper maintainance (daily use and a weekly flushing of the nib), I used iron gall ink for 3 consecutive weeks and experienced no problems.
(At the moment the pen is filled with PR Tanzanite because I'm at home and don't need a waterproof blue ink, plus I feel like purple.)
Final Thoughts
The Pelikan Future is an inexpensive, smooth writing, reliable pen.
And while it may be picky about the kind of ink it's fed, the nib can take a beating. I dropped it tip down --twice in the same day -- on thin carpet laid over cement and experienced no damage. The nib is a "nail".
Its light weight means it won't tire the user's hand, making it suited for extended use, and its grip is a good choice for those who need something ergonomic, but find the Lamy Safari uncomfortable.
Like the Lamy Safari, this is a great pen to use as a loaner or as workplace daily driver. It can take a beating, and if the worst happens, it can actually be replaced cheaper than the Lamy.
Edited by kadymae, 16 January 2008 - 04:49.