Here goes folks. I got this pen in today, after waiting on it for a couple of weeks. Of course, it did come from China, so maybe that's not too bad. Shipping costs were fully 60% of the actual price of the pen. Anyway, on to the pen itself.
APPEARANCE--As you can see by the pic, it is a lovely pen, w/ alternating segments of green celluloid w/ subtle flecks of black and gray, then diamond patterns of glossy and matte gold finish. Where the cap connects to the body, the gold band is stamped with the number 718, and some Chinese characters. It is a little on the flashy side, but still looks classy. It's not slender, but not fat either.
WEIGHT--I really like it's heft. Definitely not a light pen, but not as heavy as my Danitrio Tac Carry II's either. I would think that, depending on one's preference, it could be used posted or not.
NIB--It is a F two-tone nib, which is usually not my preference, but I needed some F nibs, just to lend some balance to my collection. The nib is stamped "GOLD NIB" & "GLM" I'm not sure what the GLM stands for, unless it is an abbreviation for Guanleming.
INK DELIVERY SYSTEM--It comes with a fairly common screw/piston- type converter that seems to hold a reasonable amount of ink, unless one is very prolific at a sitting.
CLIP--This is probably my least favorite component of this pen. It is very stiff indeed. Underneath the bottom of the clip, there is a nub, something like a ball-bearing cut in half and welded to the clip's back-side. It is somewhat of a pain to clip to a shirt. It takes a deliberate motion to accomplish it.
CAP--It is a friction fit to post it, but seems to hold well enough. When closing the pen, the cap definitely snaps on.
WRITING EXPERIENCE--I wouldn't say that it is buttery smooth, but not "toothy" either. I have filled it w/ Diamine Emerald Green. (Yeah, I am THAT way). It's definitely not a singularly enthralling exercise in fountain pen pleasure, but it is nice enough, I suppose, considering I got it for $20, plus shipping.
RECOMMENDATION--I definitely can suggest this as a good candidate to add to one's collection, even with the above disclaimers. I hope my first review was adequate. I look forward to doing other reviews in the future, but only if they can shed some beneficial light on certain pens, inks, etc. Thanks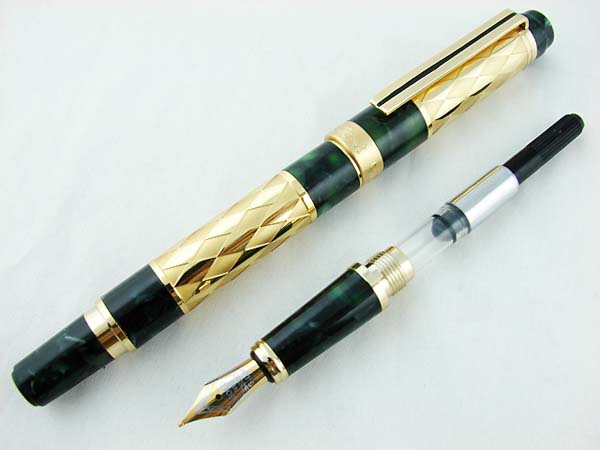 Edited by Tony the Tiger, 11 January 2008 - 03:28.