As penance for continuing threads in the Pen Reviews forum that belong in the Writing Instruments forum, I'm posting a trio of pen reviews (with more to come as time permits). Feel free to criticise them severely so I can write better reviews in the future. I know the photos could be better - taken with my wife's hand-held dinky little snapshot camera, a cheap desk-lamp, a lifetime's lack of experience in the arts photographical, and the one square foot of desk space that isn't occupied by paper, books, and electronic equipment.
Regards, Myles.
First Impressions
The Parker Jotter was my introduction to the world of fountain pens. It was the only fountain pen in Officeworks (an Australian office supplies warehouse chain), hanging amongst the blister-packs of Parker ballpoints and refills (I've since seen it with other fountain pens in the locked pen display cabinets hidden in out-of-the-way corners of local newsagents).
I'd been dabbling in cartooning, and a few books had mentioned fountain pens, although generally in passing and in one case rather scornfully.
The pen is sold in a blister pack, posted to show the nib, clipped into a soft plastic base with a clear plastic cover.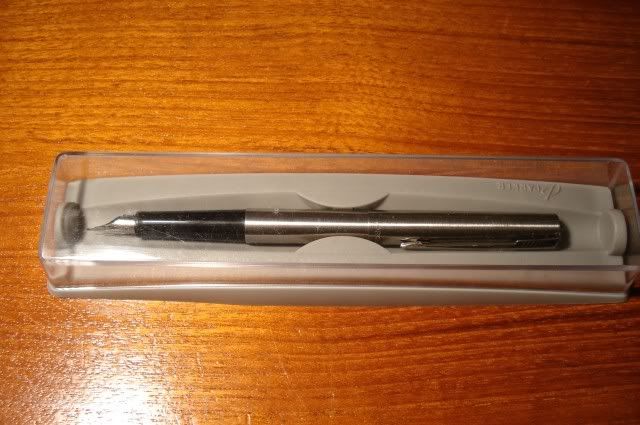 Appearance & Finish
To somebody completely new to fountain pens, the brushed steel cap and barrel look professional and rugged amongst a field of plastic ballpoints (assuming it isn't aluminium or alloy, which is possible, as it is rather light). The shiny black plastic grip (or section) looks plain but workable, and the quite plain and discreet nib looks slightly exotic compared to ball-points without looking as flamboyant as a fully exposed fountain pen nib.
Near the cap's lip it has the Parker P logo, the word "Parker" all in capitals and in smaller capitals the words "made in UK".
The clip is a Parker arrow.
Design / Size / Weight
In practice, the metal barrel and cap have proven quite durable and rugged, and the springy clip has proven capable of handling shirt, jacket, or jeans pockets with equal aplomb (unlike a certain Lamy Safari clip which proved unequal to handling jeans front pockets and is now bent away from the cap at about a 10 degree angle).
When capping the pen there is a definite and satisfying click.
The brushed steel finish also hides fingerprints and gives the pen a little presence, but it is by no means a heavy pen. However, the pen is quite short and only feels comfortable to me when the cap is posted.
12.1cm capped (about 4 & 3/4")
11.2cm unposted (about 4 & 7/16")
13.8cm posted (about 5 & 7/16")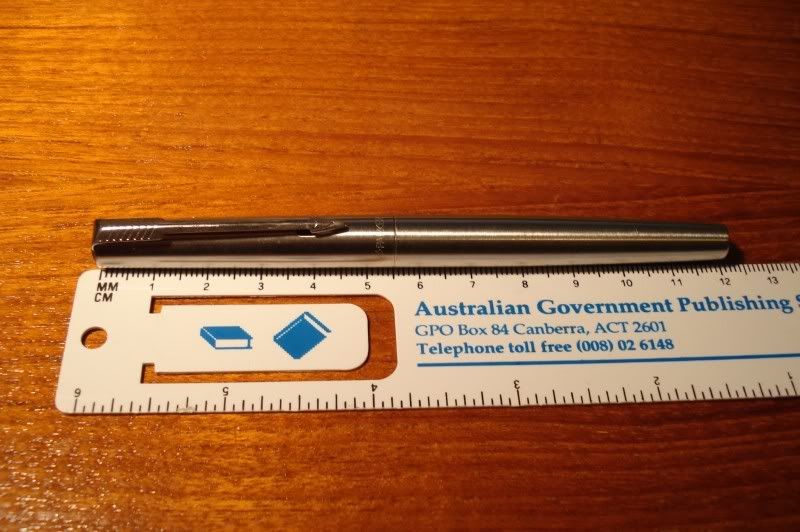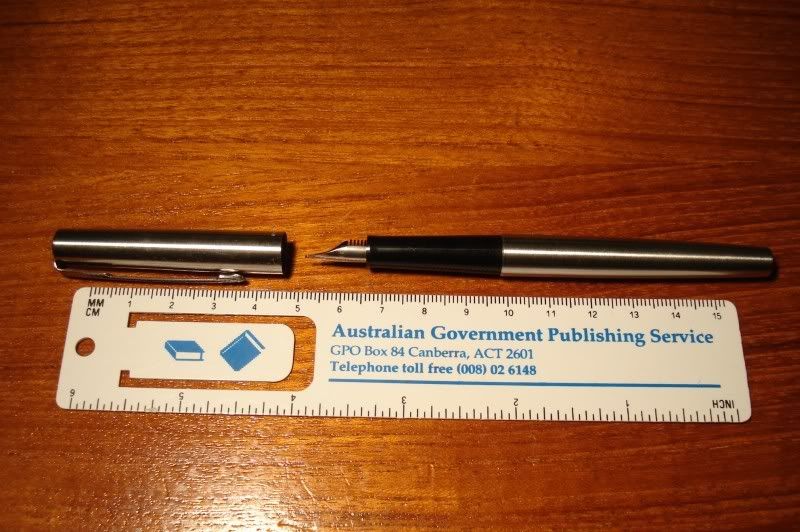 Unfortunately, I find the grip too slender for prolonged use - about 9mm tapering down to about 7mm.
Nib Design & Performance
The nib is quite stiff, and gives a nice standard medium line in all directions and some shading with appropriate inks (including Parker Quink Blue-Black). I have experienced no skipping or other problems and it starts immediately after sitting in my briefcase for a week or two.
Although it lays down a reasonable line, somewhat dry, it has a feel and a subtle whisper of writing sound I can only describe as "steel" (or more like "water on polished steel" than "warm butter on glass") - not unpleasant, but a definite feedback.
The semi-wrap-around nib is quite plain - it looks like someone has taken a shiny steel nail, pounded it flat and wrapped it into a semi-cylindrical shape, adding appropriate tipping material, and added the word Parker in plain block capitals. It seems to be the same nib used on the similarly priced Parker Reflex.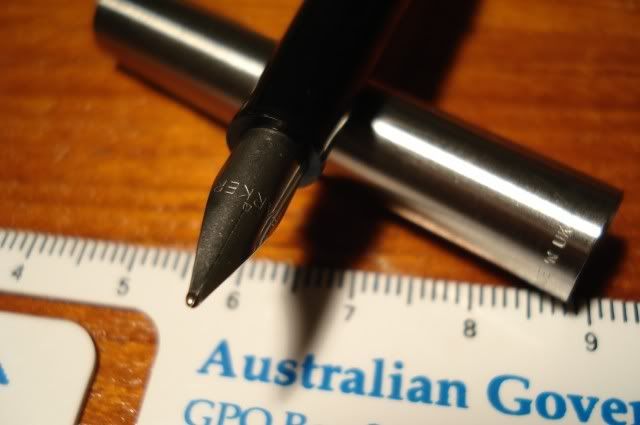 Although the nib itself is not marked with a size, the underside of the feed has a plain M moulded into it.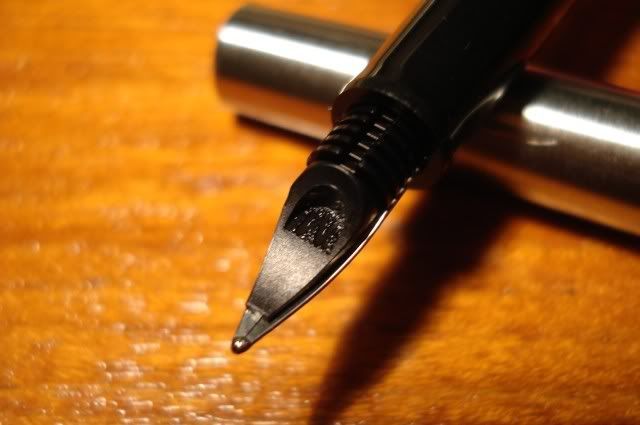 The stiffness of the nib has a few advantages. It writes quite well with either light or heavy pressure, and so it is a useful pen for a heavy-handed ex-ballpoint user making the transition to light-handed fountain pen user, while at the same time I have no hesitation in handing the pen to colleagues or students who have never used a fountain pen before. Although I have not tried it, it feels as though it could quite happily handle multi-layered carbon or carbonless copy paper, and could probably survive minor dropping incidents.
I can see why some cartoonists might look with scorn on fountain pens if they were used to dip pens and they haven't experienced the huge range of possibilities - there is little line variation, flex, or character to this nib.
However, for writing the uniform line might be more appealing to some people, and several cartoonists have done quite well with a uniform line.
The Filling System
The pen uses a cartridge/converter system, although it took me a few months to learn about converters and bottled ink. The pen comes with one Parker cartridge clipped to the underside of the display case inside the blister pack, and cartridges are still widely available in larger newsagents and stationery suppliers.
Unfortunately, the cartridges I've tried are quite resistant to insertion - you almost need to screw the barrel on to force the cartridge onto the section, which comes perilously close to damaging the shallow plastic threads on the section.
An inexpensive Parker converter from a dedicated bricks-&-mortar pen shop (not a newsagent or stationery supplier) solved that problem and enabled me to try my first bottle of ink, a Parker Quink Blue-Black.
A significant portion (about 1.7cm) of the converter transparent area remains visible, so it is relatively easy to see the amount of remaining ink.
Note: I dropped (umm, gesturing over-vigorously) this pen (capped) from about chest height onto a cement floor thinly covered with cheap "corporate" carpet, and the only damage was to the converter which snapped right across at the transparent area.
Cost / Value
At the time of purchase, this pen was about A$24 for Officeworks (now priced at about A$30, I see), which is the cheapest readily available fountain pen I've seen in Australia (except for the occasional disposables and calligraphy pens in supermarkets). The brushed stainless steel finish makes it look rather good value if you are happy with the nib and the slender grip.
I've also seen them in NewsPower newsagents, include with more expensive pens in the locked glass-fronted cabinet which is usually hidden in an out-of-the-way corner of the larger newsagents.
Parker converters are available separately from proper pen stores.
For about another A$18 on the current price, you can get yourself a nice Lamy Safari with a wider grip, which is probably better value if
you like the Safari's triangular grip.
Overall Opinion / Conclusion
A good cheap introduction to fountain pens and a useful knock-about pen for slipping in a pocket when shopping for groceries. Possibly a useful backup pen to throw in with a cartridge or two. The main drawbacks are the slender grip and overall small size.