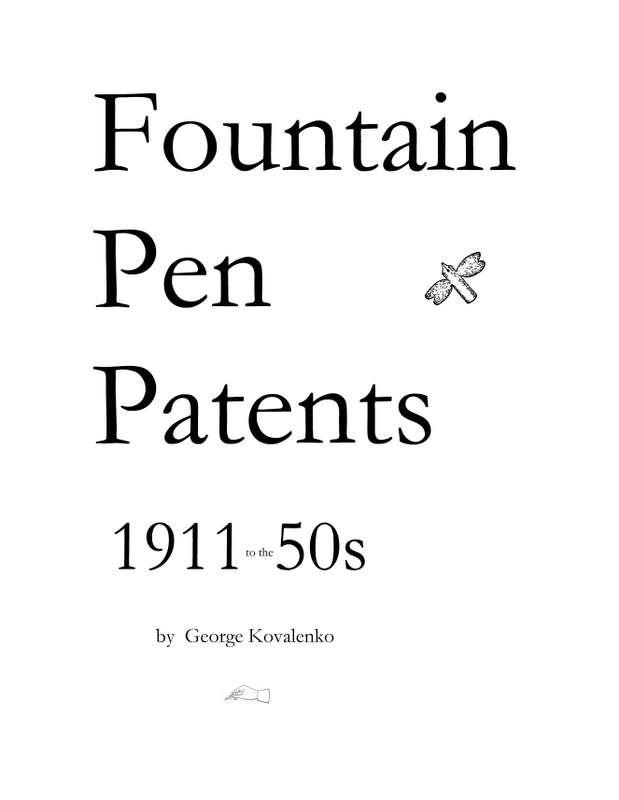 Fountain Pen Patent Book, for collectors of pens, pencils, ink bottles. Email me at: penpatents@canada.com
The book is titled
Fountain Pen Patents 1911 to the 50s: An Index Of The Later Pensmiths
, ISBN 0978113403, and I am the author. It is the second of a projected 2-volume work, an annotated chronological list of US patents, designs, and trademarks for fountain pens, nibs, penmaking machinery, penholders, mechanical pencils, wooden pencils, inks, ink bottles, inkwells, inkstands, erasers, blotters, pencil sharpeners, and other writing instruments and implements. It consists of three chapters of "Patents", "Designs", and "Trademarks", including those for pens made by Carey, Carter, Chilton, Crocker, Holland, Kraker, Mabie Todd & Co., Montblanc, Namiki, Parker, Pelikan, Pilot, Sheaffer, Swan, Wahl Eversharp, Waterman, Wearever, Wirt, etc. There is an extensive "Bibliography", and an "Index" section to help locate penmakers, companies, and pen mechanisms. There is a frontispiece illustration of a bandless Parker Duofold facing the title page, and images are placed at the beginning of every chapter and section. The book is 320 pages long and weighs 3 lbs. It is printed on opaque, acid-free, archival 80 lb. paper with 12-pt Garamond type, which is very reader-friendly for tired, old eyes. It is bound in Smythe-sewn signatures between hardback covers for maximum archival longevity. The pages lay flat for easy reading and consultation when the book is opened up and laid down on a desk. Every copy is inscribed with an edition number in scarlet ink on the Colophon page at the back of the book. A specially designed and custom-fitted cardboard box was made for shipping, so that the book won't get damaged. Anyone who purchases a copy of Volume 2 will be placed on a mailing list for the announcement of the publication of the forthcoming Volume 1.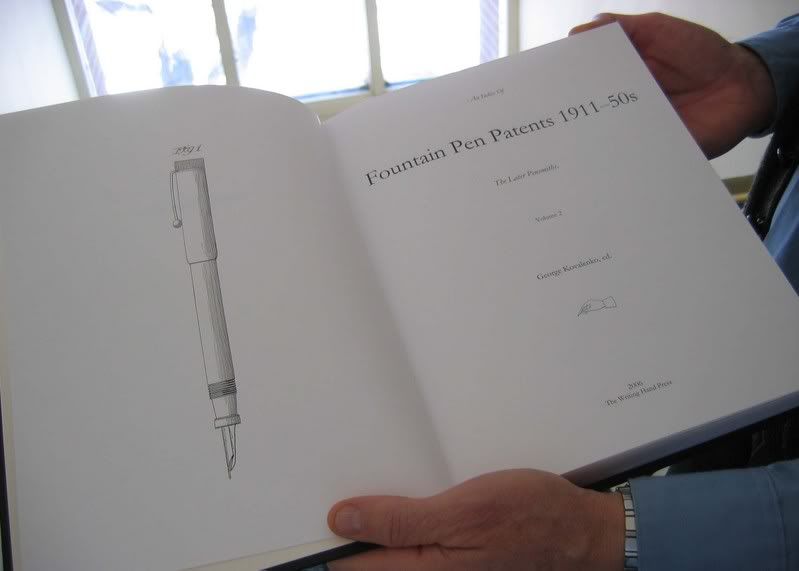 Here are four examples of the page layout. They show the top half of the first page of the patents, designs, and trademarks chapters, and the index. These images give you an idea of what the pages look like on paper.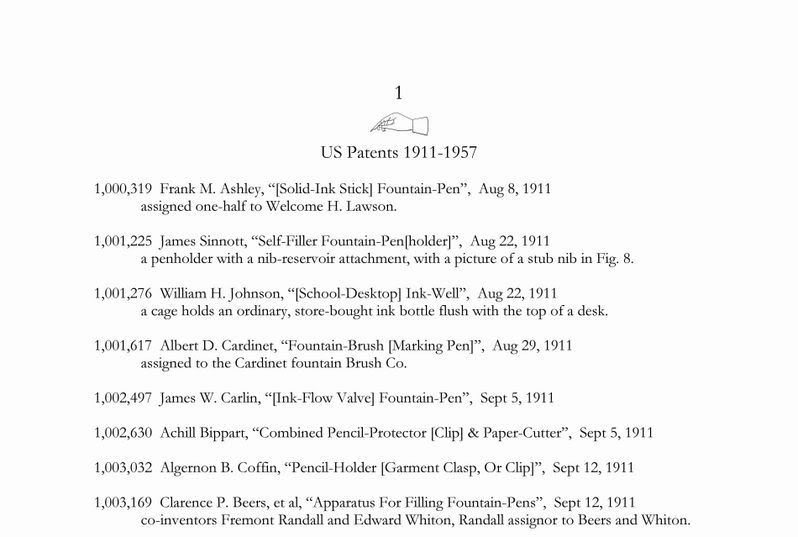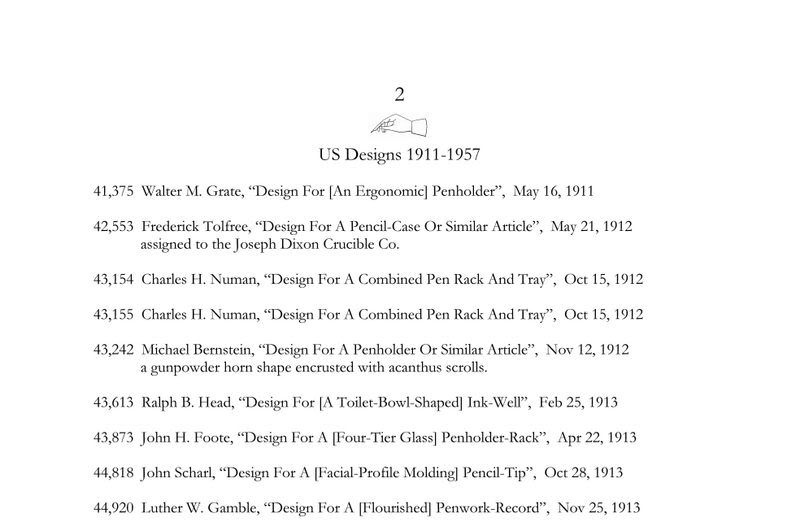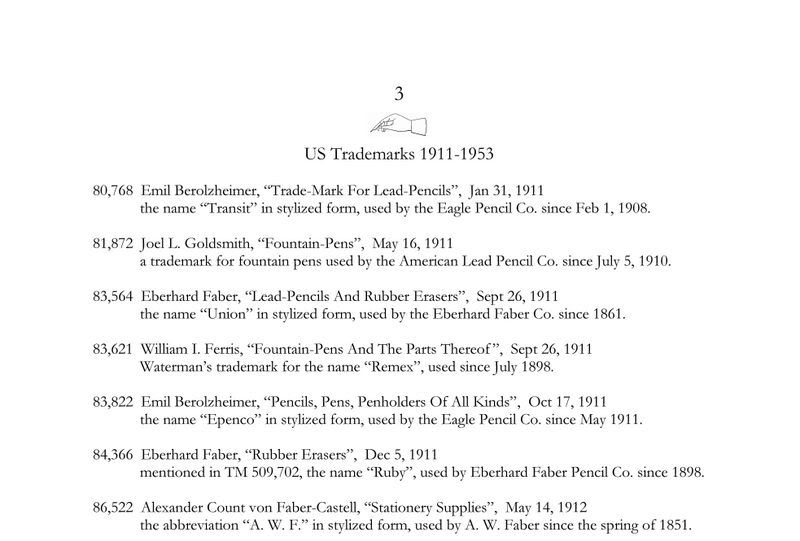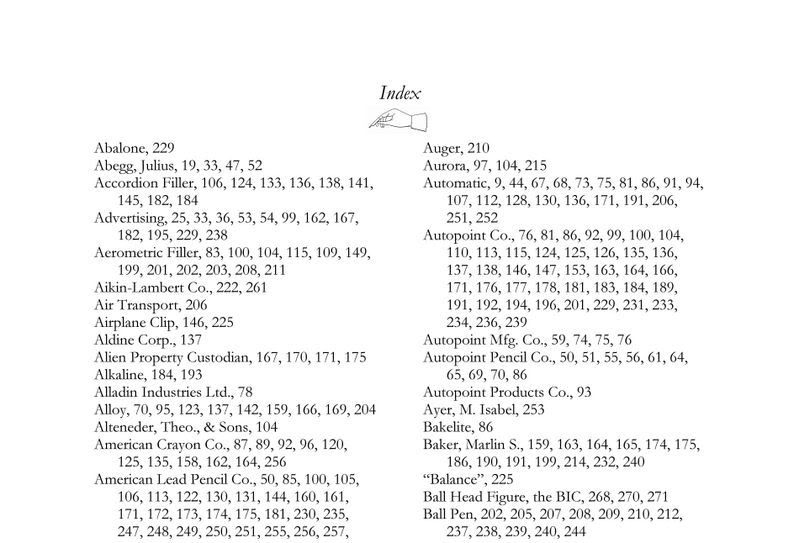 And here's a picture of the spine and the binding.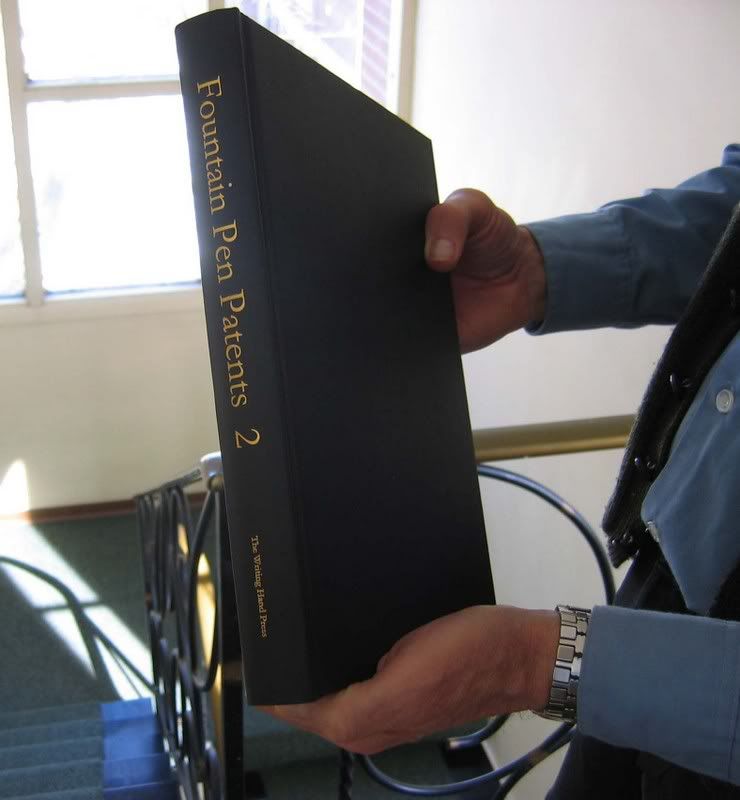 A good pen-patent resource should have quantity, but to some degree you also expect quality and depth. It should not be haphazardly prepared, and should not be just a database of patents, in order, by issue number. Depth and quantity should not be confused. What good is all that data, if you are not able to figure out how they all fit together, and if you are not able to put them into proper relationship? What you can expect in this book is one stop shopping for your patents, and the ability to see similar filling mechanisms, and even the ability to look up who was doing what for whom in the industry. This book accomplishes that with cross-referencing, contextualization, annotation, and indexing.
One of the uses of this book is to extract pen history, but it could also be used as a repair manual to help repair a certain model of pen, or it could be used to find old pen machinery and penmaking techniques. It's not just one book, but three. It's a history book that tells us where pens come from. It's a parts manual that tells us something about how the pens fit together, and shows us their DNA structure. But most importantly, it's a textbook of repair. This book gives us the information about a pen's heredity that should enable us to come up with diagnostics for pen ailments and preventive repair strategies. It's like looking at the Fountain Pen Genome.
While I was preparing the book, I collected a group of favorite patents and goofy images. I wrote some articles about these patents and posted them on various pen message boards in a series I titled "Some Of My Favorite Pen Patents". So if you want to see a few examples of the type of research that this book makes possible, take a look at the 43 links in this thread.
http://www.fountainp...showtopic=13358
I am selling the book for $125.00 US plus shipping. Payment will be by bank money order, or cashier's check, and I am now also accepting

. I will mail the book out promptly after I deposit your money order, or receive the PayPal payment. The standard Xpresspost shipping cost and handling charge varies according to where you live. Xpresspost shipping will be $25.00 within Canada, and $35.00 to continental USA, and it includes $200.00 worth of insurance and online tracking. International shipping will be by Expedited Airmail, and will cost $45.00 or more, depending upon the distance. Xpresspost within Canada takes 2 business days, and about 4-7 business days to the US, and international airmail usually takes about 10 business days. If you prefer Expedited Airmail to the US, it costs a little less, and it still has insurance, but it may take up to 10 business days, more or less. Sorry, no returns.
Sincerely,
George Kovalenko.
The Writing Hand Press
Phone: 306•244•6096
Saskatchewan, Canada
Email:
penpatents@canada.com
----------------------------------
"Tis pleasant, sure, to see one's name in print". --Byron
Edited by rhr, 20 December 2007 - 07:00.