DaniTrio Densho Raw Ebonite- Review
First Impressions
I never really knew anything about DaniTrio pens until my Dad showed me some of his DaniTrio pens when he came to visit me 2 years ago after a pen show that I was unable to attend. So I went to the DaniTrio site a few weeks later to see what the big stink was on these pens. Man O man!!! I was really surprised by some of the designs and shapes this company has created. I thought that the pens that DaniTrio made were some of the cheaper or should I say affordable pens such as the Brillante and the Tempo. I was dead wrong, that's for sure!! The Maki-e and Urushi pens were some of the best designs that I have ever seen. The art IMHO is superb and I think the DaniTrio Maki-e and Urushi pens are better looking than most of the pens from (NOT ALL PENS) Pilot/Namiki, Platinum, Nakaya and Sailor have out on the market.
I followed a link to www.internetpens.net from the Fountain Pen Network and I was really surprised to see other DaniTrio pens I previously have never seen before. Some of the shapes and sizes were truly mind bending. Especially because most of the Japanese pens that I have seen are usually medium to small in length and pretty skinny in width. Yes, I have seen some of the larger Sailor and Namiki Maki-e pens that are available but they were way out of my price range. Also, I am very nervous about chipping or ruining the lacquer and intricate designs on these pens. I don't trash my pens but they are subject to everyday wear and tear even though I take extra care and precautions.
I was on the Pentrace Green board and I saw our very own Winedoc (Kevin Cheng owner of www.internetpens.net) post a new trial pen for sale. Here is the post minus the pictures:
Trial Product!!!
Posted by winedoc on September 18, 2005, 12:34 pm
Good ideas often came about from my conversation/emails from fellow Pentracers. One of the pentracer (can't remember who now), told me wouldn't it be great to have a simple black ebonite pen with no urushi or maki-e on it. That's it, no decoration, just your bare essential ebonite pen, light, strudy, with a flexy nib and the best part... an ED to hold lots of ink. Nothing fancy, just a writer's pen! I thought this is a great idea, and took it back to Danitrio... and oowwaallla!! here you have it!!
I have two of these as trial product. The whole pen is made of ebonite, it comes with flexy M and flexy F (first come first serve), and it's ED with safety shut off. The ebonite has a "matted finish", feels smooth in your hand.

Please note, the ebonite is in its very natural "rough" finish, so no extra steps are done to "polish" the pen. These are as simple as it gets, and are "AS IS". The pens have some vintage flare to them. The pen is adorn with a very simple gold color clip. The pen can be yours for $155 delivered with box and paper, eye dropper, within US. For international, please add $10 for global priority. Paypal and check are all fine. Thanks for looking. And thank you for continue to give me your great ideas....

And as for blue/purple Tamenuri... they are working on it ;-)
I was sold on this pen because this pen can be posted and you do not have to worry about ruining the Urushi or Maki-e. The other good thing is that this pen can take a good amount of abuse without having to worry about the pen being destroyed. Too bad I was late in trying to order this pen off of the Green Board. I swear that these 2 pens were sold out in 5 minutes!!! Winedoc will have to confirm that!!! ;-) Well anyways, I emailed him regarding these pens and he told me that he was taking names of people who were interested in buying this pen. So I told him I really wanted one of these pens, he was nice enough to take my name and put me on the order list. He said that the pens should be here by early to mid October, so I marked my Calendar!!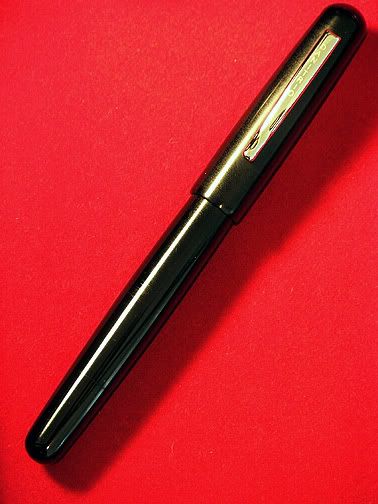 Well, I was notified on either the 13th or 14th of October via email that my pen was there and ready to ship. He told me that he was only able to get 10 out of the 30 pens that he ordered. So thank goodness I was one of the 10 people that that were able to get one of these bad boys. By the 17th, my pen arrived along with my new yellow Pilot Vanishing Point. Boy oh boy, was I really excited to open the box and see what I ordered. Oh, the thoughts that raced through my head!!!
Appearance/ Finish
5 out of 5
The pen came in a slip cover box which contained a nice plain wooden box. Inside the box, of course was the pen which was laying down on a groove in the foam. On the other side was the eyedropper, which is used to fill the pen. I really like the wooden box and I tend to use it rather than using my larger pen chest to house my DaniTrio Densho pen. The pen itself has a matte black finish to it, so if you are expecting a high gloss shiny pen then you just better pass on this one!!! Now not to say that it cannot be polished, it will take a bit of elbow grease if that is what you wish!! Since the pen is a matte finish, you do not have to worry too much about a scratch here or there. The texture of this pen will hide most everyday "wear and tear". You can really tell that this is an ebonite pen due to the smell the pen gives off a rubbery sulfur smell. I do not find the smell to be offensive but I do think the smell has an antique hint to it.
Design/Size/Weight
5 out of 5
Alrighty then, here are some of the other cosmetic details that you might want to know about. The pen is exactly the same size and design as the DaniTrio Densho minus the Urushi and Maki-e. The length of the pen is roughly about 6 inches in length with the pen capped. While capped this pen is larger than the Pelikan M1000, Mont Blanc 149 and the Bexley Prometheus by anywhere from ½ to 1/8th of an inch depending on the pen that is being compared against. This pen is close to 7 inches in length while the cap is posted. Out of all of my larger pens, only the Bexley Prometheus is larger than this DaniTrio Densho and it is by about a ¼ of an inch. Yes you can post the cap on this flavor of pen because this is plain raw ebonite. As for the diameter and weight, all I can say is that it is pretty light due to the fact that this is an eyedropper and there are very little components inside the barrel. This pen is much lighter than the rest of my larger pens in my collection.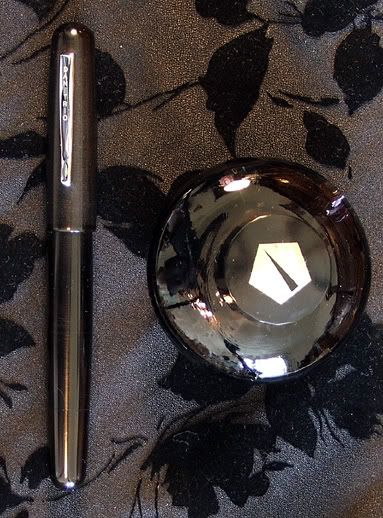 The design of the pen is a cigar shape with rounded edges. The pen also has a rounded cap top and butt end of the barrel on the "Tail". This pen has a very simple design and that is what makes this pen so attractive. The clip is spring loaded and is silver in color with the word "DANITRIO" that is etched in the face of the clip. I tend to think that the clip design from the side looks like a woman's high heel shoes. In all, this pen design is simple but very practical. Personally, I would have liked to have had this pen minus the clip because I rarely ever use a clip!!! Well, as Mommy Savage would say "beggars can't be choosers".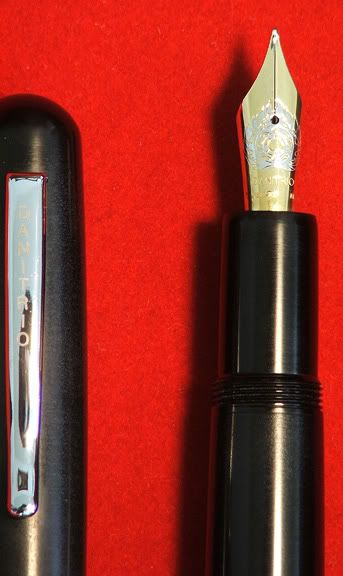 Every part of the design is used in some way, shape or form. So there are no silly gimmicks or funky designs that will exclude one sex from another, I call it a unisex pen due to its simplicity. This pen can fit any person, man or woman but with only one prerequisite and that is if you are comfortable and can easily write with a larger pen such as a Mont Blanc Meisterstuck 149. The width of the Densho is almost identical to that of the Mont Blanc 149.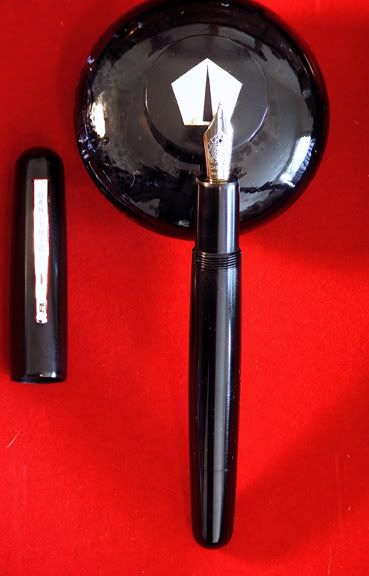 Nib Design and Performance
5 out of 5
I was given a choice of nib width and firmness. I happen to choose the flexi-medium nib for this pen. I was a bit concerned on how the width would turn out. As with most Asian pens that I own, I was not sure if the nib was going to be 1 size narrow than what is posted. For example a Sailor medium is closer to an American/European fine. I asked Kevin for his advice on this matter before he placed the order. He basically said that the medium nibs on the DaniTrio are about the same width as American/European standards. In fact I believe that Bock Nib Factory of Germany makes the nibs for DaniTrio.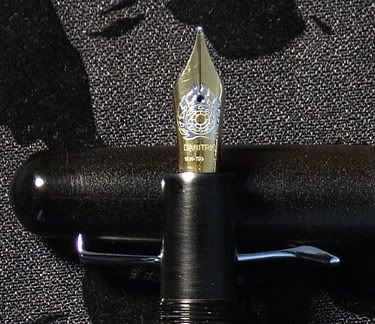 The design of the nib is really cool. It looks like it is a sun with flames around it and below that it reads "DANITRIO" and below that it says "18KT 750 M". The nib is 2 tone but 70% of the nib is gold color with the other 30% being platinum plated on the gold. The feed is made out of ebonite which is definitely a plus for me!! The pens that have ink feed problems in my collection are feeds made out of plastic and injection molded. I have yet had a major problem with feeds made out of ebonite.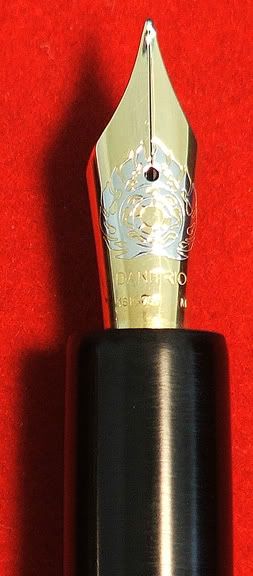 This is where we separate the men from the boys. The pen performed flawlessly in the "Savage Pen Testing System". Since I did order a flexi medium nib, I was really unsure how this pen would write. I am sure that the DaniTrio Flexi Medium nibs do not compare to the flexible nibs of yesteryear (20's 30's and 40's). My handwriting really stinks so I wouldn't know how to correctly write with a flexible nib. No problem!!! This nib is very springy and it has more spring than my Stipula 22 with a titanium nib. The pen lays down a thick, juicy trail of ink, YUMMY!!! I had zero feed issues and the pen had zero issues with someone with a heavy hand, like me!!! I have said in past reviews that some of the nibs on the pens I own are buttery smooth. Well this pen is buttery smooth and very springy, this really took me by surprise.
If you do not like the Medium Flexi nibs, there are a vast number of nibs to choose from:
Flexi Nibs: EF, F, M, B, or Stiffer Nibs: F, M, B, BB, Stub
The Filling System
5 out of 5
Can you say "EYEDROPPER" filling system?? This puppy has it!!! This is my first REAL eyedropper filling pen in my collection. I had to ask Kevin on how to fill this bad Johnny up. The instruction on the webpage is nice but not completely thorough on the nomenclature of the pen and how each "thingy bob" works. So I will enclose the filling procedures from Kevin and the diagram from the DaniTrio website.
To fill this pen, you will need to unscrew the section first, so you can get to the inside of the pen. Since this pen arrived with an eyedropper, this made filling the pen much easier and cleaner. I decided to fill this pen up with my favorite blue ink, Private Reserve DC Super Show Blue. This pen holds a TON of ink and it still wants more!!! Once that is completed, screw the section back on to the barrel. Here is the diagram and instructions straight from www.danitrio.com
(1) Unscrew the front section.
(2) Fill with ink up to the lower edge of the stopper.
(3) Screw the front section back tightly.
(4) Loosen by unscrewing the tail 1 mm- 2 mm (1/32"-2/32") wide to allow ink to enter the front section for writing.
Caution:
If the tail is opened too wide, it may cause ink to overflow over the nib.
(5) After use, hold the pen upward and screw back the tail tight. The ink stopper will block the ink flow. And the pen should be closed with the cap tightly.
Caution:
1. You may leave the pen with the nib horizontally and the tail open when you don't write, but the pen should not be left with the nib downward and the tail open while stop writing.

2. The tail and the cap should be kept tight at all times when you have the pen in the pocket or left on the desk.
Now here are the dummy proof instructions (especially for me!!)
To start the writing process:
Turn this puppy around, like you are about to write. Then you want to unscrew the rear part of the pen which is also called the "Tail", it kind of looks like a Sheaffer Touchdown filler. To start writing, all you do is unscrew the "Tail" a few turns then the "ink valve stopper" is now open so the ink can flow to the nib. I found this to be one of the greatest inventions because you can pretty much control your ink flow of the pen. If the flow is too little then you can open up the ink valve stopper by turning the tail counterclockwise to increase the flow. If the flow is too much, then just reverse the process.
To end your Writing session:
When you are done with your journal session, turn the tail clockwise until it will not turn no more. This closes the ink valve stopper which keeps the ink inside the ink chamber sealed.
The "ink valve stopper" is a wonderful safety feature that will keep the ink from inside the pen from flowing all over the place when you are traveling or whatever. I found that there is little evaporation with this pen when the ink valve stopper is closed. Only the ink in the feed will evaporate, so if you have not used the pen in a while, open the ink valve stopper a bit more than you usually would, so the feed can "soak up" the ink and get the pen flowing, then if you need to adjust the flow then you do the above procedures.
I have to admit that the "ink valve stopper" is one of the most unique additions to the old eyedropper filling system. I would say that the only major drawback on this filling system is that you cannot see how much ink you have left in the ink chamber. Also you cannot fill this pen using a Visconti Ink Pot but when you fill this pen up, it will take a very long time for the ink to be used up. I have had this pen for almost 2 weeks and I just refilled it. That was several pages of journal work along with work forms and memos.
Cost
5 out of 5
This right here is the best part!!! You don't have to pay $650.00 for a Densho, mine was $150.00. That's right ladies and gentlemen, only $150.00!!! I love the Mikado and the Densho Tamenuri. I love the color on that pen but the price is a bit too steep for my budget and I am too worried that I would drop it and crack the Urushi finish or scratch it up. I use my pens at work, home and on the run so I would say that it would be incompatible with my lifestyle. I like black pens and the Ebonite matte finish is really a classy looking pen. For the money, you get all of the features as the high-end Densho minus the Urushi and Maki-e.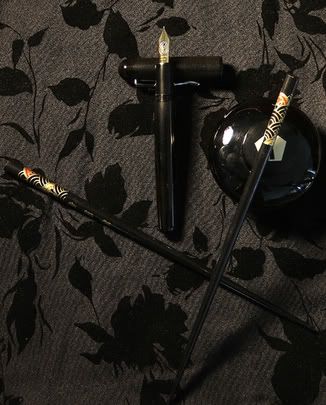 Conclusion
I have to rate this pen as a MUST HAVE!!!!! I rated a lot of pens so far but this is in my top 5 favorite pens in my collection. This pen has it all or at least 99% IMHO.

Here are the highlight features of this pen:
Smooth Springy nib
Ebonite Feed
Overall Lightweight
Oversize pen
Spring loaded clip
Huge ink capacity
Ink Valve Stopper
Wear and tear resistant
Easy care
Adjustable flow control via Ink Valve Stopper

What more can I say? This pen has it all and it is a perfect match for me. Here is the drawback; this pen has no official name other than the Densho Raw Ebonite Pen and that this is not the usual production pen. Kevin relayed to DaniTrio that people like the Mikado, Densho and the Takumi shape but would like the pen minus the Urushi and or Maki-e. So DaniTrio decided to try this out on a trial basis. The demand is overwhelming and Kevin has not been able to meet the demand of our fellow pen fanatics. Will there be enough pens for the demand? Will DaniTrio stop selling these pens? Who knows but from what Kevin said "DaniTrio, at least I know, is not afraid of taking chances". As far as I am concerned, those are reassuring words. I just recently spoke with Bernard Lyn of
Dani Int'l Corp. I asked him if this was going to be a one time deal with raw ebonite pens from DaniTrio. This is what he said:

"Raw ebonite finish is not a limited edition and we make as many as the market wants, even though we actually lose money to make this pen. The reason is that the "Raw Finish" is actually hard to work than real fine polished finish, because we have to spend several hours per pen to make the raw finish surface very evenly "raw" without a hair line scratch on it."

Those are very reassuring words!!!

And for those who like the Eyedropper filling system and want even a larger pen, the Mikado will be available in Raw Ebonite around 15 November 2005.

For those who like the size and shape of the Densho model but do not like the eyedropper filling system there is a pen just for you. It is the Takumi raw Ebonite Pen. This pen features a cartridge converter system rather than the eyedropper filling system if that is what you prefer!! The price for the Takumi is around the same prise as the Densho.

To wrap it up I have 5 words for this pen:
Simplicity, Practicality Functional, Classy and Fun

Don't let this one get away from you, it really is worth it. The workmanship is superb and the construction is very sturdy and stable. Consider this; this is pretty much the same pen as the Maki-e and Urushi minus the clothes. A naked pen? Yup but that's fine with me!! Am I a nudist? Yes, I am a nudist, a pen nudist. I know what you all were thinking, shame on you!!!! I know you don't want to see a naked Savage, that's for sure!!!
Disclaimer
I have ZERO affiliation to the below companies, stores or people. I am just a happy customer that enjoys his pen along with the fantastic customer service, open communication and prompt delivery!!! Thanks a bunch Kevin (Winedoc) @
Internet Pens
Links and Resources
Pen bought from Kevin Cheng at
Internet Pens
Internet Pens
is an authorized dealer for DaniTrio pens, Conway Stewart and Loiminchay pens
To contact Kevin Cheng: internetpens@gmail.com
Thanks to DaniTrio for use of diagram and information regarding Mikado and Densho Pens.
DaniTrio
Edited by The Noble Savage, 31 October 2005 - 23:21.