OVERALL IMPRESSIONS - OR, WHY DID I BUY THIS PEN??
Not sure how many of you have a dream pen, but if you are like me, there are certain pens you covet. Well, a David Oscarson has long been on my list ever since I saw one over 2 years ago. I was enamored by the beauty and quality of workmanship and thought if I ever have a special occasion where I am in a position to afford one, I would jump in and invest in one. Then, I saw the Celestial at the Washington, DC pen show 1.5 years ago, and recognized the one I was to target. I spoke with David 3x before I actually dove in and made my purchase. If you have never had the pleasure of David's company at a show, I highly recommend engaging him. He is very passionate about his pens and his work and is a real source of information. In addition, David is a real gentlemen and just a very nice person. No hard selling goes on, just him proudly providing information about his beauties. Knowing that my pen was a source of so much pleasure, it was easy to spend the kind of money necessary to own one.
I bought mine at a local pen show hosted by Bertram's InkWell in which David attended. This allowed me to get this pen at a very good price. Of course this is relative to everyone's individual pocketbooks. I happen to have some money coming to me and I thought I would splurge. I am refraining from a price discussion as each of us has to judge how much they can spend and what something is worth. Bottom line for me, though, is that my purchase experience was first rate from Bert and David. I can heartily recommend both.
PRESENTATION
I have joined many of us in wondering why so much money is spent on boxes. I only have 2 manufacturers boxes on my desk and one of them is the David Oscarson. I can't tell you much about it, but it appears to be some kind of burled wood or laquer. As much detail went into the box as into the pen. It comes complete with everything you need (see the discussion below on the filling system). What I can say is that is that the pen box is what you would expect. First rate and beautiful - commensurate with this pen.
APPEARANCE
Well, I think the pen is a real beauty and its looks are the reason I bought it. Here are some full pen photos. I played with getting the first one to be taken at night to play off the moon and sun seasons: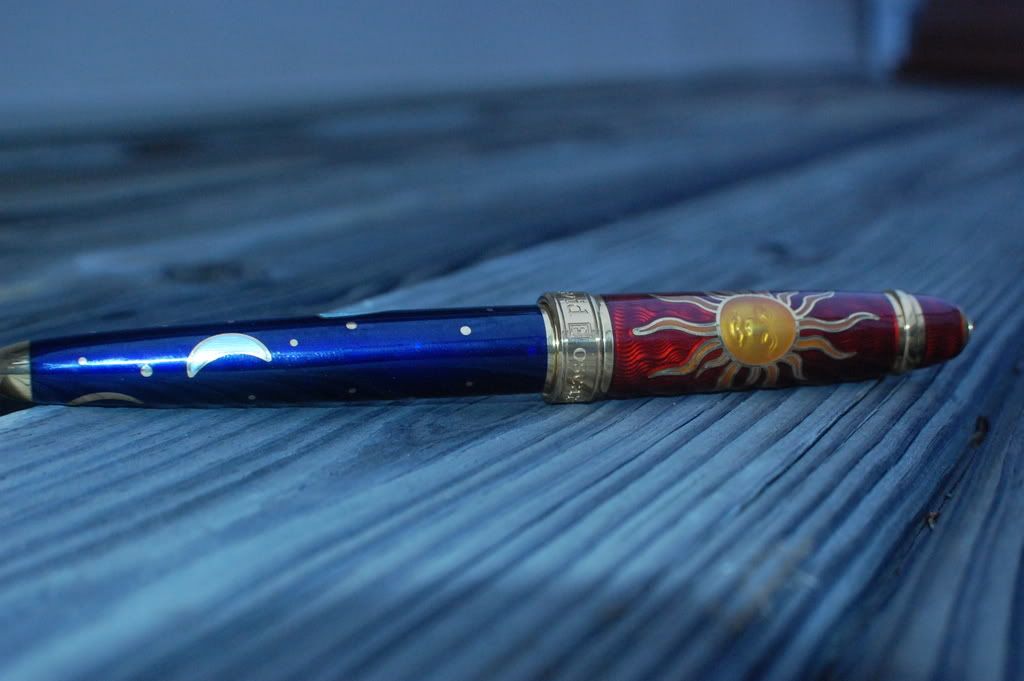 David uses a "hard enamel approach and a lot of guilloche with this pen. I cannot claim to be an expert on the hard enamel, but according to David it allows for the depth of the view of the guilloche. It is quite stunning. The cap represents the sun and the guilloche is meant to capture the heat waves coming off it. The barrel contains the 4 phases of the moon. With each of the characters, the hard enamel is laid on to bring it "up" to the character. It apparently takes quite a long time to do this. The basic materials are mostly gold over sterling silver. This gives the pen some weight.
NIB/WRITEABILITY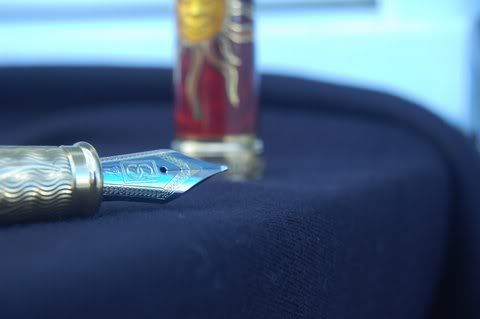 So, if you think the pen is as beautiful as I do, then you are in for a real treat when you write with it. Truth be told, I assumed I wouldn't ink it and I would just treat it as an investment. At David's urging I dipped it and wrote with it. WOW, double WOW. The nib is (excuse my lack of spelling here) Bosc from Germany and is a dream. I ended up with a medium, which I wasn't too keen about. I like European XF and Japanese F nibs. David told me to take the medium nib and he would send a fine to John Mottishaw for grinding to an XF at his cost. (Told you David is a real gentlemen). HOWEVER, the medium is not wide at all and I actually like it a lot. It's not as fine as a European Fine, but is does approach this width. The smoothness of the nib is just as good as it gets. I have nibs modified by Richard Binder and John Mottishaw, and I must say, this nib out of the box is as smooth as those modified by these masters. I was blown away. In term of flex, it is a medium flex. If pushed I would say it was on the stiff side of a medium flex, but write with it. It is a real pleasure. This pen is made for writing. It is not just eye candy. I realize this pen is not a dialy writer and I have not taken it out of the house to meetings. However, it is absolutely a daily writer for journals and everyday activities around my home office. This nib writes on everything very well. I even use it on post it notes - notoriously incompatible with fountain pens. There is a hint of feathering in my moleskine journals, but that is more due to the medium nib than the nib itself.
If you are lucky enough to get an Oscarson, plan on years of pleasurable writing...
The cap is very heavy and can be posted. But, the pen is pretty heavy anyway, so I would not suggest doing this. The cap fits snuggly on the barrel and does fit pretty far down the barrel. But the weight is such that I believe posting should not be done. I like heavy pens, but this is along the lines of my Krone Blue Gold in terms of weight.
FILLING SYSTEM
Another unique (as far as I know) feature of the pen is the 3 way optional filling system. You can go the route of the provided converter, or the cartridges that are also provided. Or, you can go the way I have chosen and that is with an eye dropper filler. The chamber in the barrel that holds the CC has a gasket at the top to seal it off, and you use the eye dropper provided to put ink directly into the barrel. It holds a fair amount (sorry I didn't measure it, but is is more than the CC). The process is very easy and not nearly as messy as I feared. I love the idea of letting me choose the best way and it the design is very, very simple. I sure wish more manufacturers would consider this...
VALUE
So, here's the dicey part - which I am not going to step into. The pen lists for a lot of money, and even with a big discount, it is still a lot. Value is certainly subjective, just as beauty is. All I can tell you is that it is bringing me a lot of joy. You decide if it is worth the money. What I can tell you is that it is a superior pen, well made, and one terrific writer.
Hope you enjoy the pictures and Happy Holidays to everyone.
Stepping outside the bounds of the review, just wanted to take this time of year to thank the contributors to FPN. It is a wonderful group. Each day I learn and laugh and get to share my passion with others. So, a big thank you to all. Wishing you, your family and friends the most healthy and prosperous of New Year's.
Andy W.
Here are some quick and dirty pictures of the box and its contents.
Edited by MYU, 14 November 2008 - 17:41.