Well, that pen slot I was saving for a Dani-Trio pen is going to get filled. I just sent off to Kevin for a Dani Trio tame nuri pen. Wooo hooo.
My pen arrived two days ago, and I've had a chance to use it. For those of you who read my Nakaya review here:
http://www.fountainp...indpost&p=23044
I'll compare the two pens (since I didn't put ratings on the original review.

1. Overall design 5* vs. Nakaya 5*
Stunning. That is the word. I have seen pictures of teh tame-nuri urushi lacquer and was unsure if I would like the finish in person. I'm not normally a "brown" sort of person. But I have to say the finish is wonderful. As good as my Nakaya. The tame-nuri is made by mixing red and black urushi lacquers and then coating with a clear urushi over the top. The depth of color varies with the curve of the lines of the pen so that the shape is accentulated. I am told the finish also ages with time and becomes deeper.
2. Size / Weight 5* vs. Nakaya 4*
The pen is BIG. Only an inch shorter than my Nakaya, and maybe 1/4 inch longer than a Pel 800. It is the same size as my Namiki Bamboo, and Custom Impressions, although the tamenuri is much fatter. The pen comes with a very simple clip and it is a nice pocket pen, unlike my Nakaya which is a case pen only and too big for the pocket. Beautiful simple cigar shape, and a large 2 tone Dani Trio "T" nib.
Construction material is ebonite (hard rubber) so it is very light, and suitable for long stretches of writing.
3. Nib 5* vs. Nakaya 5*
I was a little worried about the nib at first. I stuck in an INternational cart and started journalling. After a bit, the pen starved. Also the sweet spot seemed a little small. Emailed Kevin and he indicated that there could be oils in the feed, as they use a lot of oil to polish the urushi. So a flush with 409 solution and converter this time. Voila! Problem solved. The nib is wonderful. Wet, ample flow and a very large sweet spot. Smooth as silk. The nib has just a tad of flex, although not as much as the nakaya "soft medium". I got a medium nib and it writes sort of a Fine Medium, a little wider than I expected. I really like the line variation the nib has, and the shading it produces on the page is quite pronounced.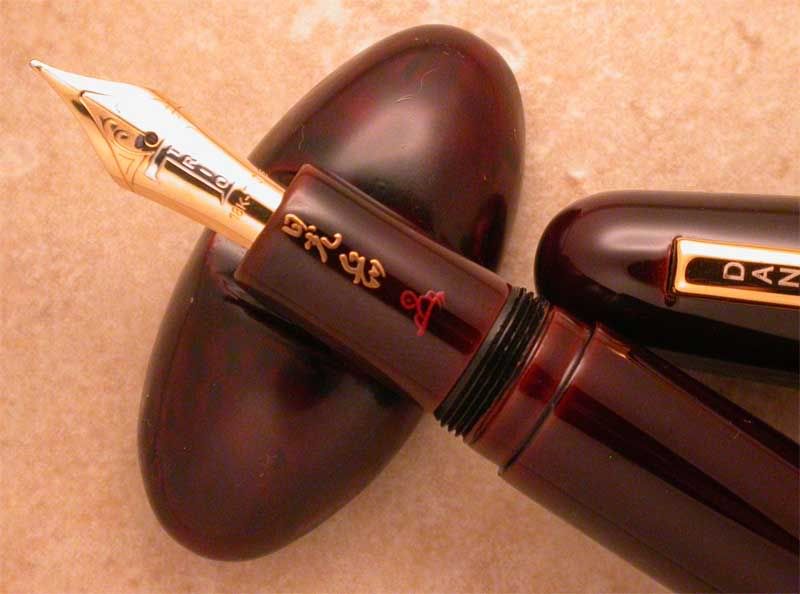 4. Filling Mechanism 3* vs. Nakaya 3*
Cart/Converter fill. uggh. At least it is international sized so it has the broadest range of cart compatibility. karin turned hers into an ED, and I may or may not. The bore fo the barrel is rather small, but woudl still hold a lot of ink.
5. Fit / Finish 4* vs. Nakaya 5*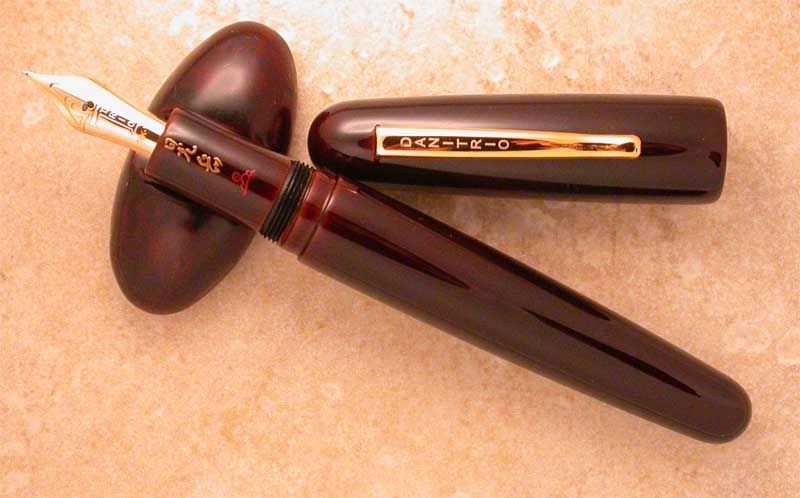 Really nice finish on the pen. The urushi is beautiful. The pens threads however are not lacquered allowing for a nice tight tolerance to the cap - very nice. I'm a stickler in teh finish of my cap threads and the feel of the pen as you screw the cap on and off. My only complaint is the small amount of lacquer that smudged onto the threads, but other than this, it is a superb pen.
I don't know what the kanji on the section represent, but I assume they are craftsmen's marks
6. Overall value 3* Nakaya 3*
Same price as the Nakaya, $390, but Dani Trio's prices are going up (or already have) so I don't think you'll be able to get this pen at this price again. "value"? no, but work of art, "yes". This is the only justification you can make for the price.
Now for some Maki-e.
Edited by KendallJ, 28 October 2005 - 01:52.