So, this is my first review. After reading a bunch of the reviews here I was persuaded to buy quite a few pens so I figure I should return the favor. But I have to say that this pen might not be something everyone can afford! This review comes with a back story so bare with me...or just skip down to where it says REVIEW. So, heading off to the Fountain Pen Expo on Saturday, I wasn't expecting to get much of anything, more so I went because of my father. I wanted him to buy a nice pen that he'd treasure for a while and use for a looong time to come. I ended up buying him two pens, although they were VERY cheap compared to the MP5. While we were trying out as much as we could I happened to stop by OMAS and right next to them was Michel Perchin. The pens looked nice and I figured why not, so I tried an MP5 Yellow and fell in love. I gave it to my father and he could also sense that the pen was something a little more than 'ordinary.' We inquired about which pens were the cheapest and came away saying $750 was just a bit too much for us. Eventually my father pulled me over to the side and said "Listen, me and your mom were going to give you some money for your Graduation, New Years, etc, if you really want I'll buy this pen for you." Somehow I had a feeling he'd say this as I know his moods, attitude, face expressions, but I was still surprised by the gesture. Walking over to the Perchin dealer we asked how much was the pen we had originally tried, the MP5 turned out to be more than the $750 we wanted to spend. But the dealer said that ALL the nibs were the same so we figured why not, we bought the executive. Getting home my mother already disliked it saying I'd probably return it sometime soon, how right she was! Not that I disliked it but the converter wouldn't fill up! I tried half a dozen times and two different inks and nothing! I finally decided that I wanted the MP5, I wanted to go along with my initial instinct and this was the pen for me! They still weren't convinced and eventually I agreed to give back a Montegrappa NeroUno which was more than enough to solve the difference in price. Going to the store today I wanted to ask them to give me the same price for the pen that they had on Saturday at the expo, the regular price they sell it for was almost 80 dollars more. They said no problem and right now I am the proud new owner of a Michel Perchin MP5 Blue Mystic
. I'll do the review on a 1-5 system.
REVIEW
Looks 5 out of 5.
The Pen is gorgeous. It's body is perfectly smooth with waves of blue throughout. The cap and bottom are black and if the light hits it at the right angle...well hard to describe but you'll see in the pictures. First time I saw it I was in love!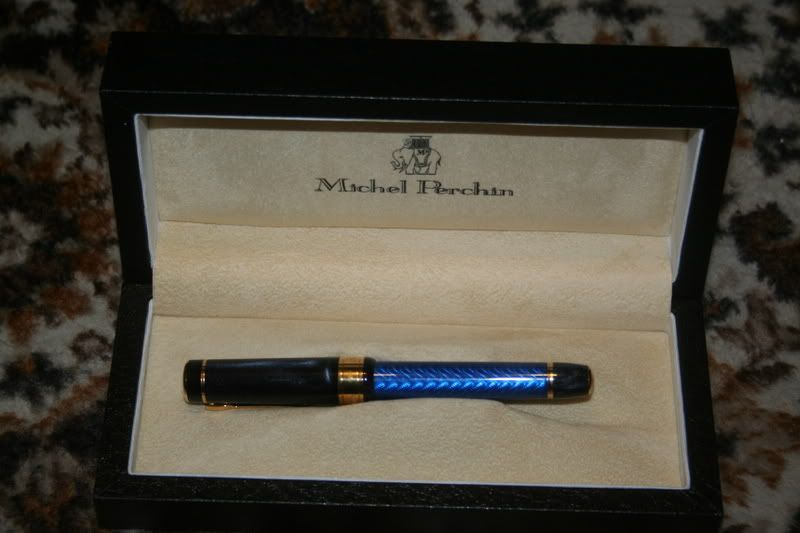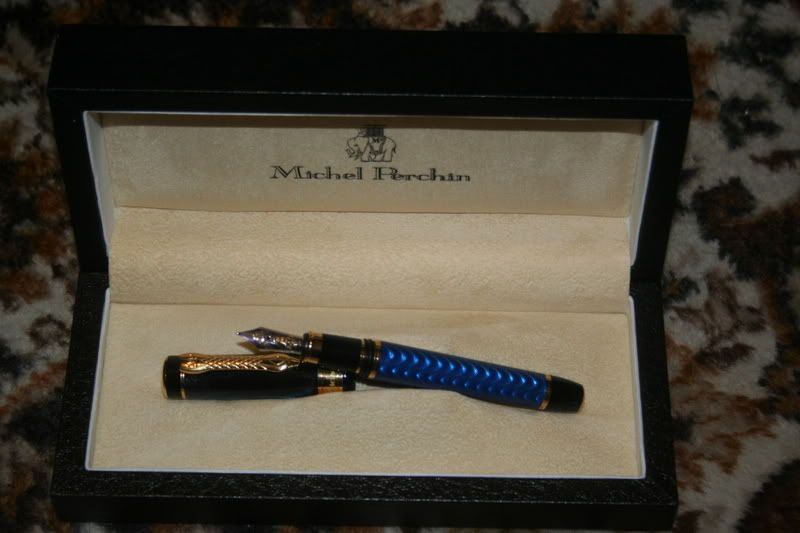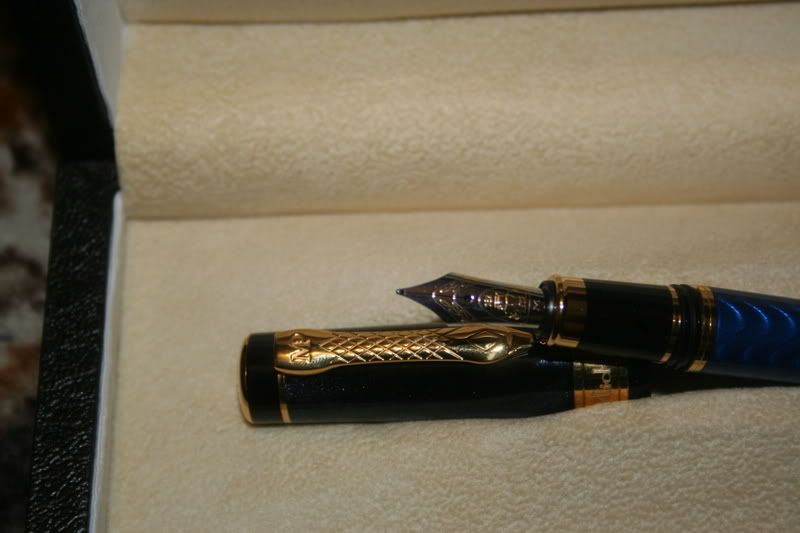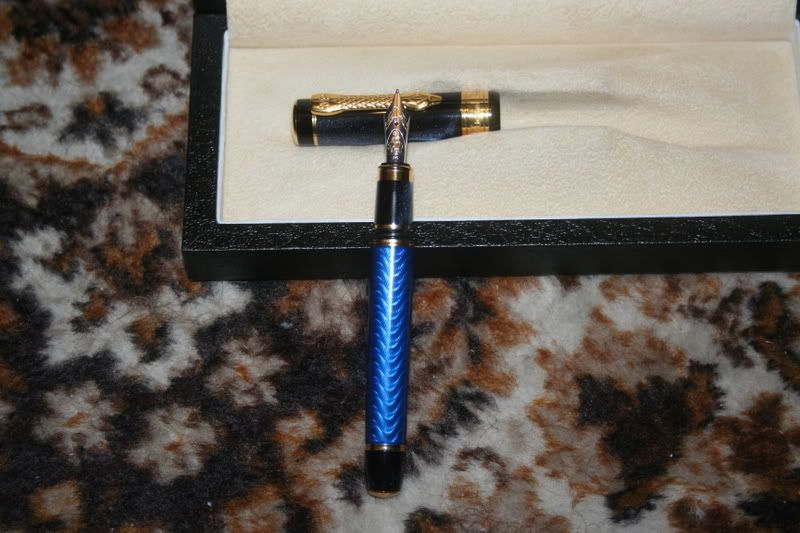 Nib: 5 out of 5.
This is what attracted me to the pen in the first place! As I wrote with it I felt how smooth it was, with almost no pressure at all it put down a nice medium sized thick line every time, no skipping at all. It was PERFECT. It is two tone 18k Gold and the best nib I've ever written with by far. The grip is made out of the same material as the cap and bottom of the pen, so you can see it here as well. It pretty much glitters
.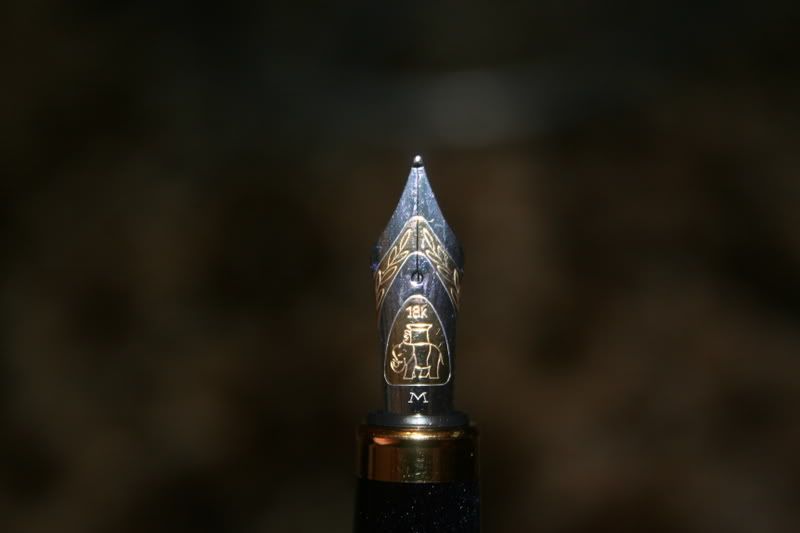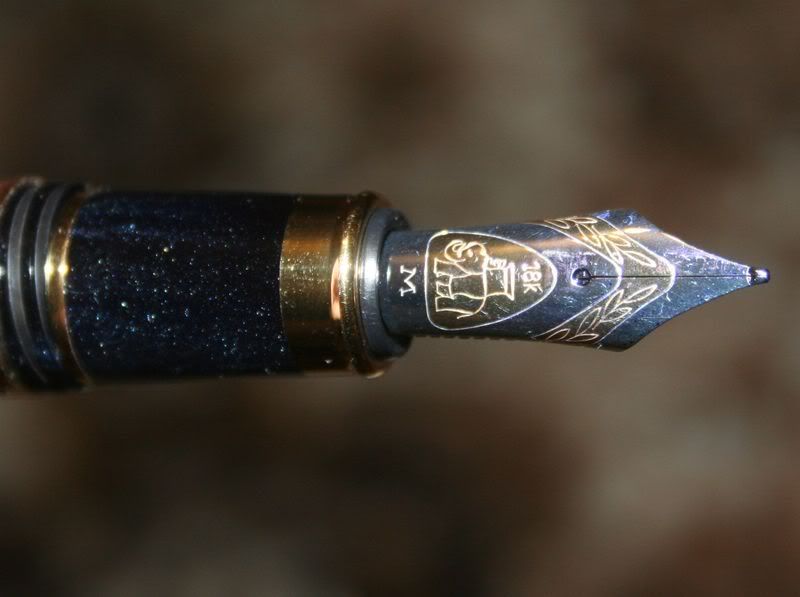 Size: 5 out of 5.
It is comparable to the Visconti Black Storm LE and it is a bit smaller than a 1911 sailor although definitely heavier which is something that I like a lot about this pen. You can also see a sample of the type of line it puts down with my favorite ink for this pen, Aurora Blue. Here you have it next to the Black Storm and the 1911 Sailor, for comparison.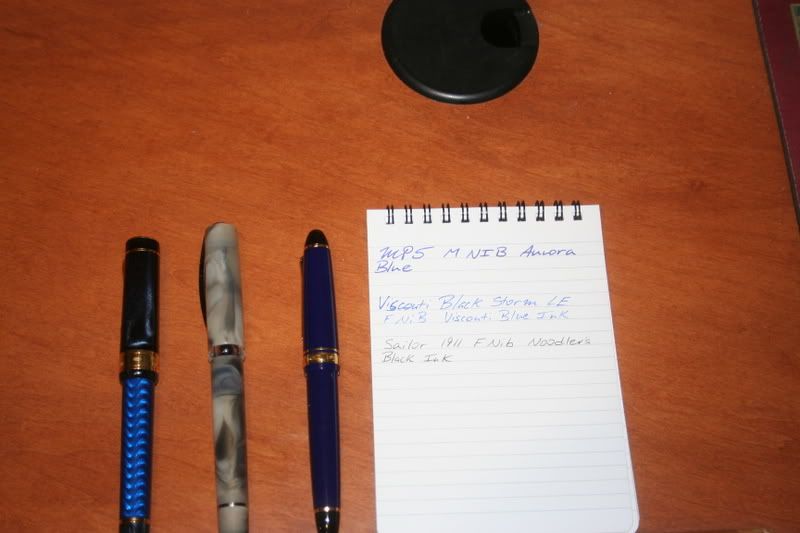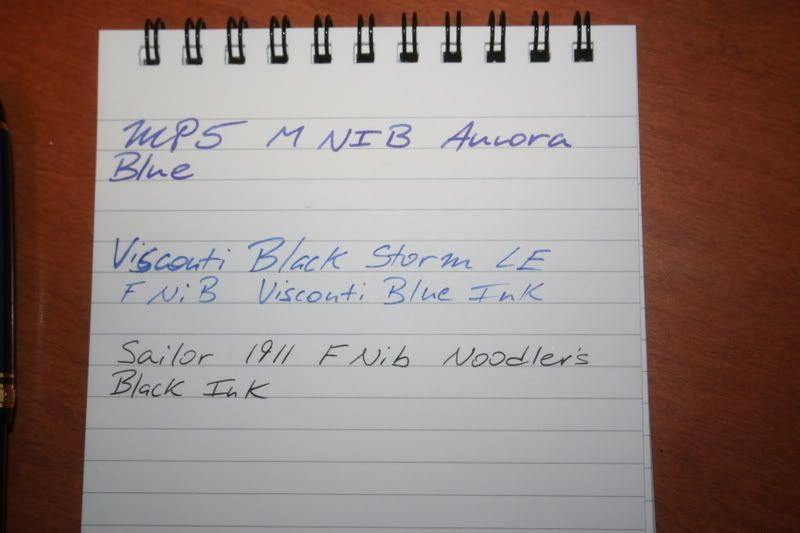 Cap: 5 out of 5.
I simply like everything about this pen
. The cap is wider than the pen and has a snake for the clip with the initials MP on it and a band going around the bottom of the cap with Michel Perchin with an elephant on top.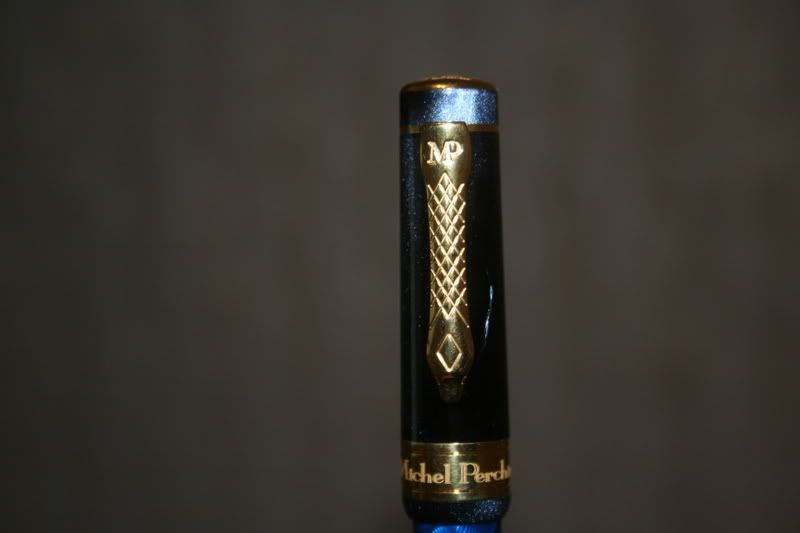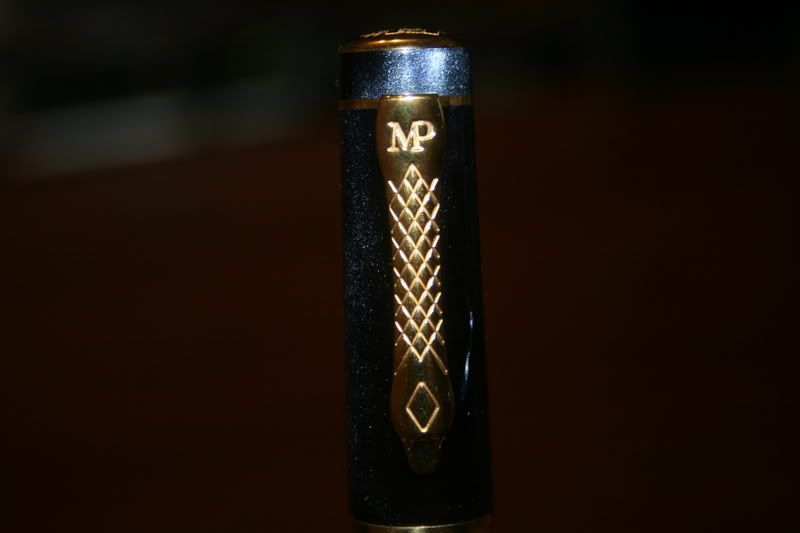 Price: 4 out of 5.
Well, what can I say? I think it's a bit on the expensive side, if it was priced closer to a Mont Blanc Limited Edition from their writers series (Woolf, Kafka, etc) in the $700 range or maybe even $800 this pen would have all 5's from me. But over 1,000 is a bit much in my opinion, although as with all Perchin pens this is a Limited Edition with only 188 being made. In the last picture I think the 'glittery' part of the pen came out the best. I apologize if this review isn't up to the standards of others
. I'm simply not an expert in all this and only go on intuition and what I like when choosing a pen!
Edited by AKAGodSent, 04 December 2007 - 04:33.