I wanted to review a Krone pen for a while now. I am fond of the Krone brand, and I think that it is not a brand that is mentioned much on the discussion boards. Also I am a marketer by trade and admire the design and subsequent marketing of their pens. I have 2 of these pens, the Geometrik and Boulder, so I thought I'd review one of them and see what sort of discussion it generates.
For those of you who have not heard much of Krone, they divide their pen lines into 2 groups. Most are aware of their Limited Editions, which are for some somewhat "over the top" designs. For the user interested in pocket jewelry, Krone has their Fashion pen line. The Geometrik is part of this line. The Fashion line are all bold designs, none similar to any of the others in the line, and all using somewhat eclectic design elements.

0. Overall Design ****
The Geometrik is big, dressy pen in black resin with alternating bands of marbled acrylic along hte barrel and cap. There are 3 variations on the acrylic colors in the Geomtrik line, named loosely by the color groupings [Wind - green, blue, violet / Fire - red, yellow, orange / Earth - grey, green, brown]. The barrel width tapers from cap to base. This pen is bold and beautiful, and a great piece of pocket jewelry.
1. Size / Weight ****
The pen is big, well over 1/2 inch in diameter, and 5 inches capped. The pen is beefy at the section grip, and barrel where held, so those of you who need smaller grips, this pen isn't for you. However the pen is light being entirely resin, and well balance and suited for long periods of writing. The pen is a little top heavy posted, both in weight and proportion so I rarely post it.
2. Nib ***
Great two tone nib. I've found the Krone nibs to be toothy, but with variability in terms of width and wetness so it's tough to generalize the nibs. The nib on this Geomtrik was quite wet, so much so that I had to have it swtiched out for an XF, although I normally like a medium / fine line.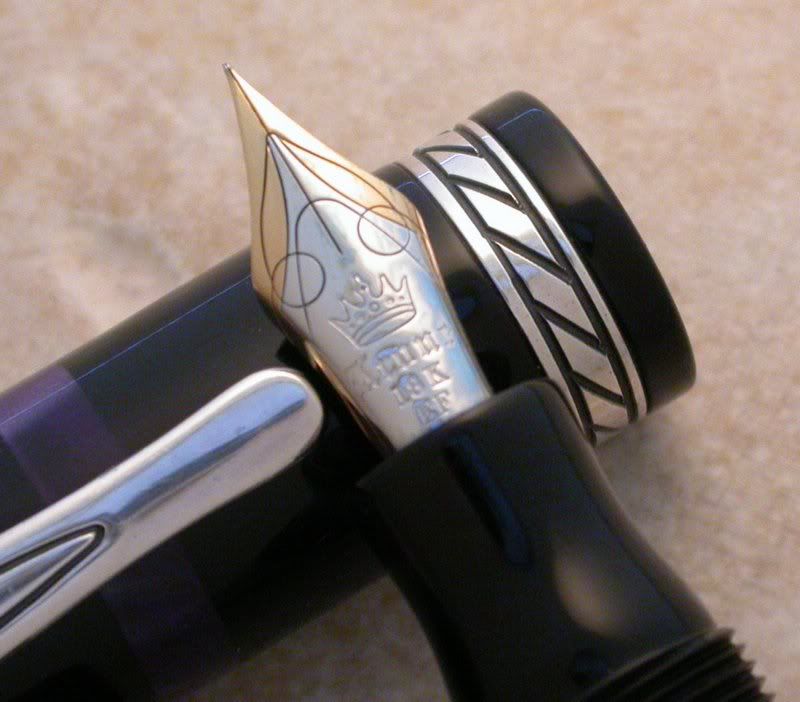 3. Filling Mechanism ***
This is a button filler. Generally fills quite easily. Capacity is not huge, and I find in this pen, that the mechanism is prone to evaporation. Access is quite easy as the section is a single threaded union that both the barrel and cap screw onto. The section will unscrew from the barrel to access the sac and lever bar.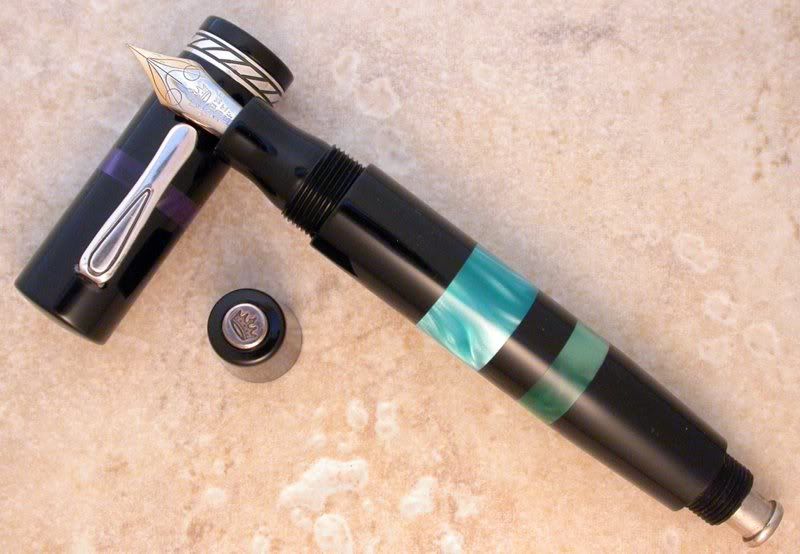 4. Fit and Finish *****
Here, Krone really excells. This is a very finely fitted pen. The seam for the blind cap is almost impossible to spot even though its on flat black resin, and highly polished to boot. The finish on the resin is beautiful, and the acrylic shows no seems. One of the areas that really bugs me is the threading on the cap. Just a personal peeve, but caps that don't thread on smoothly are bothersome. The Krone cap screws on "like butta". All in all a finely finished pen.
Edited by KendallJ, 26 November 2004 - 04:03.