Background
Ever since acquiring my first Bexley (a Sheherazade), I wanted another. Given the quality construction and the super-smooth nib, how could I not? The Americana is quite eye-catching, but it was the Submariner's sleek looks that really hooked me.
The size of the pen, however, was a concern. The Bexley came out with the Submariner Grande! Uh-oh. As you can imagine, my resistance melted away and the hunt began!
The hunt would not be easy. Typical market prices for the Grande are around $220. This was too much for my budget, so a second-hand one in excellent / near-mint condition would have to do — unless I could find an extraordinary buy on a new one. The former eventually happened and I was able to snag a black Grande with gold trim for $137 including shipping from the Green Board on PenTrace
! I purchased it on a Saturday morning. Monday morning there was a Priority Mail package in my mail box (talk about quick service).

Initial Impressions / Overall Design
(4.5/5)
The pen was very well packaged and, as you might guess, I was eager to see my new pen. After getting into the box, the Bexley box was wrapped in bubble wrap, which was in turn wrapped with 3-4 layers of packing tape. Talk about safe shipping! After some careful cutting, I finally got down to the box.
I opened up the box and . . . more bubble wrap holding the pen secure. Thankfully there was no more tape. I removed the bubble wrap and there the Submariner Grande was: the gold trim glistening in the light; the deep black finish shining like a mirror; the roller-ball clip staring at me; and the barrel inscription "Submariner Grande, Bexley 2005" casually laying there. It was pristine! I wondered if it had ever been used. If it had, it was very gently.
I picked the pen up and was pleased with its size — glad I waiting on the Grande and didn't go for the standard Submariner. I quickly uncapped the pen as I couldn't wait to see the famous Bexley stub nib. Beautiful. I quickly reached for a bottle of, what else, Waterman Blue-Black ink with which to break in the pen (isn't it mandatory to use this stuff?).
The cap ring is well thought out and covers the bottom of the cap — no cap splitting problems here. The clip is Bexley's roller-ball design and, IMHO, is the weakest part of the pen aesthetically. A more traditional spring loaded clip would have been better. As is, the clip seems to function well, but a final verdict on this aspect of the design will require more time.
Size, Weight & Balance
(5/5)
With pen in hand, one thing you immediately notice about the Bexley is its balance, whether posted (that's me nearly always) or unposted. The metal section plays a significant role in this.
Unposted, the pen has a relatively light feel to it due to the center of gravity being close to the nib. Posted it feels fantastic and is perfectly balanced. I don't see fatigue being an issue in long writing sessions.
Dimensions on the Submariner Grande are:
Pen length capped = 146.5 mm, uncapped = 131.5.5 mm, posted = 164.5 mm, grip length = 21.5 mm not including threads
Pen barrel diameter max = 14.2 mm, grip = tapered 10.9-9.8 mm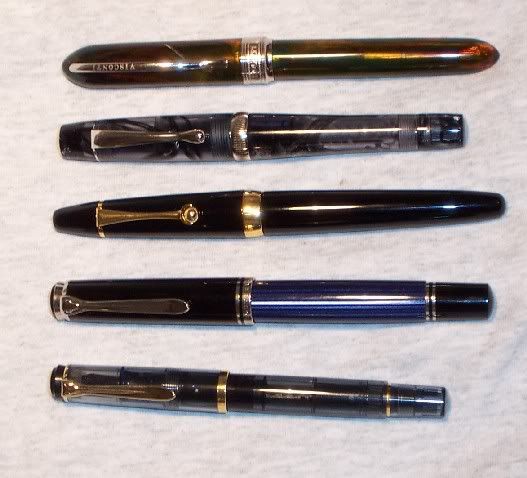 From top to bottom for size comparison: Visconti Van Gogh, Bexley Sheherazade, Bexley Submariner Grande, Pelikan M805, and Pelikan M200.
Filling Mechanism
(3/5)
It's a cartridge / converter and it works as it should. Ho hum, ho hum. . . . <_<
Fit & Finish
(5/5)
Attention to detail appears to be a Bexley trait. From the gold trim to the high lustre black finish, it's there. The joints around the clip are tight. The cap ring and section joints are also. The barrel threads are crisp, smooth, and not sharp in case you have a high grip.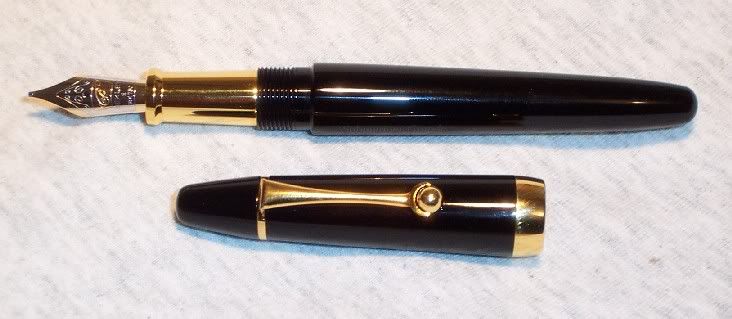 Nib
(5/5)
As mentioned earlier, the buttery smooth medium on my Sheherazade had me eager to drive another Bexley nib. This Grande has Bexley's famous stub nib which is advertised as 1.3 mm wide. The nib is a nicely designed and well executed. It is a beautiful two-toned gold nib which is engraved with the Bexley "B", the Bexley name, "S" for stub, and "18k 750."
How does it write? With Waterman Blue-Black ink on moderately decent paper, it produces a 1.1 mm wide line on vertical strokes and 0.3 mm wide line on horizontal strokes. Regardless of which direction the nib is moving, it is wonderfully smooth! Aesthetically and functionally, this is a great nib!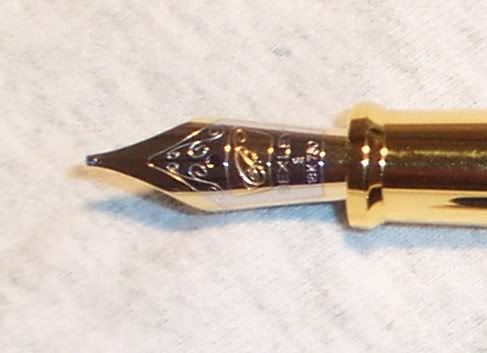 Value
(4/5)
Value depends very much upon your financial situation, budget, and what you think is permissible to spend on fountain pens. The Submariner Grande would, IMHO, out-perform many higher priced pens with regards to fit and finish, balance, and nib.
Summary
(4.5/5)
The Bexley Submariner Grande is an excellent pen: sleek, elegant, well-executed, silky smooth nib. It could be an even better pen in two ways: the filling system and the metal section. For some, the probably deterrent will be the metal section. While I don't prefer them, the rest of the pen makes it worth while to deal with, even considering my often perspiring hands. The rest of the pen is just that good.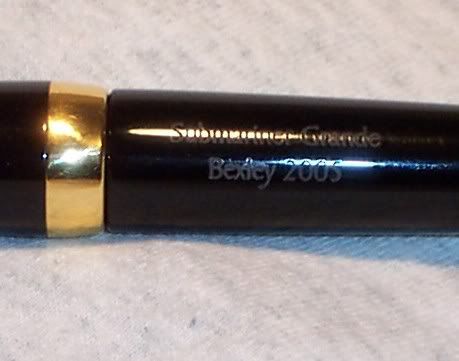 Here's a writing sample:
Edited to add writing sample.
Edited by southpaw, 30 September 2005 - 19:02.