Well, my latest purchase arrived from Richard Binder yesterday, a new Filcao Atlantica Oro. I had been eyeing this family of pens ever since Richard announce the Columbia, and when the Oro came out, I decided to take the plunge.
Overall: ****
A great writer with a great calssic look, at a reasonable price point.
1. General Design *****
As a concept, this is a great idea of a pen. Reminiscent of vintage pens in design, it's a button filler, with a washer-style clip, and lines reminiscent of a vintage flat top. The lapis resin gives it a refined and understated tone, not as jazzy as a marbled celluloid, but as formal as any black/gold pen. The resin appears a deep midnight color in low light, and a grey blue in sunlight or flouresent. It's opaque so it doesn't have the "depth" of a celluloid marble, and the gold flaking quickly disappears under the resin.
2. Size / Weight ****
At 5 1/2 in capped, and 1/2 in in width, the Atlantica is almost identical in size to a Pelikan 800. However, it is quite light, more like a 600 in weight. For those of you who like a little heft to your pens, this one will not satisfy, but I found the weight perfect for long term writing, and the pen well balanced.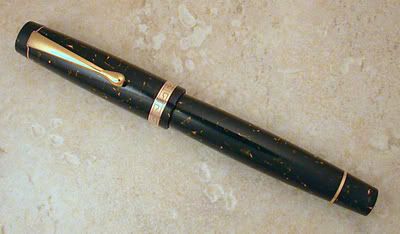 3. Nib ****
The 18c gold nib by Schmidt is well proportioned to the pen body, and it comes in single tone gold. I like the looks of two toned nibs better, but heck that's not what's important about the nib anyway. Richard tuned it for me before shipping it out so I can't say what a factory nib was like. It now writes like a great Pelikan fine, just enough tooth, but still smooth.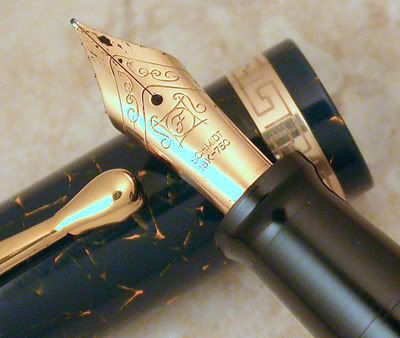 4. Filling mechanism ***
The button filler is accessed by removing a short blind cap. The button, and its collar can easily be removed by unscrewing the collar. The button is small and has a very short stroke, but seemd to fill readily in a pump or two. Let you know what the capacity is like, but has lasted through a day at work so far.
5. Fit / Finish / Hardware **
This area held my biggest complaints. While the pen is a looker, close examination revealed what to me are some flaws in attention to detail. Most noticable, the plated clip and gold cap band are noticably different in color tone. The clip is formed from flat metal, as most are nowadays. Most of the time its tough to tell without straining to see under the clip, but this one is noticable at the top of the ball from even a relatively shallow angle. The engraving on the cap band looks somewhat poor, and on mine wasn't centered on the cap band. Finally, the resin could do with one more polish step, as it came to me with a little bit of a dull finish, not terrible mind you, but with the swirl marks you usally see on resin after its been used a while. However, these are esthetic details that only come up on close examination.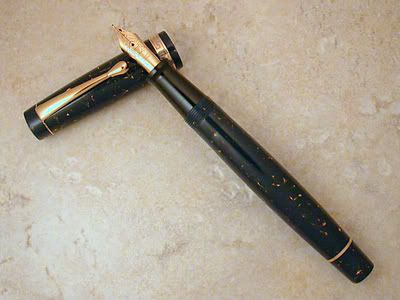 Edited by KendallJ, 23 November 2004 - 00:38.