OVERALL DESIGN/FIRST IMPRESSIONS
This sucker is long - a full 6 1/2 inches capped and 5 5/8 uncapped!! I like a big pen, but if you order the long version, be prepared, it probably won't fit in too many shirt pockets. These pens are ordered from the Nakaya web site. I had never seen or used one, but after reading reviews and having the chance to order a custom pen, I treated myself to a bespoke to satisfy my curiosity. With this pen, I also thought it high time I get my thoughts down into cyberville.
The ordering process is pretty straight forward and the web site, while not pretty is very helpful and easy to use. What is difficult is picking a color for the pen. As we all know, computer pictures don't give you a real representation of the color. I vascilated quite a bit and never felt like I knew exactly what color I would end up with. Of all the pictures I took of it, the one above is pretty much the most representative.
Dealing with Nakaya is a real pleasure. Ms Yoko Kono is very helpful and responsive. Should you have any questions, I enourage you to write her as I found her to be very helpful.
SIZE/WEIGHT
Yup, it's really long. But, the pen is made of plastic and not lined with any kind of an alloy, so the weight is just fine (my scales is not working properly, so I cannot weigh it right now). I find it to be well balanced and it sits well in my hand. The grip section is nice and smooth and the threads for the cap are far enough back that they do not interfere. Posting is another issue. I do not believe this pen is designed with posting in mind. First, the cap only sits on the barrel maybe 1/4 to 1/2 inch. This means it doesn't really sit on the barrel tightly and easily falls off. Adding this additional length to the pen, is pretty ridiculous for a couple of reasons. The cap extends so much that the balance is thrown off and it falls off easily.
To give you a comparison of the length, I took a picture of the Nakaya standing against my Peilikan M1000. The Nakaya is a full 1 inch longer!!!
Rating: 4/5
COLOR
Here's the tricky part. I found it difficult to order a color and get an accurate representation of the true color. I ended up with Kikyo Blue. The best way to describe it is close to Air Force Blue. While I like the color, it has a pretty flat timbre and very little depth to it in artifical light. In natural sunlight, though, it does pick up some additional depth and is more interesting, but still, it does have a plastic feel to it. I like my color, but in such a big pen, it is a lot of one color. I would think that somehow adding something to it would make the pen a bit more interesting looking. The closest I got to capturing the color is the first picture above of the full length of the pen.
Rating: 3.5/5
NIB
Here's the best part of this pen. I cannot say enough about the nib and how much I like it. For a bit of background, I favor fine and extra fine nibs. I have both stiff and flexible nibs and appreciate them both. When I ordered this pen, I was hoping to replicate the exacting lines available in my Namikis. The Nakaya is very, very similar. The main difference is that it is a tad more flexible. The ink is neither wet or dry, but dead on. A real pleasure. The line is exact, no skipping, no feathering, no uneven lines, just a pure stable line. It writes on everything, from moleskine journals to post it notes.
Part of the ordering process is to approximate the angles you hold the pen when writing. What a pleasure as this makes the nib sweetspot pefectly situated for its owner. A very, very smooth F to XF is a rarety out of the box, yet Nakaya has done it!!
I elected the two tone version and paid $80 extra for essentially an aesthetic feature. But, I think it adds to the look. A bit of traditional with the modern Japanese design.
Rating 5/5
FILLING MECHANISM
Right now, I am giving this an incomplete. Nakaya delivers each pen with their cartridges. Normally, I cannot stand cartridges. I have an Omas Ogivia cartridge and it is pure junk. Basically, it doesn't work. BUT, the Nakaya is actually wonderful. There is some sort of a ball in the cartridge (you can actually hear it rattle if you shake the pen) and I assume this really helps keep the ink flowing evenly.
I ordered a converter, but for some reason it wasn't included in the package. I sent a note to Ms Kono, so I assume it will be coming shortly. Because of this I reserve my rating. However, as a cartridge pen, I give it a 5/5.
BUT.... I would think a piston system would be preferred by many and they ought to consider it. I assume it would add a lot to the weight and that might be an issue. Also, I asume the piston is a challenge in an all plastic pen, but still I think it should be an option.
KANJI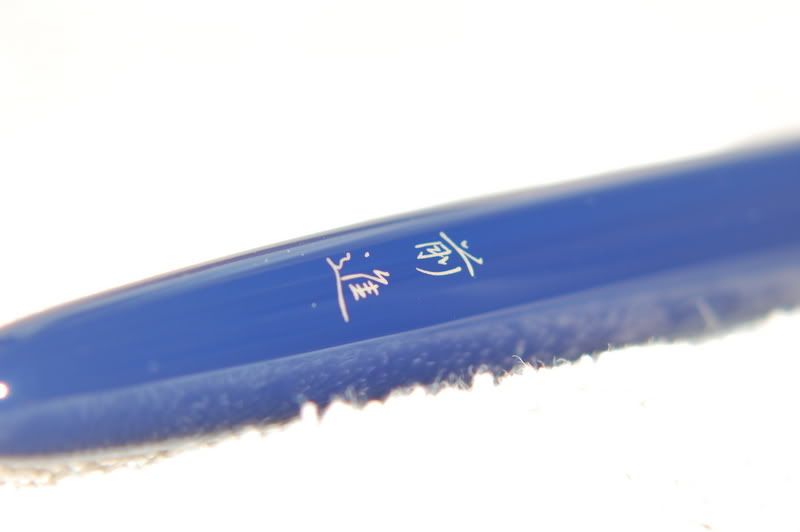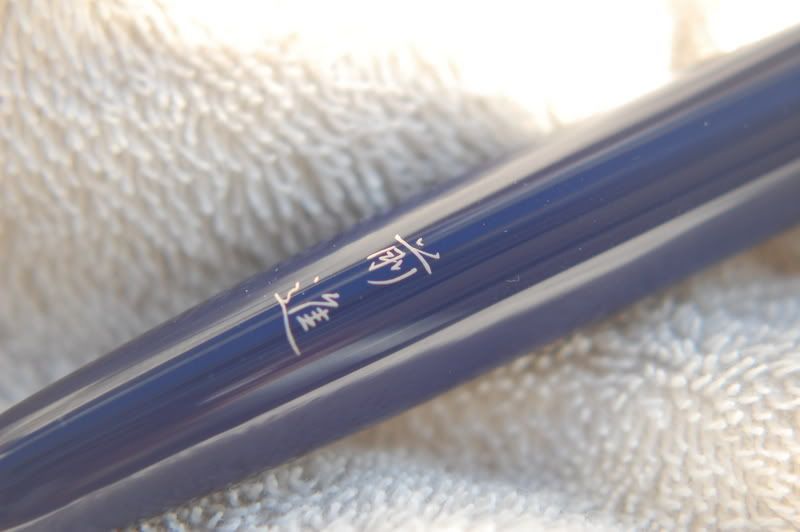 The Kanji is the ability to put your own special touch on the pen. It was a lot of fun to come up with a statement that represents me and something I wanted on my pen. Nakaya makes this really easy. Since I don't speak Japanese, they allow you to put the English in the order form, and they do the translating for you. I ended up with Zenshin. I asked to translate the word forward, as in the opposite of looking back. In another topic, some folks pointed out that there were some other connations for this, but I am happy with what I choose and how it came out.
If you are thinking of this, one thing I learned from other FPN Nakaya owners. The standard placement for the Kanji in at the bottom of the barrel (like mine) but it is on the feed side(which means yu can't see the Kanji when holding the pen). I asked to have it placed on the nib side so I could see it when I held the pen. I can't imagine why they don't default to this position, but I would certainly ask to have it placed so you, the pen holder, can view the Kanji when you are holding the pen in a writing position.
Rating:
5/5
FIT AND FINISH
Really terrific and FUN. The pen is delivered in a wonderful lightweight box lined with red velvet and white satin. The pen is wrapped in its own pouch and inserted in the box. A wonderful touch. Nakaya includes instructions for care and encourage you to send it back should you need any tweaking - if it's not exactly how you want it.
I ordered a rhodium plated clip and it is solidly attached. The stamping is first rate, with very smooth polishing and edges. The cap fits solidly on the barrel, closes tightly and the threads are well spaced to easily catch and turn.
Rating 5/5
OVERALL VALUE
I paid $593 for the pen and I feel it is well worth the investment. I have many, many pens that cost more and the nibs are nowhere near as high a quality. The fit and finish are of a quality that would warrant a higher price. But considering there are no exotic materials and I got to order the pen as I wanted, I feel very satisfied. If I order again, I would make some changes. I would look for a color with a bit more depth, look at another size and consider some other special touches I have seen on other postings. The nib, and the ability to get it exactly as I liked makes this well worth the wait.
Rating 4/5