Registration on the Fountain Pen Network
Dearest Visitor of the little Fountain Pen Nut house on the digital prairie,
Due to the enormous influx of spammers, it is no longer possible to handle valditions in the traditional way. For registrations we therefore kindly and respectfully request you to send an email with your request to our especially created email address. This email address is
register at fountainpennetwork dot com
. Please include your desired
user name
, and after validation we will send you a return email containing the validation key, normally wiithin a week.
Thank you very much in advance!
The FPN Admin Team
My first handwritten review
Started by bdngrd , Oct 21 2007 22:04
7 replies to this topic
Posted 21 October 2007 - 22:04
The Danitrio Fellowship
---
Posted 21 October 2007 - 22:49
No worries, I wish my block writing looked that good.

---
Posted 22 October 2007 - 22:07
Nice review, this is one of the pens on my wish list, only recently saw a few in the flesh and was surprised that thye seemed quite small, but didn't stop me wanting one.

Don't apologise about your handwriting it's much better than mine.

Andy

---
Posted 23 October 2007 - 02:24
The Pelikan 100 series are classics for all time- one of the best vintage pens around if you ask me.

---
Posted 23 October 2007 - 05:20
Very original!
Very nice pen and handwriting. I like your mix of inks.
sonia alvarez
---
Posted 23 October 2007 - 14:32
I have a 100N from approximately 1948 and it is one of my favorite writers. Not all what I expected. Mine is a very stiff fine, which I like quite a bit. Do you know what year your pen is?
Mine is the one on top of its brothers and sisters.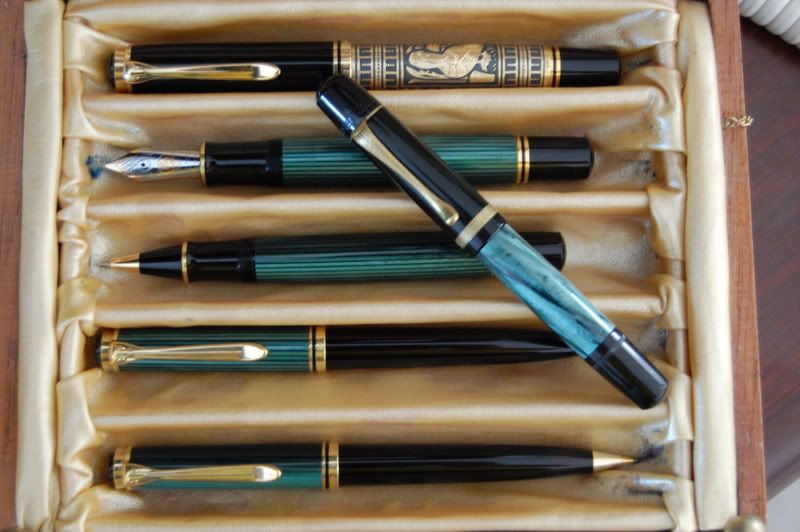 QUOTE(bdngrd @ Oct 21 2007, 10:04 PM)
I'll apologize up front for the poor handwriting and photo quality.
[/URL]
---
Posted 25 October 2007 - 01:44
I'm not sure what year this pen is, I have not done my homework on it. My guess would be in the mid 40s? Thanks for the kind words.

The Danitrio Fellowship
---
Posted 25 October 2007 - 02:13
My 100N (green marble) is basically the keeper of all keepers. It's a OM beauty with more character than the new stock Pelikan nibs, and it really does feel bigger than its measurements, yet still lightweight. It also seems to demand a classic ink: I lean towards a blue-black on the blacker side of blue.

---
---