Background
One of my first fountain pens was a Pelikan M200. The M200 taught me quite a few things about FP's, one of which was, "I like piston fillers!" I enquired as to other inexpensive piston fillers with the FPN crowd and was told to snag a Senator piston filler if I could find one. Guess what? I did! And it was NOS to boot!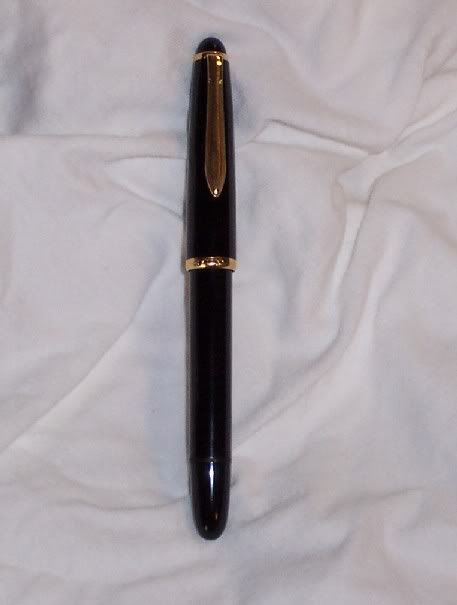 Overall Design (4/5)
The design of the Windsor is very crisp and simple. It calls to mind the design of another German piston-filled fountain pen, the Pelikan M200. The barrel is a plain black barrel with a visulated section just before the threads. There are no bands on the barrel. The cap has a gold-plated band on the bottom with "Senator," the Senator logo, and "Germany." The clip is also gold-plated and somewhat reminiscent of Pelikan's clip.
Size & Weight (4/5)
For comparative purposes, dimensions of the Pelikan M200 are also listed (Senator/M200):
Pen length capped = 134.5/125 mm, uncapped = 122.8/120.8 mm, posted = 151/146.5 mm, grip length = 16.4/14.4 mm not including threads
Pen barrel diameter max = 11.4/12.2 mm, grip = tapered 10.4-9.4/9.8-9.2 mm
In the hand, the pen feels much like an M200, just slightly larger (I have no experience with a larger Pelikan other than an M805). It is light, comfortable, and well balanced.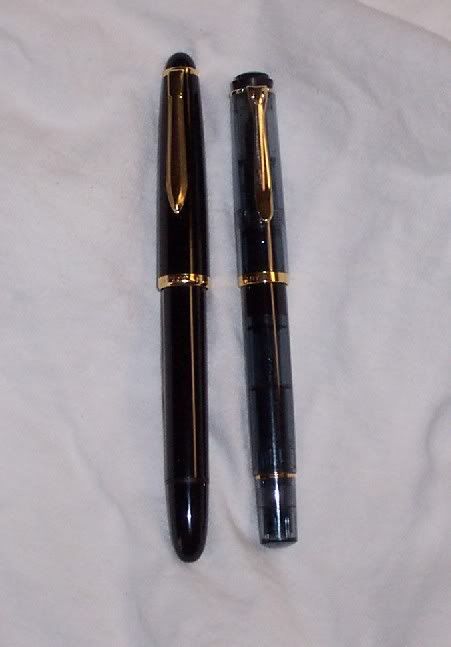 Nib (4/5)
The nib is a gold-plated IPG (Iridium Point Germany) with Senator's logo engraved in the middle. This medium nib writes very much like an M200 fine. The nib is smooth with just a touch of tooth.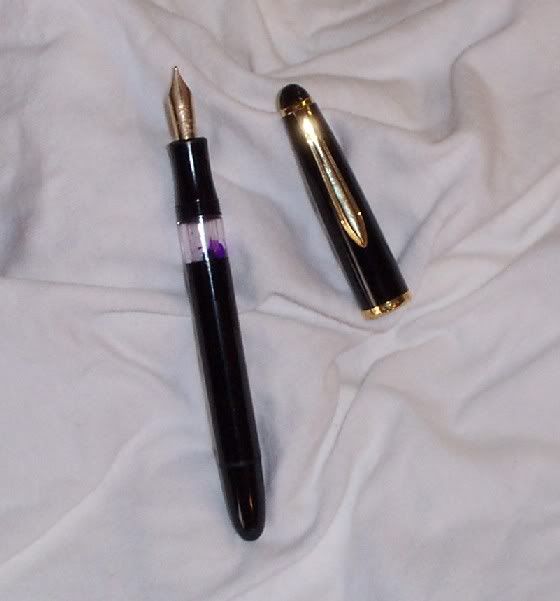 Filling Mechanism (4.5/5)
It's a piston filler that operates smoothly and holds a good quantity of ink. It does not have quite the quality feel to it that the M200 does, but it's a well-built piston filler nonetheless!
Fit & Finish (4/5)
The lacquered gloss black finish is well done. All of the gold-plated trim is good, especially given the price-point of the pen. All fittings and joints are tight.
Value (5/5)
Unfortunately, as least as I understand it, these pens are no longer made. However, they do pop up from time-to-time as NOS offerings. I haven't seen them much if at all used – and having one, I understand why. I was able to pick mine up NOS for less than $20 shipped – for a piston-filler with a very decent nib! At that price, it's nearly impossible to beat.
Summary (4.5/5)
Clean, simple, classic looks. Good fit and finish. Nice nib. PISTON FILLER! All at a value that can't be beat. What more needs to be said? If you can find one, I highly recommend you snatch it up before someone else does (like me!).
A chickenscratch sample from the Senator. As you can tell, when the pictures were taken, the pen had just a bit of Waterman Purple left in it. It has since been rinsed and reinked with Noodler's Verdun Green Eternal Ink.