Background
First, I highly recommend The Noble Savage's review of this very same pen (it's better - especially the pics), albeit with a broad nib. It can be found, where else, in the "Fountain Pen Reviews" section. Now, on to my lower quality review - but hey, it's my review!
Having read much about Bexley's in various places, I was quite curious. The aforementioned review served to further wet my appetite, but the $ was a problem. I kept my eyes open for a second-hand one or for a really good deal, and then lo and behold, I found a great deal on the bay for just under $100 off the normal selling price! I could even choose between the blue or the gray. I chose the gray as the blue is too light for my taste (if only Bexley had made it a medium blue instead of a light blue).
After ordering the pen, the hard part began: the waiting. A couple of days later, the waiting became very difficult. Would today be the day? Would the brown truck bring my first Bexley? To make matters worse, the "brown truck" stops by to drop something off almost every day. Finally, after about a week, a box arrived with a return address that told me Sheherazade had arrived!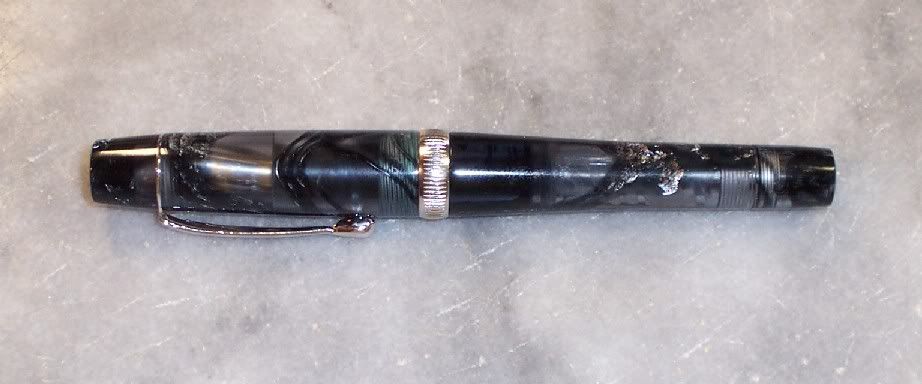 Overall Design (5/5)
The pen has a very striking appearance right out of the box. The transparent gray combined with black swirl gives the pen a classic look, yet the metallic powder (?) adds a modern touch of pizzaz that is unique - along with it's sleek lines. The transparent base material allows you to see all of the internals of the pen, from the gorgeous nib to the big piston, including your ink level.
The silver hardware is nicely done to accentuate the body of the pen, and the two-toned nib draws attention to the business end of things. The clip is tight and would be difficult to get over thicker materials such as the front pocket of your blue jeans (not that I'd ever carry this pen there).
Size & Weight (5/5)
Although a large pen, the Sheherazade is rather light, especially when unposted. However, this is all but irrelevant for me as I post almost all the time. The balance of the pen, posted or unposted, is superb and the pen is very comfortable in hand. The comfort is enhanced by the ample grip area.
Dimensions on the Sheherazade are:
Pen length capped = 134 mm, uncapped = 124 mm, posted = 155 mm, grip = 21 mm not including threads
Pen barrel diameter max = 15.0 mm, grip = tapered 10.8 - 9.7 mm
Top to bottom: Pelikan M200, Bexley Sheherazade, Pelikan M805
Nib (5/5)
This is indeed the heart and soul of the pen – and you'll love it! Mine is an 18k-750 two-toned medium. It has the Bexley name and logo engraved upon it, as well as some decor. But what you really want to know is, "How does it write?" The line is a true medium and is neither too dry nor too wet – it's just right. The best part: this large, beautiful nib is smooooth, and I'm talking butter here. It has become the standard against which all my other pens are compared and which none have attained, including my Pelikan M805 (close, though).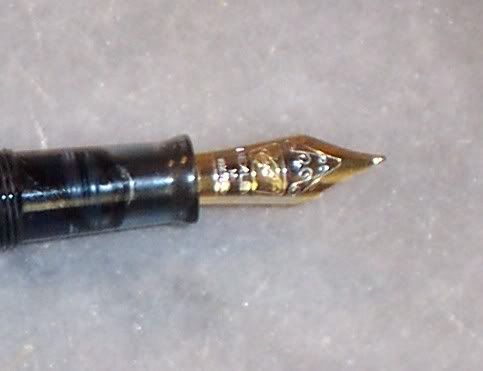 Filling Mechanism (5/5)
As already mentioned, this baby has a large piston in it! Bexley called this one right by giving the Sheherazade a proper filling system. It holds a generous amount of ink and operates very smoothly. Did I mention it's a piston filler?!?!
Fit & Finish (5/5)
Everything about this pen is top notch – no gaps, no surface imperfections, nothing loose. The manufacturing process results in each pen being unique. The patterns formed by the black swirls and metallic flake vary from pen to pen, but it's top notch all the way! The resin has a very nice feel to it to boot.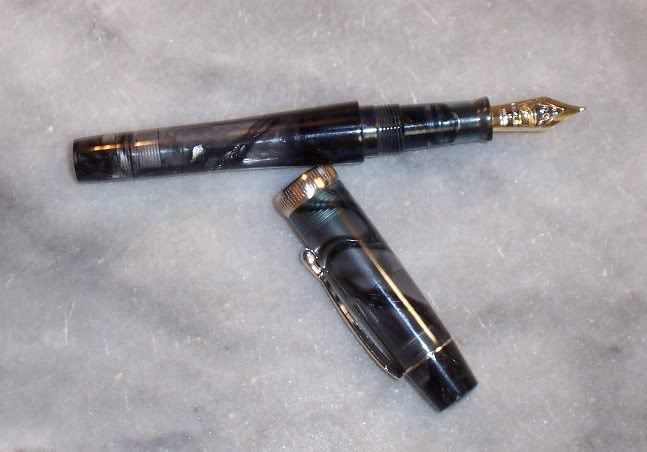 Value (4.5/5)
This is a tougher issue. The MSRP is a whopping $300. Market prices are typically in the $225 range. I was able to get this one, brand new, for $135. At that price, it's a wonderful value. If you've got the $ to get one at regular market prices, or if you can find a good deal on a new or used one, I'd recommend picking one up, but only if you like: 1) big, smooth nibs; 2) high quality pens; and 3) piston fillers!
Summary (5/5)
Not sure if it's right to call the Sheherazade a demonstrator or not, but it's my review, so why not! The Sheherazade has to be one of the best demonstrators in the market. It has it all: good looks, quality materials and construction, a great nib, and a piston filler to top it off (did I mention that already?)! It's comfortable grip and excellent balance make it a pen you'll want to use every day, and it's design will have you (and those around you) gazing into its depths when you're not using it.
A writing sample from the Bexley's wonderfully smooth nib - not too wet, not too dry, but just right! (Please excuse the chickenscratch.)