First Impressions --
I picked up my first Pelikano Jr. from my local Paradise Pens in Las Vegas. I discovered the Pelikano Jr while looking at Pelikan's website and kind of liked their bold, chunky styling and colors.
The Pelikano Jr comes in a no-frills cardboard box which contains a small sheet of instructions about how to put the ink cartridge in as well as a sticker to write your name on and so that you don't get your pen mixed up with a schoolmate's.
It's bold, it's plastic, and utterly utilitarian in design, the style coming mostly from the bright colors. It looks like a rugged pen built to take abuse.
Appearance & Finish --
This is a $10.95 pen. It's made of a translucent plastic with a matte finish on the barrel. It's not elegant and fancy, but everything about it -- the heft, the simplicity of the design, the way the nib and barrel screw together, the snap of the cap say "cheap and
good
".
The plain steel nib has no marking on it other than the letter A. (I wonder what it stands for -- Ich kenne genug Deutsch zu wissen dass "mittel" auf Englisch "medium" ist.)
Design/Size/Weight --
The top of the barrel is rounded, so it was hard to get good measurements. Unposted, it's a skoosh under 5 inches (about 12.5 cm), and about 6 1/8 inches (15.5 cm) posted. The barrel is tapered slightly in the center. It's not a fly weight like the Pilot Varsity or my old Sheaffer Cartridge Pen, but I would hardly call it heavy. I'll take a swag and call it "Medium-Light" weight.
The grip section is ergonomically designed and made of a somewhat rubbery plastic with some hard plastic ridges in it. I find it less slippery and more comfy to hold and write with than my Lamy Safari. It's also rather wide -- a good thing for me because the way I hold a pen often means that my thumbnail digs into the side of my index finger if it's skinny and perfectly round. This width also makes it more comfortable for me because I have carpal tunnel; this pen is also a good choice for somebody with arthritic fingers or wrists who needs an "everyday" fountain pen.
I prefer to write with it unposted because otherwise the edge of the cap rides right along the webbing between Thumb and Index finger and is constantly "tripping" on it. This puts me at some risk for losing the (rather substantial) cap.
Nib Design & Performance --
As mentioned before, the nib is unornamented steel tipped with some sort of harder metal (probably iridium). This A size nib is supposed to be a medium but is visibly wider than the M nibs on my Lamy and my Sheaffer. The A nib is the only option for this pen.
It lays down a smooth, fat, wet line of ink and the glide of pen across paper is excellent. What convinced me to buy this pen was casually dragging a display model (uninked) across a sheet of Rhodia paper at the store. It was smoother than the Lamy (inked) on the same paper.

(From my first Pelikano, writing on 28lb Office Max Color Laser paper)
The nib is so broad that it's possible to get line variation from nib angle + speed of stroke. I know it's not a particularly flexible nib -- I happened to slam my 2nd Pelikano Jr nib first into my desktop about 2 minutes after taking it out of the box, and that brought the tines only slightly out of alignment. (I've since pressure flexed and fingernailed it back into alignment.)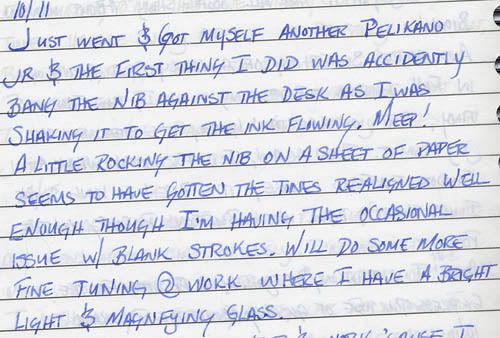 (Sorry for the off center scan. Note modest line weight variaion on Js, Ys and my kind of ampersand.)
Filling System --
This pen takes Pelikan short and long cartridges or a Pelikan piston converter. For now, I'm using the large cartridges which contain a goodly amount of ink.
Cost/Value --
This pen is an excellent value at $10.95. It writes smoothly, has a pleasant heft, and is rugged enough to withstand abuse that would cripple another pen.
Overall Opinion --
The saleswoman at Paradise Pens told me that a lot of adults enjoy using this pen, too. And after 2 weeks with one, I can see why. It's a nigh-perfect "everyday" writer, a good "starter" pen, and a perfect "loaner" (if you don't keep a Pilot Varsity on hand for that). It's not the pen I'd pull out if I need to sign something with a flourish and make an impressive statement, but it's perfect for notes, letters, and jotting down the drafts of articles.
My only complaint is that the Pelikano Jr. doesn't have a clip on the cap. The raised lettering of "Pelikano Jr" is usually enough to stop the pen from rolling on a flat or very slightly inclined desk, but nothing more than that. I have no doubt that it would survive a fall to the floor capped, but there's also the annoyance of having to pick it up. Also, no clip increases the chance of it being tucked nib down into a pocket, backpack, purse, etc.
Edited by kadymae, 12 October 2007 - 20:26.