Visconti Van Gogh Maxi in Musk
A Little Background
I ordered this pen from Susanna at www.pens.it (no affiliation, just a happy customer) after looking at Van Goghs for quite some time. The price was right and it was the older version with the three-cam locking system. And while the color was not my first pick, the musk color scheme falls in an area in which my collection is lacking. Susanna was kind enough to permit me to describe my preferences regarding the variations within the musk color scheme. I preferred not to have any dominant streaks of any one color and the overall color to be more in the brown tones. After ordering the pen with a fine nib on September 5, it arrived from Italy on the 14th!
Initial Impressions (5/5)
The pen arrived in a thick, padded envelope. I opened it up, removed the outer cardboard box, and opened up the synthetic (?) leather hard case, and there it was! My first thought was, ďItís a demonstrator? Itís translucent / transparent? Somethingís wrong!Ē
Somehow in all of my pre-purchase previewing, I had missed that detail. I then checked on several websites and, sure enough, when I looked closely, I could see that the material was indeed translucent / transparent. Itís all about camera angles, lighting, and the background. Even in person, itís easy to miss. At this point Iím feeling like a real Einstein, as you may or may not be able to image.
After that initial shock, I began to take in the pen itself. Wow! Susanna picked out exactly what I had requested ó I doubt I would have done any different had I been there myself. I immediately noticed the wonderfully varied finish, the elegant capband, and the exquisite nib! The pen is simply gorgeous and certainly aptly named. And while I prefer resin sections, the metal section on the Van Gogh works well, both aesthetically and ergonomically. As a side note, Van Goghís Starry Night is the pattern on our chair, ottoman, love seat and sofa cushions, and a few accent pillows in our den, albeit not in the original colors. I used one of the sofa cushions as a backdrop for some of the photos.
Rating: 5/5 for ďWow!Ē factor.

Size & Weight (5/5)
This is not a small pen, but then that is expected of the Van Gogh Maxi. Unposted the pen actually has somewhat of a light feel to it, with the center of mass located close to the nib thanks to the metal section. Personally, I post nearly all of my pens, and the Van Gogh is no exception (personal preference: like the added size, weight, and not having to fool with the cap).
The cap is fairly substantial due to its cap band (9.8 mm wide) and the spring-loaded clip. However, I donít believe itís as heavy as the newer model as the new clip is considerably thicker. Nonetheless, when capped, the barrel remains elevated due to the weight of the metal section, cap ring, and clip.
Posted the pen has excellent balance. Writing with the pen in this condition is a pure joy. In my opinion, this is the way it was designed to be written with.
Rating: 5/5 for good weight and size, but mainly for fantastic balance.
Dimensions on the Van Gogh Maxi are:
Pen length capped = 145.7 mm, uncapped = 127.5 mm, posted = 170 mm, nib = 24.2 mm, section = 18.2 mm.
Pen barrel diameter max = 13.1 mm, section = tapered 11.5 - 10.5 mm
Clip opens a generous 4.8 mm without being maxed out.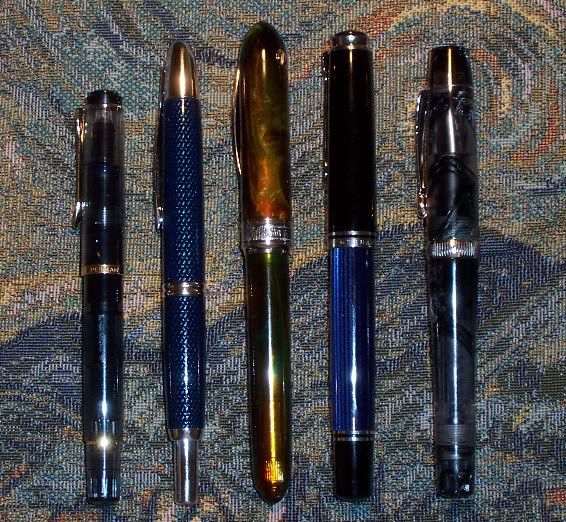 For size comparision purposes, left to right are: Pelikan M200, Namiki VP, Van Gogh Maxi, Pelikan M805, & Bexley Sheherazade.
Nib (4.5/5)
This is what a FP is all about. This is what you really want to know, the all-important detail, the business end of the pen. ďHow does the two-toned, elegantly engraved 14k-585 fine nib perform?,Ē you ask. Mine is a wet fine that is really a medium-fine. Itís actually a little bit wetter than I prefer, but I like it. Oh, and did I mention smooth with just a hint of tooth. Itís just a tad bit toothier than my Bexley Sheherazade medium, and very much like my Pelikan M805 fine. Bottom line, itís wonderful!
Rating: 4.5/5 for being just a tad too wet.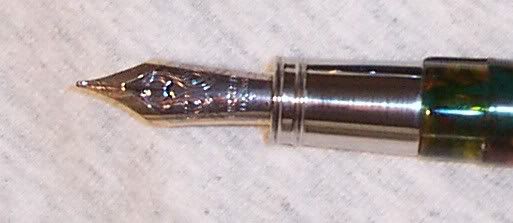 Filling Mechanism (4/5)
The pen is a cartridge / converter filler. My preferred filling system is the piston-fill. That notwithstanding, this pen has a very robust converter and has thus far performed flawlessly. It holds a good quantity of ink. Combine the converter with the transparent / translucent barrel material, place it against the right background, and voila! The ink level is visible. This is a big plus.
Rating: 4/5, which is as high as Iím likely to rate a c/c.
Closing Mechanism (4/5)
Normally this is not worthy of a separate category, but in this case, an exception is called for. As previously mentioned, this is the older style three-cam closure system. It requires a mere third of a turn to fully close. While I have heard concerns with thermal expansion causing the closure mechanism to disengage, I donít think it will be a problem given the way I use pens. Regardless, I though it was a risk worth taking and time will ultimately tell.
For now, it works very well and gives a thread-free barrel. This is a bonus as that is precisely where I grip this pen. The three-cam system closes the pen very quick and easy. In my new and limited experience, it is quite securely.
Rating: 4/5 only because of the thermal expansion concerns.
Fit & Finish (5/5)
Attention to detail is one of the first things that comes to mind on the Van Gogh. The cap band is beautifully engraved with the Visconti name, logo, and the model name, Van Gogh. The cap covers the end of the cap, alleviating concerns over chipping or breaking in that area ó a nice touch. The pen has no noticed imperfections on the resin or metal.
The finish on the pen, due to the press mold manufacturing process, if unique to each pen. The musk color scheme contains brown, green, and yellow. In this particular example, the colors are beautifully combined in a manner worthy of the penís namesake.
Rating: 5/5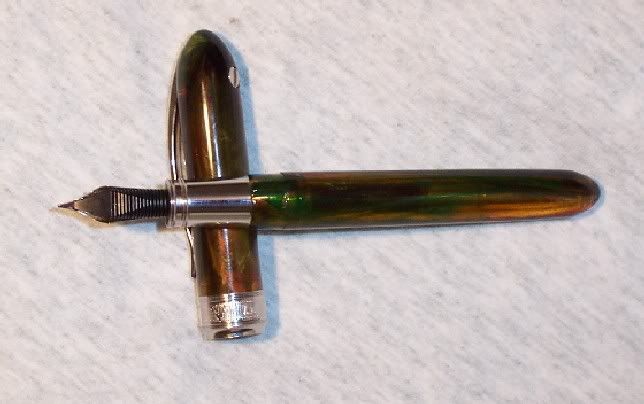 Value (5/5)
I got my pen from Susanna at www.pens.it, and it was one of her clearance specials. I got the pen as NOS for 97.50 euros including international shipping! This is a very good price for this pen, and would be better were it not for the weak dollar (mais cíest la vie!). I canít in fairness close this section without mentioning her excellent service. Susanna, if you read this, ďMany thanks again!Ē
Rating: 5/5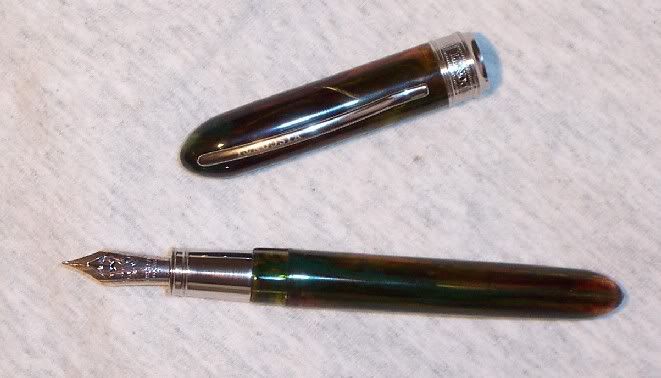 Summary (5/5)
If you canít tell, Iím thrilled with my Van Gogh! This is a fantastic pen and an excellent example of Italian design, quality, and design flair. It is a very enjoyable pen to use, and one that demands to be used.
Mine is already on itís second tank of Noodlerís Red-Black, which is a record for me. Iíve never gone through a tank of ink that quickly in a pen. I attribute it to: 1) the wet nib, 2) opportunities to write quite a bit recently, but mostly 3) wanting to write with it more than anything else since it arrived.
I highly recommend it, and I personally like the now somewhat unusual three-cam closure system, which just adds a rather unusual but nice touch to a great pen.
Rating: 5/5, because thatís as high as the points go!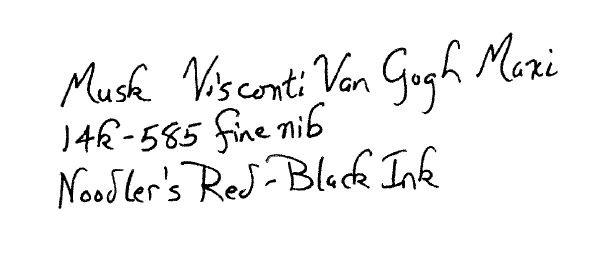 Edited by southpaw, 18 September 2005 - 03:19.