Bexley 10th Anniversary Pen
First Impressions
Hey, I got a good deal on this one!! As you all know, I am a sucker for Bexley pens and I am in the constant pursuit of finding pens and adding them to my collection. I did a wild card search on EBay and I saw that this one was up for the auction. The price was low and the auction closed in 2 days. I put the maximum price I would want to pay for this pen and I won it with money to spare. How about that??
There are 4 pens in the 10th Anniversary collection and they are listed below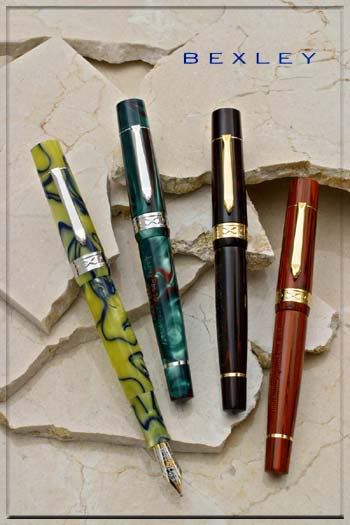 Lemon, Lime, Chocolate and Orange are the colors. The first two, lemon and lime are made out of acrylic while the chocolate and orange are made out of ebonite. I happened to get the pen in Lemon color. I have no yellow pens and I think this would have been a great addition to my collection. The Bexley 10th Anniversary pens are Limited Edition release and only 250 pens in each color were produced. I happened to get #057/250, yippie!!! It took only 3 days to get to my doorstep from New York via FedEx. Boy, I was so stoked when I opened the package. The pen came in a nice sized brown leather pen case and inside was the papers to send in for the warranty, instructions for use and care.
One thing about this pen, it is one of a kind. There are no 2 pens alike and that is what makes it very appealing
Appearance/ Finish
5 out of 5
They call this color "Lemon" and there is a reason for it, ITS YELLOW, SILLY!!!
Along with this pen being yellow there are blue swirls all around it. Richard Binder says it looks like silly string, I have to concur!!
The pen is semi translucent and there is the pen number at the top of the pen cap, above the clip. It took me about a week to notice it, this comes from a guy who looses his car keys all of the time. It drives the wife up the wall, but I guess that is what you call a brain fart!!!
The plated clip, cap band and rear band are done to a high gloss shine and it looks flawless!! Around the cap band is the raised lettering that has 4 X, this symbolizes the 10 years of Bexley being in business making quality pens.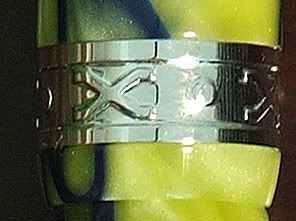 Design/Size/Weight
5 out of 5
This pen is a comfortable size and weight. Wile the pen is capped, it is roughly 5 ½ inches in length and with the cap posted the pen tops out at almost 6 ½ in length. This is not your mommy's pen, that's for sure. It's not too big and I find this to be a nice comfortable size for taking notes and doing marathon type writing.
Bexley likes to do either the total flat top on the cap or slightly raised point. Either way, they look like a classic pen design. One thing that I like about Bexley pens is that the top of the cap can be unscrewed so you can do some spring cleaning on your pen. I don't know if they do this on purpose or not, but I do like it.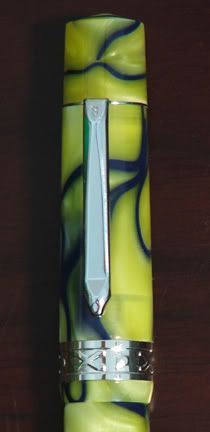 I also noticed that there is a blind cap and you can actually fill the pen without having to unscrew the section from the barrel to fill it up. I CAUTION YOU that there is a silver ring that is between the blind cap and the barrel. It will come loose and you might loose the ring. If that happens, you will be up poop creek without a paddle!!! I don't think it was meant to be filled that way but I always try to explore the pen when I first get it. It is a way to acquaint myself with the personality of the pen
On the Barrel of the pen there is the engraving that reads "Bexley Pen 10th Anniversary 1993-2003
The weight and balance of this pen is typical Bexley. It feels natural with the cap posted or not. It seems to fit perfectly in my hands as I write and that is what I like about Bexley pens. They seem to make pens that suit my needs. The shapes and designs seems to always conform to my hand and to my writing style
Nib Design and Performance
5 out of 5
Ok, here we go!!! The Bexley 10th Anniversary sports an 18 kt gold nib made by the Bock Nib Company of Germany. I have always like Bexley nibs (Bock) they are smooth and a bit on the stiff side. They are not nails but then again they are not wet noodles.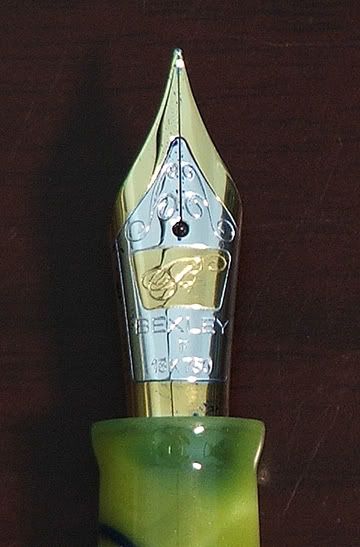 One thing that I noticed when I was cleaning the pen after its use is that the nib unit screws out just like the Bexley Sheherazade pens. Believe it or not, they fit!!! This makes it easy to swap out nibs with a different width. The nibs come in fine, medium, broad and Stub. This particular pen came with a fine nib. I am not really a big fan of fine nibs but that was the only choice when I won this pen off of EBay.
I filled this pen with some Private Reserve DC Super show Blue 2003 to see how smooth this pen would write. Man, I was surprised because I was expecting a scratchy nib but this one was very smooth and it almost wrote like a light medium. I compared both my medium and my fine Bexley nibs and there were very little difference in line width or variation.
As usual Bexley is on top for the quality of the pen and the selection of nibs from Bock. Bravo Bexley Bravo!!!
The Filling System
4 out of 5
A cartridge/converter system, what a shame!!! Regardless of the converter, the flow of ink is remarkable whether I go from a fine, medium or a broad. There are no issues with ink feed or skipping. This is a solid writer and that's all I can ask for in a pen.
Cost
3 out of 5
Ok, the MSRP of this pen is around 310.00 or so but I have seen it for around $230.00 at some of the other larger pen stores on the internet. As far as I am concerned, this is a little too much to pay for this pen. Don't get me wrong, this is a solid pen with all the bells and whistles but I do not see why this is even selling past the $200.00 mark. The Sheherazade is a piston filler and is approximately the same size but at a price that is under $200.00. Regardless, this is a Limited Edition pen with 250 pens in each color and I really liked the color. So I shelled out about 160.00 with shipping on my winning bid. What I bought the pen for is what the pen should be selling for to be quite honest. I got a very good deal IMHO. IF you want to pay full price for the pen, then go ahead. I would rather wait until you can get a better deal on a used model or on an EBay auction.
Ok, the bottom line is I got a good deal so I will say I got a 4.5 on that. But having to buy it new and paying $230.00, I would have to rate that as a 3
Conclusion
Ok, what this pen boils down to was that I was at the right place at the right time. I actually had no intentions in buying this pen due to the cost but since the opportunity was there, I decided to go for it. I am 100% happy with this pen and it extends my Bexley Collection to 5 pens. These pens are well made and uses high quality materials and it is one of the last American pen companies. I like the fact that repairs are quickly resolved and the pen is returned within 1 week. I had this problem with my Prometheus but Howard Levy personally worked on my pen and made sure that it was working like it should before he sent it back to me.
The quality of this pen is no different. If you have some cash that is burning a hole in your pocket and you have done some bargain shopping, and then go for it. This is a wonderful pen and I am 100% sure you will not be disappointed!!! The colors are one of a kind and I am sure you will get plenty of compliments and this pen is really a joy to use.