Many of us have bemoaned the discontinuation of the old-style OMAS Paragon. The pen came in beautiful colors and had - for many of us daily fountain pen users - just the right size for daily writing without fatiguing. John Mottishaw calls the old Paragon a design classic. And as we see the demise of the old Paragon, many of us have not really taken well to the new Paragon, a pen that has often enough been subscribed as being too big and too unwieldy.
Inspired by all of this talk, I began to hunt the different old-style celluloid Paragons down. As I knew that most of the colors were really hard to get, I was rather disappointed when I called all the sellers that I know had a large supply of OMAS. Then I posted a search ad here in the marketplace. A fellow FPN member tipped me off to the fact that Joon's in New York still had one saffron blue pen left. I was highly elated, a state that increased furthermore when they told me that they will sell it to me for MSRP - 20% (the usual price for in-stock items). Given that this color has been sold out for a long time and that it is in relatively short supply, this was a more than decent deal.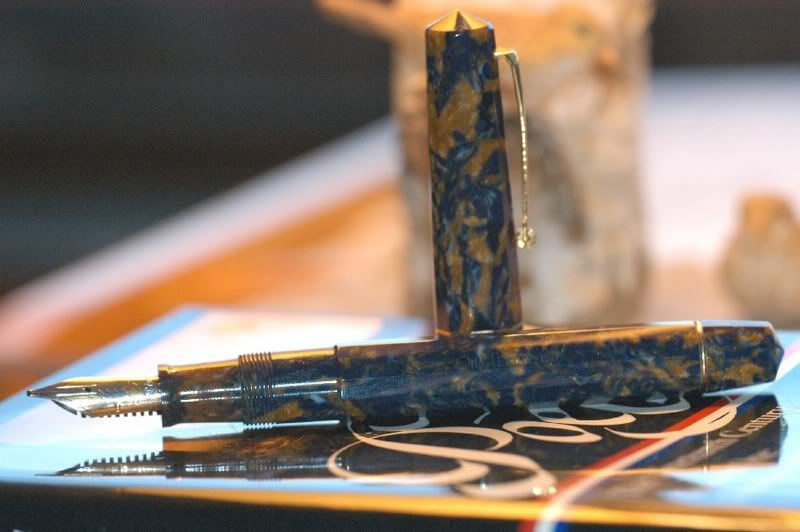 There is not much about the pen that I could tell you that all of you OMAS connoisseurs would not know yet. It is a wonderfully light and balanced pen. It fits right into your hand and holds a huge amount of ink. It is sturdy, round enough to be comfy and yet faceted enough to not roll of the table in an infelicitous situation.
When I got the pen I couldn't help it but marvel at the intricate beauty of the marbled material. "Marbled" is the right expression because like marble it looks. A beautiful and warm blue tone is the backdrop for flurries of saffron-golden veins and patches that suffuse the whole pen. On top of that, little sprinkles of white specks round out this mysterious color. The celluloid arouses notions of culinary delights. One of my favorite meals is an Indian dish, Malai Kofta, that is cooked in a saffron sauce that has almost the same color as the saffron parts of the pen. As is true with most of the OMAS celluloids, they appear very dark in murky light. But once light hits the pen they start glowing and glinting. The same is true with this color: in bright light the blue and gold parts come alive.
I am normally more a fan of the HT trim (all my other Paragon celluloids have HT or the HT and gold combination trim) but in this case I have to admit that the gold trim becomes the pen body's color much more. The pen also came with the HT (Mottishaw has a picture on his web page that shows the HT trim) but it looks just off in my opinion.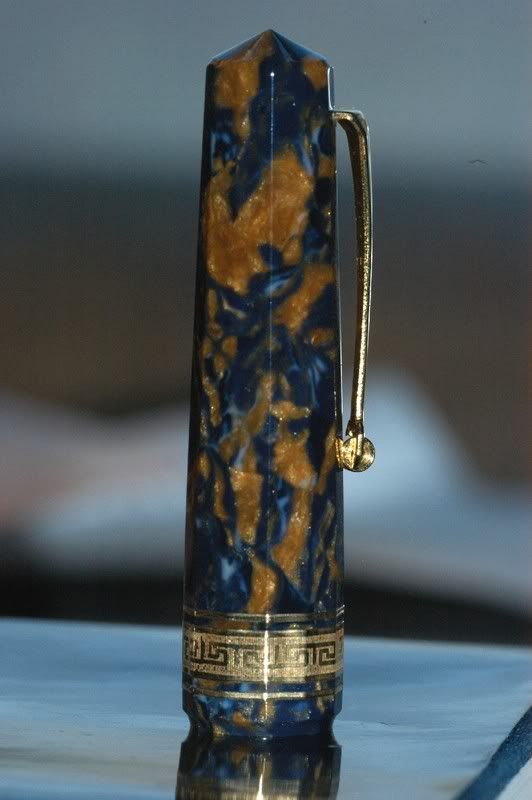 I basically love all seven colors of the celluloid collection. However, I would argue that this is the most unusual color in the whole assortment, rivaled only by the Arco Green (as this is also a very mysterious color low in supply). It is a color that has been very controversial and as I take it not overly popular. Most of those pens were only available in Europe.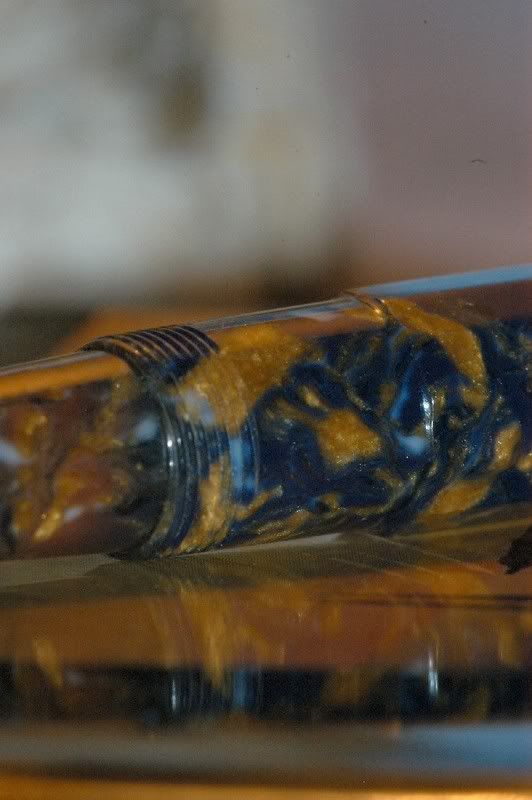 This pen is marked "1997" on the grip section. I think that this must be from the early production then.
For all of you who like the precision of numbers I have copied the specs of the pen from John Mottishaws page (www.nibs.com)
Weight (empty) 20 grams
closed length: 5.5 inch
posted length: 6 inch
barrel length: 4.125 inch
barrel width: 0.58 inch
section diameter: 0.387 inch
ink capacity: 2.5 ml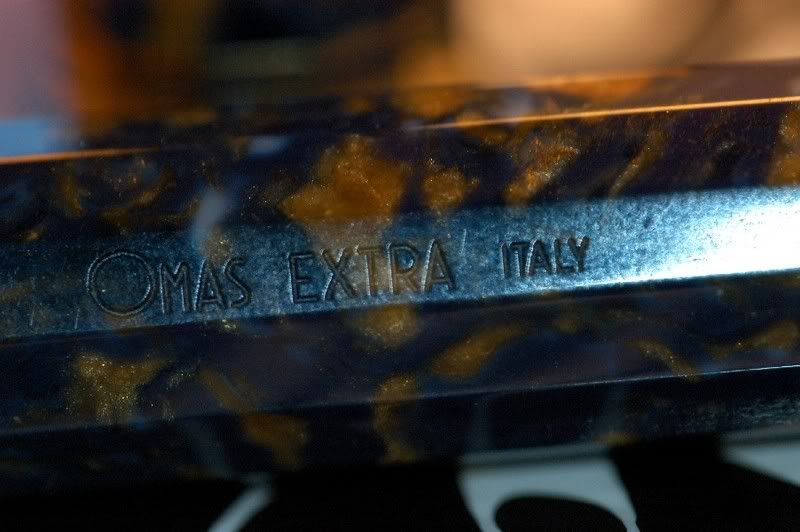 After collecting pens for two years I have found out that Italian celluloids will be my main focus. I have a bunch of other brands that I also love and enjoy (Pelikan, Conway Stewart, vintage Parker, Dupont, Cross, Wahl Eversharp etc.) but I always come back to the Italians. And among the Italians, the old Paragon just fascinates me the most. Its simplicity paired with great workmanship and beautiful materials just takes the cake every time I compare it to other pens.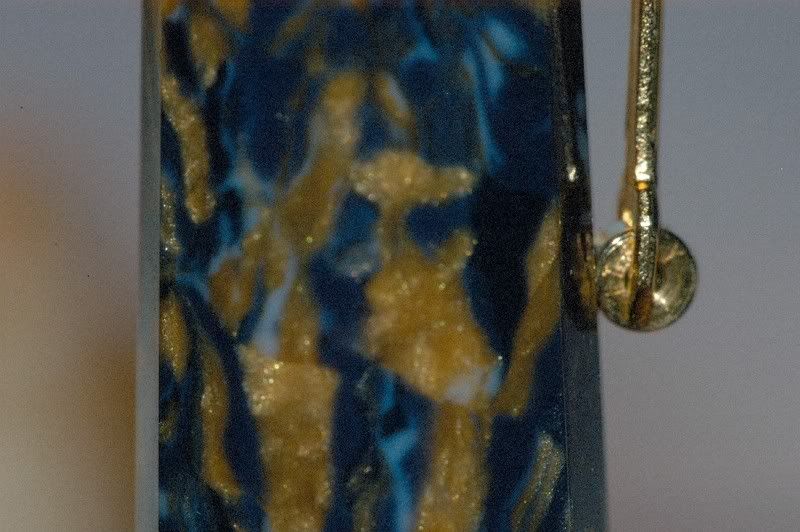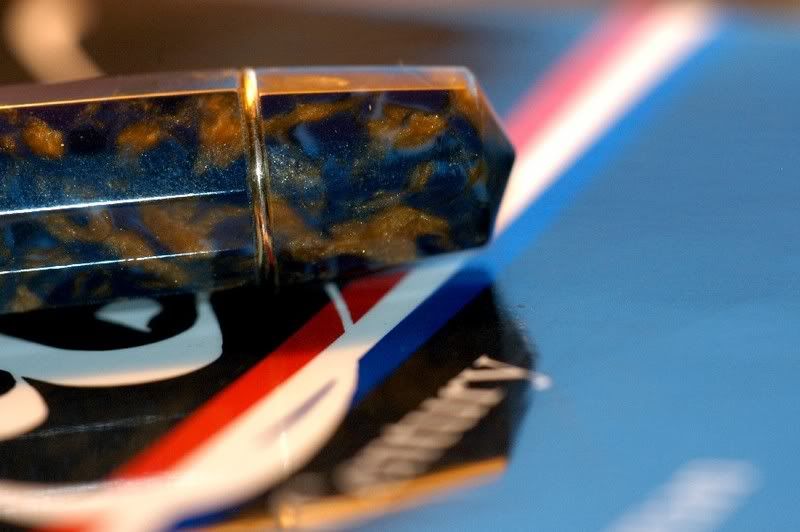 I got the pen with a broad nib. The nib is the usual 18k duo-tone nib. As this pen was made in 1997 I think this nib was still made by OMAS themselves. The broad, however, my least favorite nib, as it makes my writing chunky and ugly as I think. But beggars cannot be choosers. When you buy the last pen available from a seller, you have to take what you can get. Stuck with this rather ugly broad nib, I ruminated what I could do. I then decided to send the pen to Deb Kinney for a custom grind. She transformed the dull broad into a wonderful juicy medium stub that has great line variation and is absolutely smooth. It is now one of my most favorite writers and will be used on a daily basis.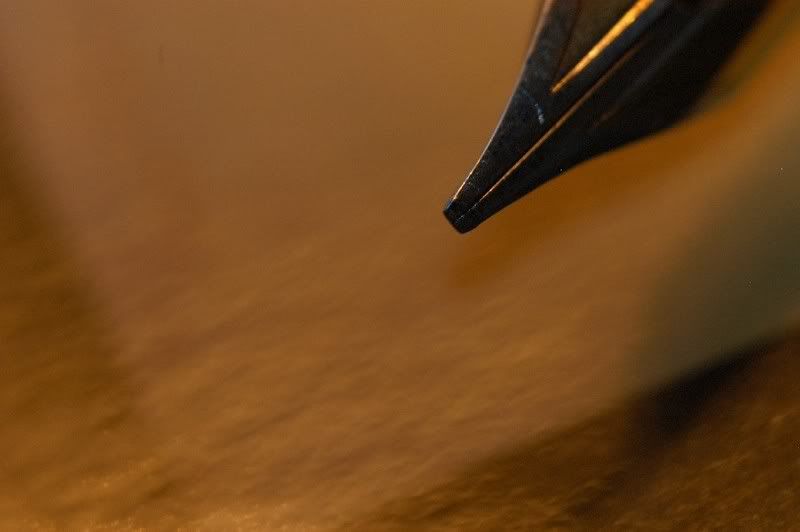 Here is a little sample of how the nib writes. Calligraphy is obviously not my specialism, but I like writing with this nib nonetheless. It is not as crisp as my Binder cursive italic but then it is also not as scratchy and rough as it either. Italics are rougher by nature. The crispness comes at the price of less smoothness. Deb Kinney's stub, though, has almost, almost the same crispness as an Italic and is ultra-smooth at the same time.
The nib performs flawlessly at every stroke and is an absolute joy to use.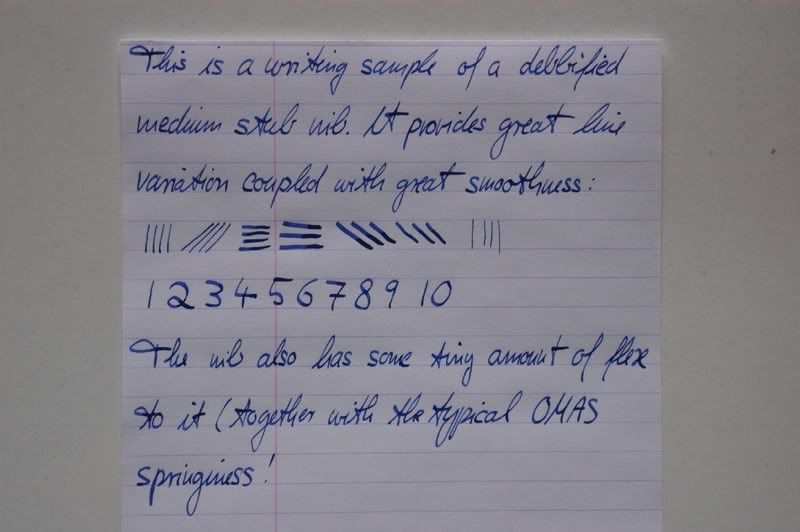 Edited by dupontfan, 25 August 2007 - 00:53.