Neotiger has already done a very good review of this pen, but I just finished a little write-up with some pics that I posted on PT, so I thought I would share it here, too, with a few additional observations. -Andy
--
When announced, I was immediately intrigued by the form of the Bexley Poseidon- like a heftier Pelikan 100N. I liked it, but, apart from the Tortoise, I didn't care for the materials used.
So when I saw these, I kinda went nuts...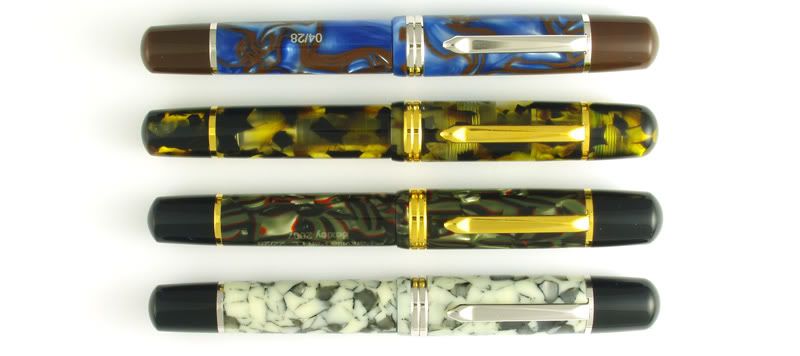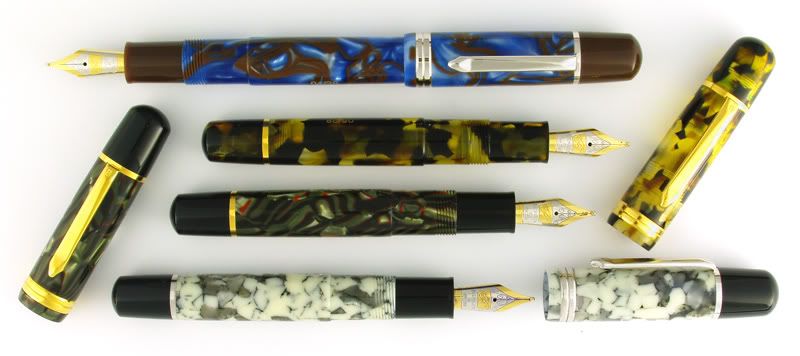 Pens 1, 2, and 4 are specials made for the eBay seller "outletline" (very satisfied customer); #3 is the special made for Dennis B of Parkville Pens (similarly very satisfied customer
). Outletline actually had 5 different models made- the Butterscotch I skipped (possibly regretting that decision), the White is in the mail. He still has a few of the others listed, though he can't have many more (he had 28 of each color produced). (Note on "outletline"- I found him to be very easy to deal with, and all of the nib-swaps I requested arrived as expected.)
The materials are very cool- the cracked ice is probably my favorite. The pen parts are easy to mix-and-match; I think Bexley would have done very well to put brown end-caps on the Tortoise pen instead of black for their standard production pens (it looks pretty snappy).
Here are some detail shots of the materials: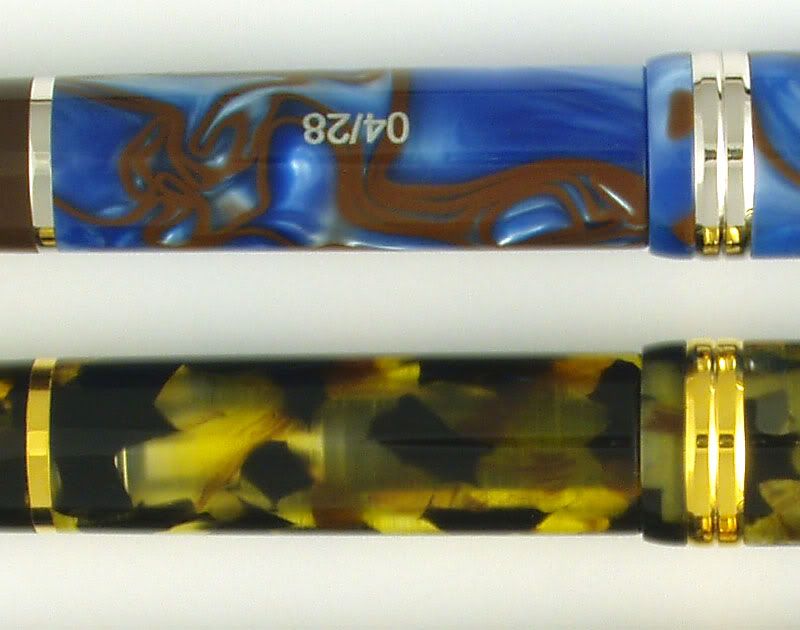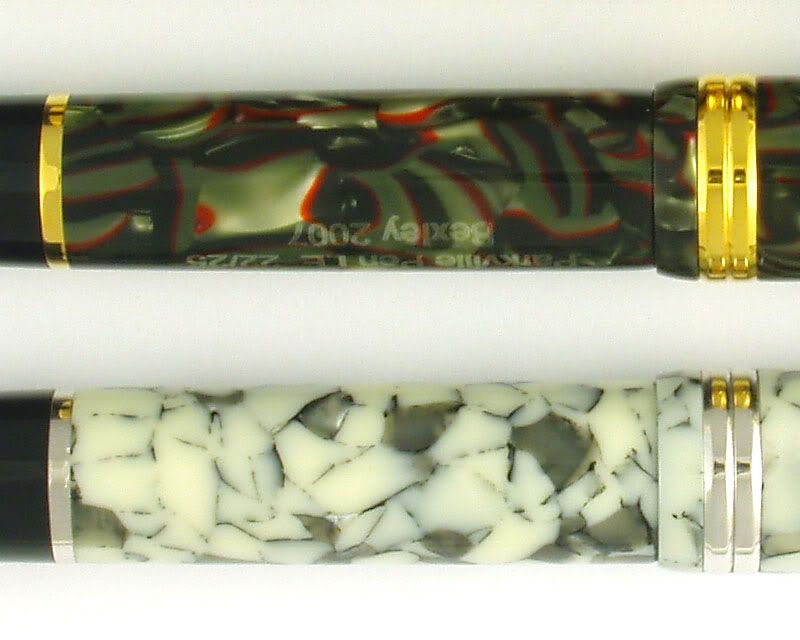 Overall, I am very pleased with the model- great size, great shape. Some people might find it a bit on the short side, but I find it to be just about perfect for use unposted (posted is a bit unwieldy, and, frankly, the cap goes onto the back a little too tightly- happily I never post, so it's a non-issue for me). It's a "little" pen, but it feels big due to its larger-than-usual girth- I like it. One bonus noted- the shorter pocket-depth on this pen makes it one of the few modern pens I own that will fit in every shirt-pocket I have, even the really short ones....
I haven't seen the other two regular-production colors in person, but the pictures I've seen haven't done much for me- s'allright, though- these specials should keep me happy (for a little while, at least
).
Now all I need is for Bexley to make a piston fill version in the Cumberland HR- anyone feel like stepping up and sponsoring another SE?
Andy
Edited by MYU, 25 October 2008 - 05:11.