I am often out and about with some form of writing instrument in my pocket. If I go out wearing a shirt with a chest pocket, then I have the convenience of clipping a larger pen there. If I am without such a pocket, then my pen will reside in my pants pocket clipped to the hem or loose inside. In the times before I had gotten into fountain pens, I used to carry a Fisher Bullet Space Pen due to its compact size. Recently, I acquired a new addition to my collection - a Platinum 200 long-short pen, purchased from NeoTiger.
--- Design, Fit, and Finish ---
The 200 is a fairly compact pen at a length of 12.1cm capped and grows to a length of 14.6cm posted. The elongated cap and stubby body sections are made of aluminum. A stepped gold-trimmed band serves as a stop for the cap and the junction between the body and nib sections. All sections fit together precisely without wobble. The nib section is composed of a smooth black plastic ending in a 18K gold fine point nib. The elongated cap sports a spring-loaded clip that has a firm tension and clips securely, even to thin fabrics. It caps up smoothly without any kind of mechanical retention, utilizing a precise friction-fit between the inner plastic liner and the nib section. Posting the cap lengthens the pen to a more comfortable length for those with larger hands, but I never found it uncomfortable writing unposted. Because the cap is constructed of lightweight aluminum, posting does not alter the pen's balance point much at all. The cap posts very securely with a strong friction-fit, so no worries about the cap falling off accidentally. The cap grips the alumunim body section so well that if you un-post with a left-hand twist, it will unscrew the body from the nib section.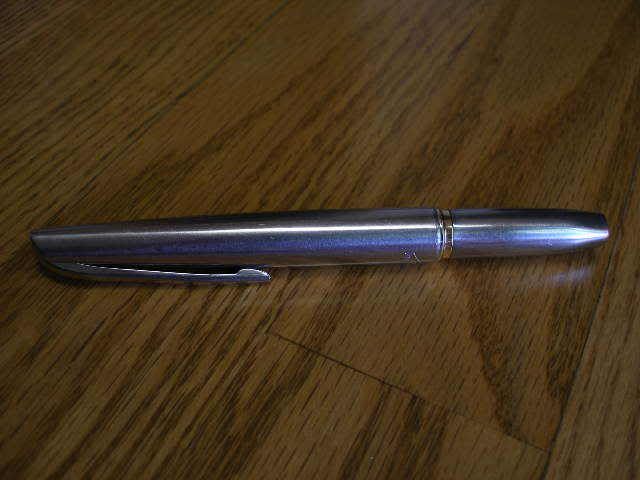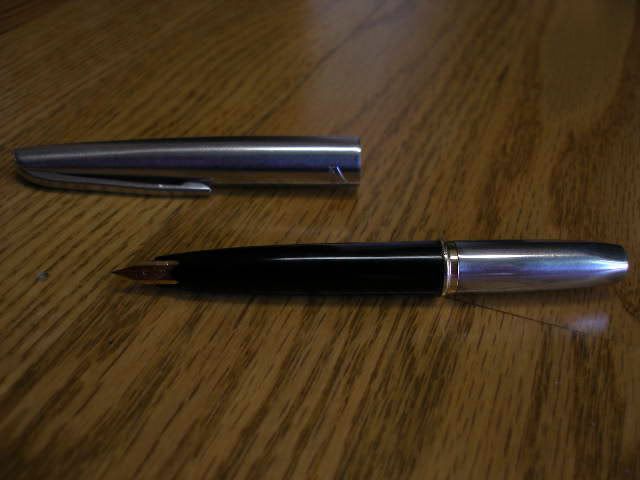 --- Nib, Writing, and Filling ---
The highlight of the pen is its fine point 18K gold nib that offers a "lively" writing experience. Among the pens I own, the 200 has the most flexible nib. I don't want to give the idea that this is a flex nib, so I will say it is "soft" and yields under mild pressure to give a small amount of line width variation. I cannot say how it compares to the Namiki Falcon's soft nib as I have never handled one before. But, I am very happy with the 200's nib. In addition to its slightly flexible characteristic, it is very smooth in all directions with a light bit of tooth due to its fine point. Flipping the nib over gives an even finer line, albeit a very toothy (almost scratchy) feel.
On the nib are a number of engravings. The top is engraved with "18K" with the letters "S&N" in a logo appearing to be a globe. On the side is the company brand "Platinum" and what appears to be kanji on the opposite side, but too small for me to make out legibly. I assume one side is engraved with the English name and the other side with the name in Japanese.
The 200 accepts Platinum cartridges, and I assume, their converter as well. My pen arrived with an empty cart, which I promptly filled with Noodler's black (possibly my favourite ink). With said ink, the pen lays down a narrow line with just the right amount of wetness to give a nice opaque black, but not take forever to dry or bleed thru paper. I experimented with varying my writing pressure to induce line width variation, but found it to be more difficult than I imagined. I am definately deficient in my handwriting skills! Part of the difficulty may lie in how fine the nib is - applying pressure on the upstroke stabs the point into the paper. Downstrokes are much easier.
--- Final Thoughts ---
A very nice pocket pen, indeed! I like the brushed aluminum look of the 200 and how it retains full-sized functionality in a compact package. I am especially impressed with the nib and how well it writes. I think I have found a top contender for my EDC pen when I am without a shirt pocket.