This is my first review so please be gentle with me.
I purchased this pen from Ebay. It was moderately pricey, but I liked the way it looked, and took a gamble. I am pleased that I did.
Appearance and finish
This is a metal of sorts with some nice laser engraving, and gold color fill. The inlays all have clean crisp lines, and there seem to be no missing lines. The pen is most likely brass ( I am sure) with an enamel finish. The finish is put on very well with no defects, and a nice deep shine to the polishing. The cap is a snap on that fits firmly, and works very well.
Size and Weight
With the cap on this pen is 142mm / 5.59 inches. With the cap removed form nib to tail it is 126mm / 4.95 inches. Posted it is 158mm / 6.25 inches. The Barrel is 14.7mm / .580 inches in diameter. The cap is 16.17mm / .636 inches X 66mm / 2.59 inches.
I have no way acurately measure the weight, but it is a heavy pen to me although it was listed as a medium weight. I know that a cup of coffe makes a good counter-weight.
It fits well in my hand posted or not, and while much weight is in the cap it is not so long when posted that it is hard to manage. The design of the pen seems to just deliver the weight down to the nib with no real ackward top heavy balancing act.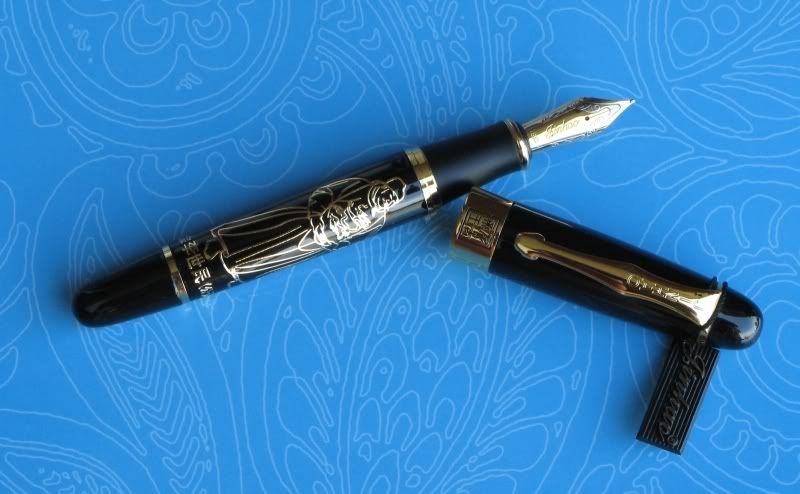 Nib Design and Function
I am a sucker for a good looking nib, and this pen certainly fits the bill. This is a longer nib at almost 1 inch from the end of the barrel to the tip. It is 18 KGP with nice lines in the engraving. It lays down a medium-fine line that is fairly wet. It is very smooth, reminding me of greased skies on an icy snow slope. I only wish my Pelikans came this smooth, and it is the highlight of the pen for me.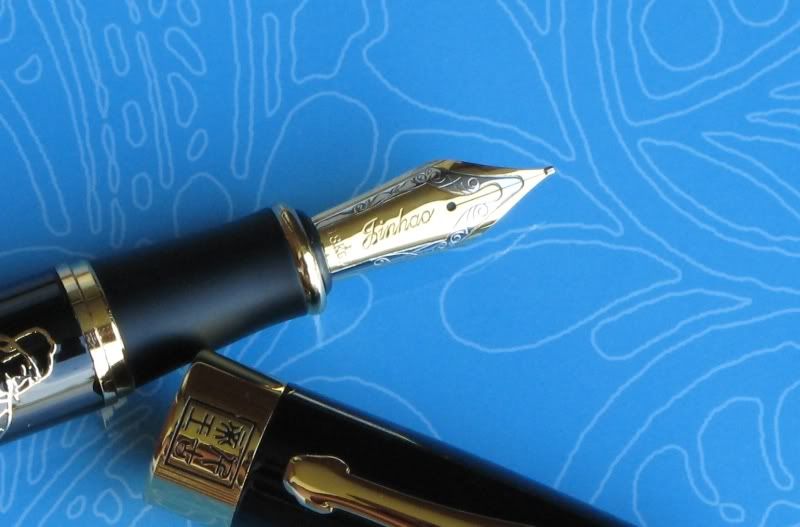 Overall Impression
I spent about $50.00 on this pen, and although it is large, and heavy, I have no regret. It really is easy to use, and looks very nice. The smooth wetness of the nib, combined with the good looks makes it one that I will have pleasure using at home. I don't think I'll carry it around much due to the size. There was one dissapointment to this pen, and it is purely a personal thing. The Cap is a snap cap, and not a screw on. I think a pen this size, and good looking that writes as well as it does, should have a screw on cap. If I could trim it down some, and change that one feature, I could have well found the perfect pen for me.
I hope this review has been helpful in some way, and in that I would've made some small contribution to FPN.
Chuck