Greetings friends! I was asked to create a separate post in which I will share my tests on fadeout of ink from light. I did my first test two years ago(2018), but there was not much ink.
This is the original test sheet: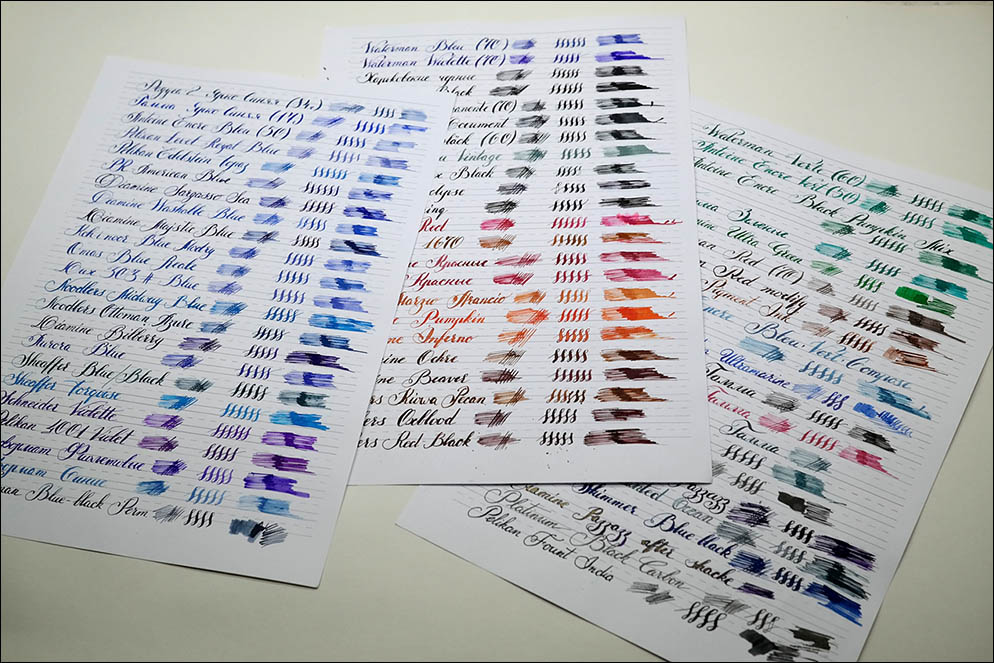 These are sheets after half a year tested outdoors but without direct sunlight.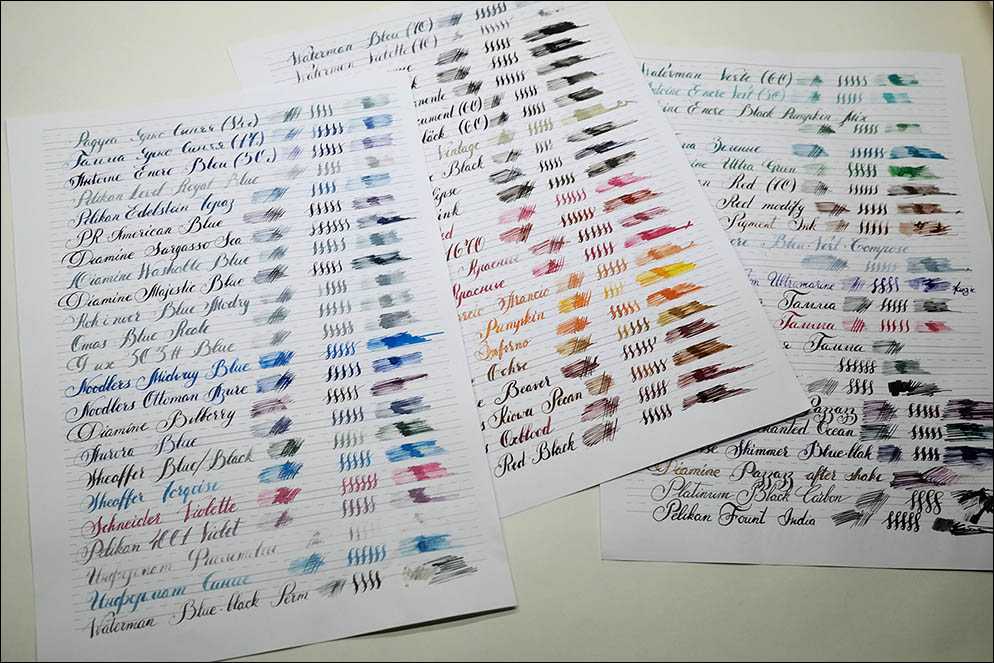 Conclusion:
First sheet: It seems to me that Pelikan Edelstein Topaz, Noodlers Midway Blue, Noodlers Ottoman Azure, Sheaffer Torquise did the best with the task of lightfastness. At the same time, Noodlers Midway Blue practically did not lose color at all - i.e. is the winner in lightfastness in this group.
Second sheet: The second sheet "tête à tête", which placed black, orange and brown. And as it turned out, of all inks, the favorites in terms of lightfastness turned out to be precisely the warm, orange and brown shades, which practically did not lose their pigment
. Regarding blacks, one cannot say that they have lost their color, because they do not have it, but in fact they are also great save tone and remained, in principle, almost the same black or so
. In the second selection J.Herbin Aniversary 1670 Rouge Hematite, Gamma Reds, Diamine Inferno Orange, Diamine Beaver, Noodlers Kiowa Pecan and Noodlers Red-Black look best. There is no favorite here, but J. Herbin 1670, Diamine Inferno, Noodlers Red-Black and Koh-i-Noor Black is practically unchanged.
Third sheet: The last sheet: And on the third sheet, I placed predominantly green shades and those ink that I did not have initially, but they appeared with some delay in the samples:). Recently bought the pigment Platinum, Windsor & Newton India ink, Gamma and Chinese india ink also got here. At that time, I still did not have dr. Ph.Martins. As you can see, the green shades did not go far from the blue ones and lost quite a lot in color, and Diamine Ultra Green turned out to be the leader. But I was pleasantly pleased with Platinum Carbon Black and Pigment Sepia Brown inks - the color did not change at all and it pleases because these are my main colors for drawings with fountain pens
. Pelikan Fount India pigment ink also showed itself very well, despite the fact that they practically do not reflect light by dry pigment in side lighting, unlike Platinum Carbon Black, which, coupled with the price, makes them very attractive.
More detailed photos you can view by the link: http://lenskiy.org/2...ance-test-2018/