Hip stationers "Berlin Notebook" released the excellent Blue No.1 ink a few months back. What colour would you guess, their second ink would be? Well obviously ... blinding neon pink!
Like Blue No.1 it's an artist created ink, in this case Caroline Corleone, who has an interesting tale to tell about its inspiration in pink water cannon (linked from the BN web site). It's a medium priced ink 13.50Euros for 30ml (between Pelikan 4001 and Edelstein). Although it's called New Red, the colour is actually more of a pink.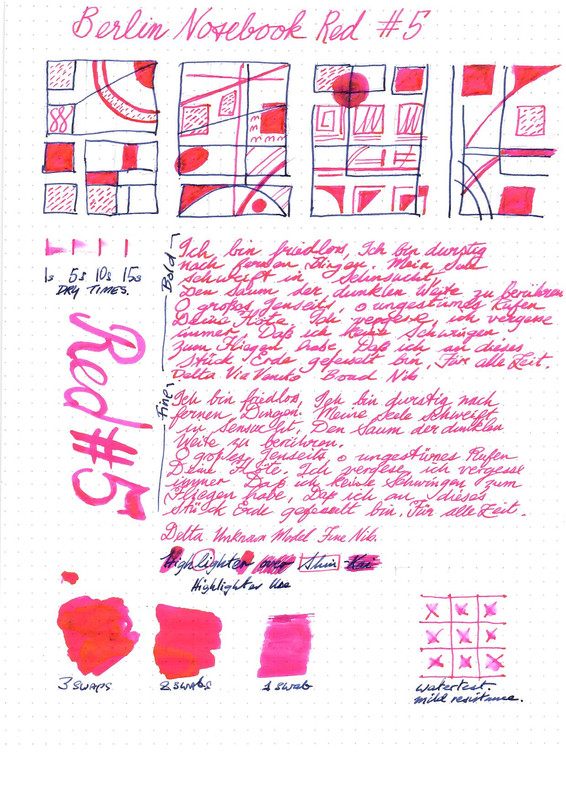 Pink is not a colour I would use much for writing and this is more of a creative/art or statement ink but even for every day writing it has some interesting properties. First it's well behaved. No significant feathering or ghosting even on the swabs. There were no issues writing with it in a broad or fine nib, it dried quickly, flow was fine and it was moderately water resistant.
Secondly it has interesting shading. For the broad nib writing I used a Delta Veneto pen and you can just see the pink colour shades to orange-red with a pleasing gold sheen on the stronger strokes. Finally it's legible. 
But, one aspect to be aware of is, it's not easy to clean and can stain convertors and demonstrators. I suspect it's a pigment ink but couldn't confirm it.
I tried using it as a highlighter and it is transparent enough to reveal the ink below but there are cheeper inks for this purpose. 
Would I buy it? Probably not unless I had an art project in mind. Berlin Notebook sell 5ml EDC tubes of their blue ink but only stock this in 30ml bottles. If they brought out a EDC version of this New Red I might be tempted. It's bright and fun and something different.
Edited by AidenMark, 13 July 2020 - 17:48.