Hi Folks!
The Summer 2020 Pennant is in final edit!  We expect it to go to print soon and mailed later this month.
This is the cover shot:  A Carter Derby in Black and Pearl from the article by Ross McKinney, "Carter's Fountain Pens:  The Black Derbies."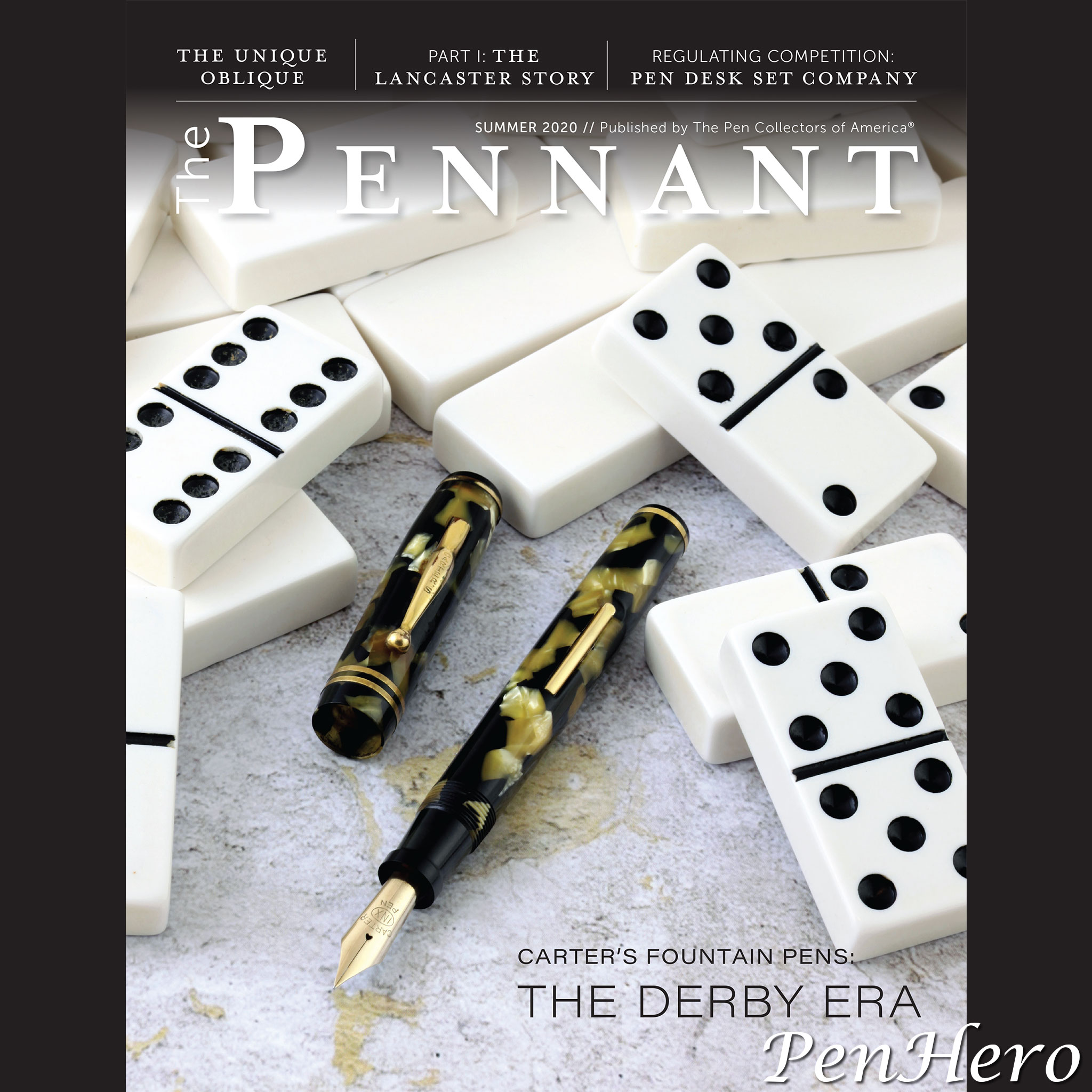 This issue is packed with great content:
THE PEN DESK SET COMPANY - Roger Wooten investigates a little-known company incorporated in 1929 and although it didn't actually make any products of its own it controlled the desk set market for over a decade.
THE ANGLES OF OUR BETTER WRITING - Andrew Midkiff describes the history and uses of oblique nibs.
CARTER'S FOUNTAIN PENS: THE BLACK DERBIES - Ross McKinney Jr. explores Carter's highly collectible Derby pens from the 1930s.
THE INVENTIONS AND PENS OF MYER PHINEAS - Andrew Midkiff introduces and tells the fascinating story of another early steel pen maker.
THE LANCASTER STORY, PART I - Jan Koenig traces the activities of pioneer pen maker Warren N. Lancaster inspired by his finding an old Lancaster pen.
STILL SHEAFFER - Laura Chandler talks to Dan Reppert about his experiences working at Sheaffer Pen.
TECH TALK NO. 4 - Todd Eberspacher and Tim Laros discuss Parker's Jammed Cap Remover.
If you aren't a member of the Pen Collectors of America - You Should Be.
Find out how to join and receive each packed issue here:
https://pencollectorsofamerica.org
Thanks!