Or not ~~ interesting, like beauty, is in the eye of the beholder.
This custom "51" features the following: 
Four "quick change" threaded cap top jewels:  1)  a Solid Gold Crown – ideal to have on the pen in your pocket when going to see the dentist – this one is also of course known as the Crown Jewel;  2)  .45 solid lead – ideal for high caliber meetings;  3)  9mm Brass Jacket suitable for lower caliber meetings or casual writing;  4)  146/9 Mont Blanc White Star - ideal for highly pretentious meetings with status conscious individuals or groups…  etc.
The stainless steel cap has been bead blasted and strongly resembles titanium.  The war time Vermeil Blue Diamond clip is bent in such a fashion that it would hard if not impossible to duplicate – it is definitely crooked… but, I have not ever found it to be dishonest in any respect.   The hood or shell is dark blue and the barrel is black – reminiscent of two-tone cars in the '50s & 60's.  The filling unit and blind cap are oversized slightly.  The longer than standard ink pump rod is brass and is housed in one excellent red anodized bushing.  The added vacuum pressure sort of supercharges the filling system.   The end of the rod contains a silver disc with the Parker Halo encased in translucent red plastic from the Parker Model Shop – the same exact red plastic used to make the Parker T-1 red jewels – it took way too long to make but that's just hindsight.  The nib is an 18k 61 nib which was made in the UK.  Don't know the reason why but 51 and 61 nibs made in the UK are just better writers and smoother than those made in the US – just a fact.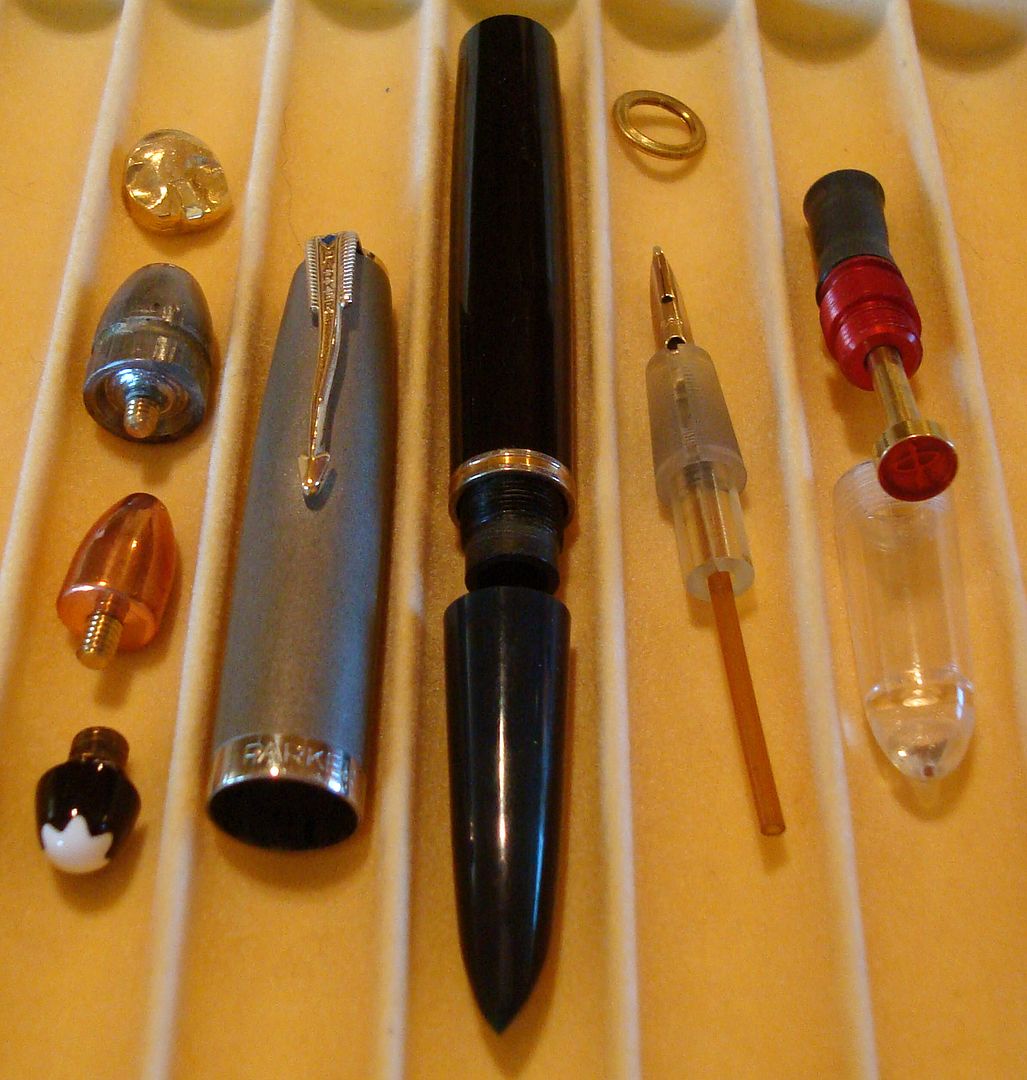 Like it – Love it – or Hate it – you've got to at least agree it's interesting…?
Life's too short to always take Pens too seriously.
ralph prather