Opus 88 Multi-Review

Taiwanese company Opus 88 has recently put out a whole series of dedicated eyedropper-filled pens, and I picked up three of them: the Koloro, the Picnic, and the Fantasia. I think these three models are similar enough to warrant a combined review.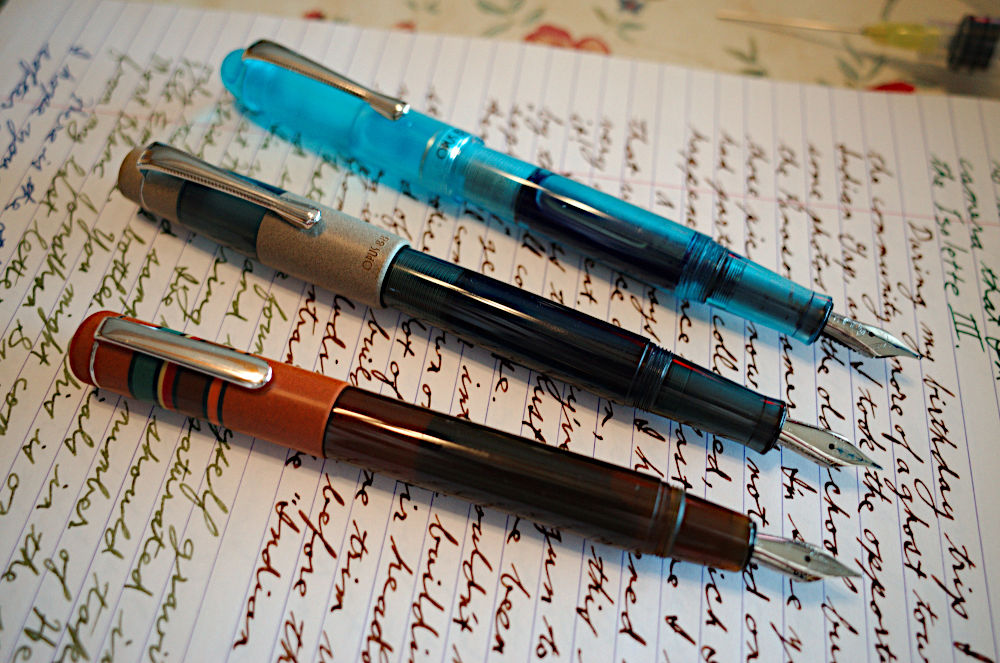 At the time of writing this, I found both the Picnic and Fantasia on sale — possibly closeout sale. I'm not sure, but it seems that these models may be discontinued while Opus 88 focus on the Koloro, the Demonstrator and the Omar. A Demonstrator might possibly be in my future, but that is not for today.

Presentation

They all come in a presentation box which is made from cardboard with a black vinyl covering, embossed printing and a magnetic latch. There's a thin cardboard sleeve to go around the box and keep it closed while being shipped or stored, and there's a foam insert to protect the contents. When I opened one of these boxes, I thought for a moment the pen was missing! It had, in fact, slipped underneath the insert while being jostled around by the mail service. Personally, I favor smaller boxes with less wasted space (like the presentation cases vintage pens used to come in), but I know the entire pen industry is against me on this, so I guess there's no point in complaining.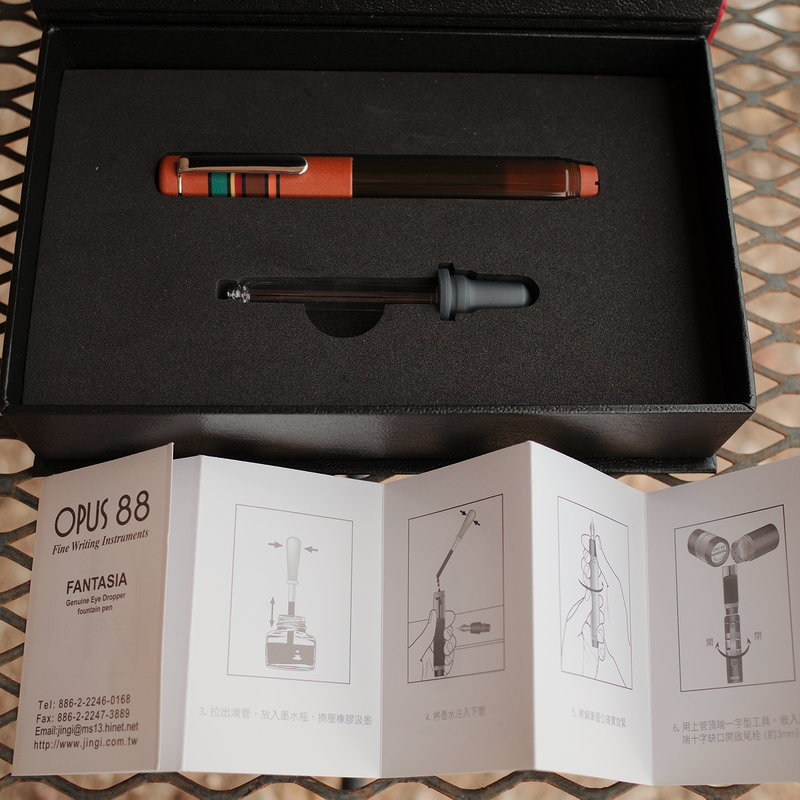 A little cartoon pamphlet with one side in English and the other in Chinese shows how to fill the pen. You should probably look it over, as there's a good chance you haven't had any pens before that work like this. Or else, you can follow my instructions below.

All three pens came with a glass eyedropper, although the exact size and design varied a bit. It's just a little glass pipette with a rubber bulb at one end, and I personally don't consider it the most ideal tool for the job (more on that below), but it'll work.

The Filling System

Well, the filling system is what really makes the Opus 88 line stand out. We've got some FPNers converting cartridge/converter pens to eyedropper fill, but most of us don't have much experience with the purpose-designed "Japanese" eyedropper system and its shutoff valve.

The fill process is as follows: Holding the body upright (nib pointed up), unscrew the section and body in the same manner as opening a cartridge/converter pen. Use an eyedropper or syringe to transfer ink from your bottle to the pen body. Screw the section and body back together.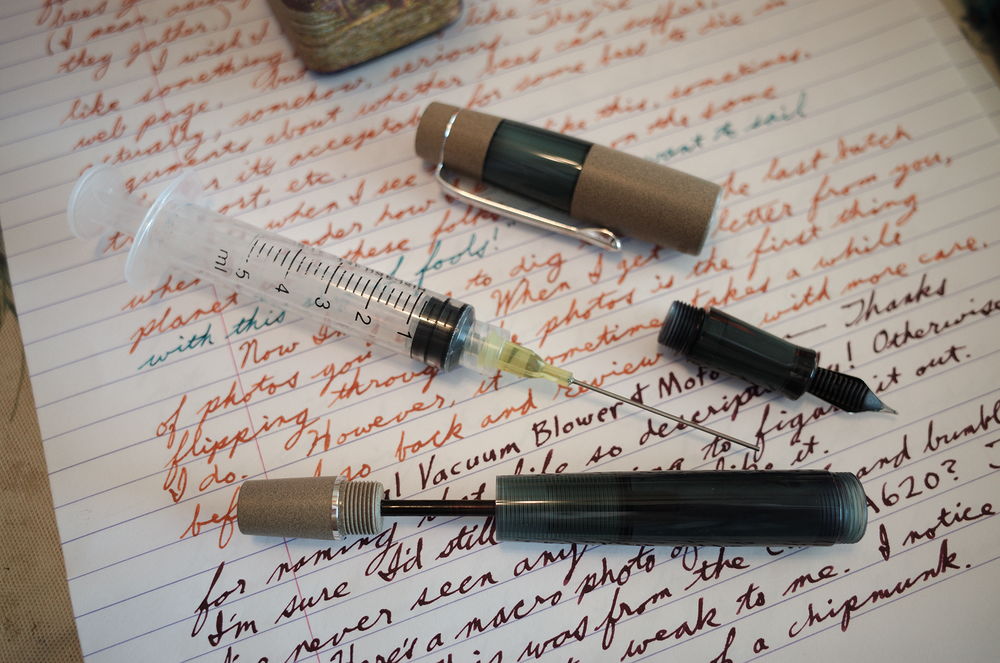 Couldn't be easier. There are a few quirks you need to consider, though.

The knob (not really a blind cap) at the tail of the pen controls the shutoff valve. Some of you may already be familiar with a similar shutoff valve used on some (but not all) vacuum-filling pens, such as the TWSBI Vac 700 or the Pilot Custom 823. Its purpose is to prevent ink from "burping" out of the pen due to changes in air pressure (such as when flying or riding an elevator), or when your hand warms the air inside the pen, causing it to expand, and it also reduces the chances of ink being slung or knocked out of the pen during travel. Contrary to what some have assumed, you do not need to open the shutoff valve to fill the pen. You also don't need to open it for jotting brief notes, as there is a tiny ink chamber available when the valve is closed, but you will need to open it for more extended writing sessions.

The shutoff knob has another useful function that I haven't seen mentioned elsewhere. Although there is no piston or plunger in this pen, moving the knob and rod in and out does displace a small amount of ink or air, and it can be used to pump a drop of ink into the feed. If you've just filled a dry pen, and you need to prime the feed and get ink flowing, this is the easiest way to do it. I've struggled sometimes with cartridge pens, getting a dry pen with a fresh cartridge to start writing. That shouldn't ever be a problem here. Do be careful, though, as you can burp or spatter a drop of ink out of the pen if you manipulate the rod too much! A few minutes of practice with this technique should serve you well.  Watch closely and you'll see the ink flow into and saturate the feed.

As already mentioned, the glass eyedropper will do an okay job of filling the pen. However, it doesn't pick up much ink per squeeze, so you will be going back-and-forth between the bottle and your pen a few times. Also, the tip of the eyedropper is sort of bulbous and doesn't deposit ink with great neatness or precision. Luckily, there is an alternative.

From the Goulet store I picked up a couple of semi-disposable syringes, 2 for $5. These are what I think of as "hummingbird" syringes due to their long, blunt needle. They are graduated up to 5 ml, and they are ideal for taking every last drop from an ink bottle and then putting that ink precisely where you want it, as well as seeing exactly how much you got. They have other uses, such as refilling cartridges, but they really shine for filling eyedropper pens such as these Opus 88s.

Maintenance

Because these pens open up for filling, and because they use interchangeable nib modules that simply screw in and out, and because there's no complex filling mechanism, these pens should be easy to maintain, to clean, to assemble and disassemble. One quibble is that the tail end of the pen can't be disassembled as easily as, for example, a TWSBI. To remove the shutoff valve mechanism requires a special spanner wrench that Opus 88 neglected to supply with the pens. Likewise, if the walls of the ink reservoir pick up any residue, you can't simply stick a Q-tip in there and wipe it off, since the shutoff valve is in the way. (I'd suggest not using Baystate Blue in these!)

Also, much like TWSBIs, these Opus 88s rely on O-ring seals in several different places. Some of these are easy to see and access, some not. All of them could benefit from a little lubricant, but none of them came with any. In fact, the shutoff knobs on some of these pens squeak-squeak-squeaked when I operated them. The O-rings on the valve itself and where the section and body go together also felt sticky. I really wish that Opus 88 had included a little vial of silicone oil, such as you get with TWSBI pens.

Luckily, I had both silicone oil and grease on hand. If you don't, you might consider picking some up when you order any of these pens. Please do not try to substitute any random oil or grease that you may have! Petroleum-based lubricants can damage O-rings. That means no Vaseline, no Lubriplate or M1 Rifle Grease, no WD-40 or Break Free, no 4-in-1 Oil, etc.  If you can't get actual silicone grease or oil, then Super Lube synthetic grease or Crosman Pellgunoil should be safe substitutes.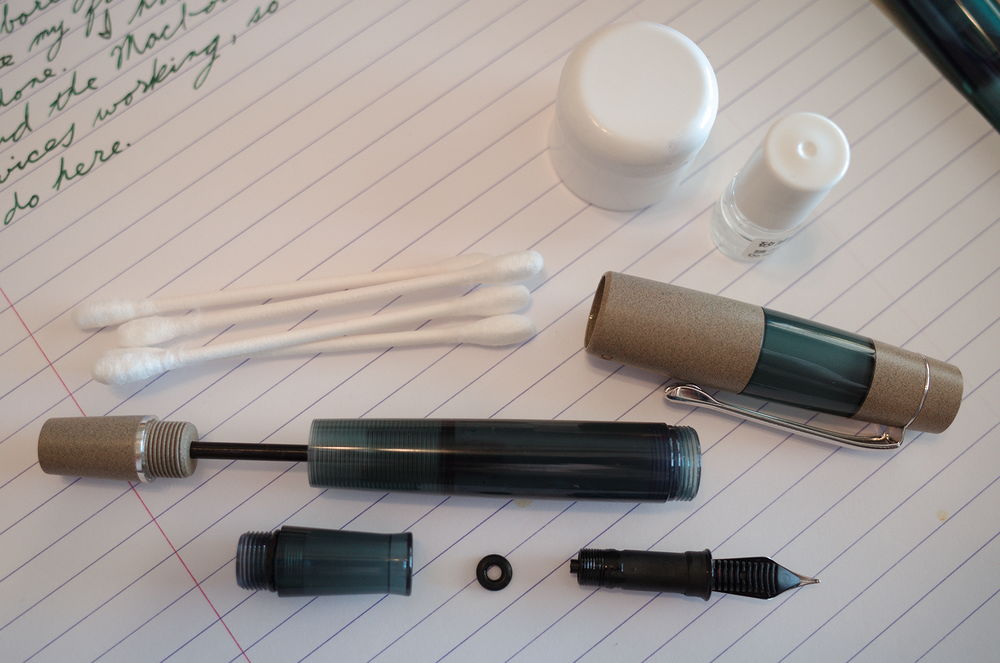 I lubricated the valve operating rod, the body-and-section seal, the tiny O-ring at the base of the feed housing (more on that later) and the valve itself. The squeaking and stiffness went away. I applied some extra grease to the section threads and to the cap threads, just to provide a little extra smoothness and sealing for ink and air.

All three of these pens hold roughly 2 ml of ink. In fact, if I stop filling just short of the section threads, which I think is good practice, then the total is just short of 2 ml. When you see claims that eyedropper pens hold "a ton of ink", let's put that in perspective and remember that a Sheaffer Skrip cartridge is supposed to come from the factory with one ml, and a Lamy 2000 holds about the same. Two ml is a very healthy amount, hyperbole not needed.

Design & Construction

I'll say right up front: These are well made pens. Parts are well-fitted; there are no gaps or rough edges. Machine work and threading is very clean. Surfaces are nicely polished. Most of all, they're made from two of the most time-tested of all pen materials: ebonite and acrylic. All of the pen bodies and sections are made from translucent acrylic.  The Koloro and the Fantasia both have shutoff knobs made of ebonite. The Fantasia's cap is made from ebonite, and the Koloro's cap is made from a combination of ebonite and acrylic parts. I think the Koloro and Fantasia would look and feel a bit nicer if their sections were ebonite too, but that's not a big deal.

A natural point of comparison might be that other Taiwanese company: TWSBI. Opus 88s are a fair bit more expensive than TWBSIs, but the materials and construction are markedly better and, I think, hold up well to US brands such as Bexley, Edison or Franklin-Christoph. Those pens don't break, and I don't expect Opus 88s to break either.

The translucent acrylic body is a great match for an eyedropper pen, since it allows you to easily monitor your ink supply. However, it's easier in some cases than others. The body of my Fantasia is quite dark brown. When filled with a wet ink that coats the sides of the reservoir (like for example, Diamine Eclipse), it's difficult to gauge the ink level. I have to hold it up to the light, wait a minute for the ink to "settle," and squint. Frankly, it's easier to keep track of the ink in a C/C pen. With the Picnic it's just the opposite; the pen body is a pale blue, and with a dry ink (like OS Accident) it's easy to glance and see the ink sloshing around. The Koloro falls somewhere in between, as I can't tell at a glance, but I can hold it up to the light and discern the ink level pretty easily. I have to emphasize that this depends on both the darkness of your chosen body color and the ink you've put in.

The Koloro was the first of these pens that I bought, and the distinctive two-tone look is part of what attracted me. It's a clean and modern design, and this beige-and-gray color combo has proven popular. However… In the catalog photos online, the body color looked almost green, like a lovely teal. Some sellers even described it as a beige-and-green. The one I got looks darker and much more neutral gray than those photos. I'd call it "smoke gray". Were the online photos deceptive, or did Opus 88 change the color at some point during production? I would have preferred one that looks like the photos, but it's still an attractive pen.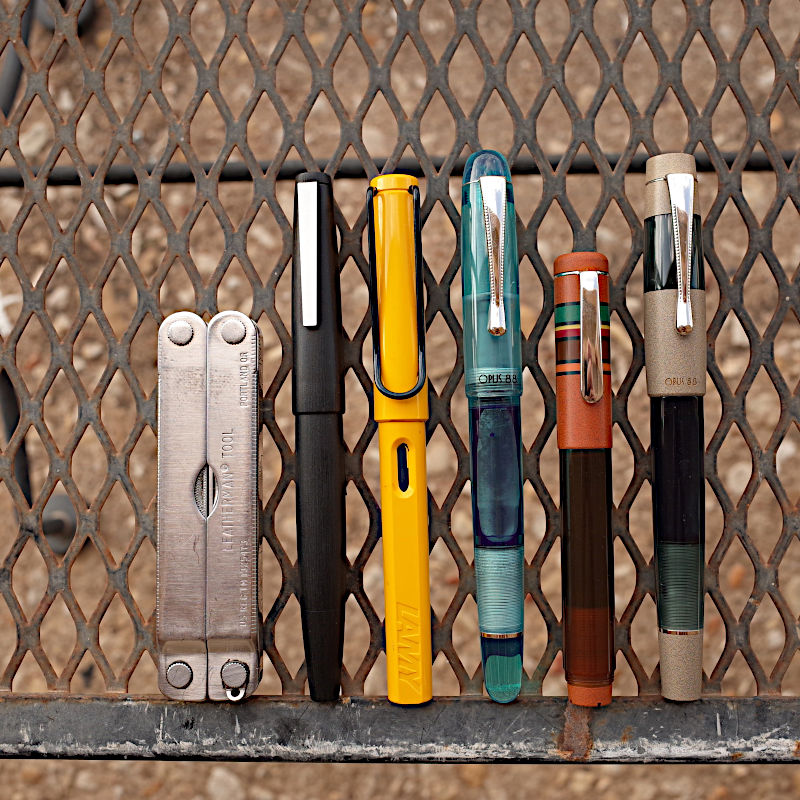 The Koloro and Picnic are full-sized pens.  Capped, both pens are about 14.4 cm (5⅛"). Both are comfortable to use un-posted, and both of them post "okay" but not great. Either of these can fit neatly into the pen loop in my vest, but wouldn't go if they were any longer or fatter. Obviously, your pen loop may be different from mine, but what I'm saying is that these are about the very largest pens that I'd normally consider carrying away from home.

The Fantasia is similar in girth, but shorter, giving it a chunky look. Capped, it's about 11.7 cm (4⅝"), making it the shortest modern pen in my collection. Uncapped, it's about 10.3 cm (4"). As a result, I can write with it un-posted, but the very tail of the pen rubs lightly on the web of my hand. For extended writing I would definitely post it, and allowance has been made for this. The tail of the pen has threads for posting. That seems to work very well. However, if you post the cap and then find you have to open the shutoff valve, even more screwing around is going to be needed.

The neurotic among us should be aware that the Fantasia's pocket clip may or may not line up with the nib when posted. On mine it does. The cap finial seems very tightly secured, and I'm not sure if it's even supposed to be removed or loosened (which would allow repositioning the clip). There is a little leeway to turn the nib assembly, though, if you really care that much.

I should also note that the Fantasia section is stubby, and gripping it will result in some finger contact with the cap threads, but this didn't present any comfort problem to me when writing. If you are particularly sensitive to this issue, you might want to go for the other models with more normal grip style.

The color and style of the Fantasia is quite compelling to me. It stands out, and to my eyes it has a sort of 1970s retro vibe. As already mentioned, the Koloro is another pen with distinctive style. The Picnic is plainer and less distinctive, since it has no decorative ebonite bits, and there are any number of other translucent and cigar-shaped pens on the market. That's not to say it's bad looking at all.

Screw Caps

These pens all have screw caps, which is something I wouldn't usually even comment on, but I've seen some complaints about how many turns it takes to uncap them. So, let's take a look at that:
    Opus 88 Koloro — 3½ full turns
    Opus 88 Picnic — 2 full turns
    Opus 88 Fantasia — 2½ full turns
I checked some other pens, vintage and modern, and it seems like they typically require around one or two full turns. So, the Opus 88s do require a little more. To me this is trivial; even with the Koloro it slows me down by only a small fraction of a second. Some other folks, apparently, find it highly annoying. I do believe that more threads make for a more secure and more airtight cap, for whatever that's worth.

The Nibs

All of these three pens come with standard #5 sized nib-and-feed modules and steel Jowo nibs. (The Demonstrator and Omar come with #6 size nibs, though.) I won't go into great detail about their writing qualities, since they are basically the same as nibs shipped in TWSBIs and many other brands, and they are widely known to be good quality. All three of these were fine tips and wrote well right out of the box. They were adjusted slightly dry, which I've also found to be typical of modern German nibs, but increasing flow is one of the easiest adjustments to make on a steel nib. They do incorporate a nib-feed-and-housing module that is interchangeable with some other brands — but I don't know which ones! Digging through my parts box, I found a nib assembly with a Bock nib that swapped right in, but I don't remember where it came from. If anybody else familiar with these pens knows which other brands it can swap with, please say in the comments!

When removing the module, you must be careful of the little O-ring right at the base of it, a place where I've never seen one used in any other pens. You don't want this to fall out and get lost.  I believe this is supposed to keep ink from going between the feed housing and the section, which wouldn't cause any harm but can look messy in these transparent, demonstrator-like pens. (I also found that when flushing the feed with a syringe, too much pressure can force water past this O-ring and into the section, which again looks a bit messy.)

You don't have to swap whole modules, though. Bare #5 nibs can be swapped between assemblies with only a little more work and care. Since I wanted a bigger tip with more flow, I swapped a TWSBI medium nib into the Picnic, and it works with no problem.

Value & Conclusion

If you favor the Japanese eyedropper filling system or just want to give it a spin, these Opus 88s are pretty much your only option now. Nobody else is doing this, while Opus 88 are doing it quite well.

For those who are less concerned with the filling system, the value calculation is more complicated. Their prices are in the mid-range: a fair bit above Monteverde or Conklin, a fair bit below Edison or Bexley. My personal evaluation of Opus 88's quality is closer to Bexley than to Monteverde, so it seems like a pretty good deal to me.

And of course, I have to compare with TWSBI. There's a bit of family resemblance between the products of these two Taiwanese companies: lots of transparent or translucent pens, lavish use of O-rings (unusual among other brands), novel filling methods with large ink capacity, easy disassembly (for the most part), and the use of standard, interchangeable, German nibs. The Picnic is priced much higher than the Diamond 580, and the Demonstrator much higher than the Vac 700R. However, TWSBIs are made of injection-molded polycarbonate and are known to crack, and break, and break again. The Opus 88 pens are made of materials that shouldn't break, and to me that's an enormous advantage. As much as I admired TWSBI pens in other respects, I swore off ever buying another due to the breakage problem. From where I sit, these Opus 88s are very welcome replacements.