Well after 2 years of enjoying the World of Fountain Pens I've finally got my hands on Rhodia Paper, yes I know took too long. There is an explanation for it. You see, the only place I could find Rhodia paper was on Blick, which is an Art Store and the Rhodia notebooks and pads that they have are a little expensive. So every time I've approach the stand where these paper is I've always back away from it.
Then I went online, so the ones affordable were very small, I was not interest it, I want it a nice size pad or notebook that I could play with my fountain pens and inks. Finally one day I walk into a Michael's another big Art and Crafts store and boom! There it was, just perfect a nice Rhodia Dot Pad No. 16 - 80 sheets 80g/m2 -21.3lb -High Grade Vellum Paper, not to mentioned that I got it with a 50% Coupon. My hunt was over, went running back home filled up my pens and there...look how beautiful
I like the paper, doesn't bleed is very smooth and for the inks I'm using is perfect can't be happier. Now I can write letters to my friends in a nice smooth and elegant paper.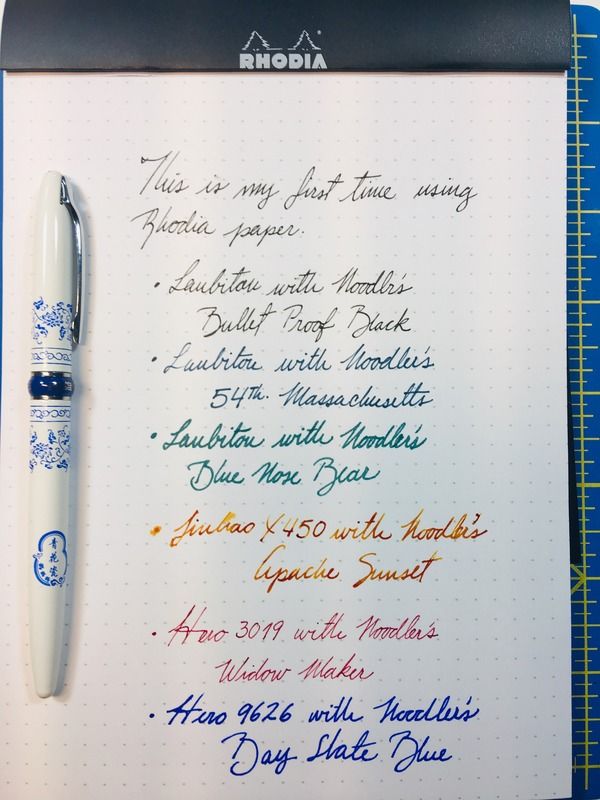 Edited by MRose, 02 January 2019 - 12:46.