I have finally received my new Stipula Florentia Amber.It has been a busy week but i finally have time to sit down at the computer and write a review of this
pen.I have wanted one since buying and using my Etruria.That model writes so well that i wondered if the Florentia would do the same.AND if it would have the same characteristics.Well here are my impressions of this pen!
I like silver much more than gold when it comes to my pen's accents.So i opted for the silver banded Florentia.I don't see many of these for sale and after
mulling it over for a month or two,i decided to buy it.
Weight/size--4 out of 5: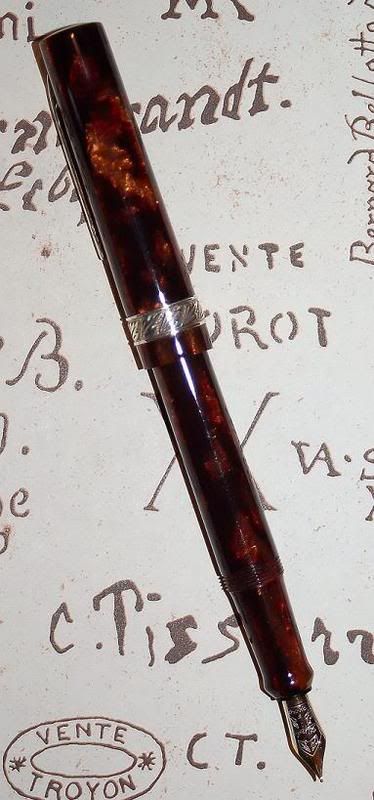 Having been used to the Etruria,i expected a pen that was similar in weight.Not even close.The Etruria is most certainly heavier.But the lightness of this pen is part of it's charm.I have quite a few larger pens but this feels good for a lightweight.The pen measures 5-1/2" closed and 6-1/4" posted.I don't post this pen though as it doesn't seem to be well adjusted to that.The cap does not fit snug when posted and i can just see the cap flying off to the hard ground below!So off it stays.But unposted it writes fine and feels good.I would say it is very similar to my Conklin Glider only a wee bit shorter.
Ink/filling system--3.5 out of 5:
I was not sure which type of filling system would be avaiable with this model.I had hoped for a piston filler but was disappointed by cartridge/converter only.The typical version.The converter is marked "Stipula" and does it duty.Hence the 3.5 score.Thats one thing i find delightful with the Etruria:the piston filler is large and holds a LOT of ink!
Nib performance--4 out of 5:
The Etruria i have writes like a dream.One of the best if not THE best writer i have.So my expectations were high.A wee bit disappointed but considering the price and size of the pen,i could not expect the same nib.Smaller than the Etruria nib,this fine point two-tone does it job.The first few days were a challenge as i had to work on some skipping and flow issues.That resolved,the nib writes fine.Not as smooth as the Etruria,but good.I'm considering whether to have it made into an italic.One thing that did scare me at first opening was the nib falling out as i opened it up.Yikes!! I watched that gold nib fall to my desktop and spin around a second.Seems that it slides in rather easily and was not secured.So i fixed that as well with no damage to the nib.
I have noticed that of the three inks used in this Florentia,that the Noodlers Kiowa Pecan flows best.The Private Reserve Copper Burst didn't do as well.
Here is a photo of a few Baudelaire lines with Kiowa Pecan: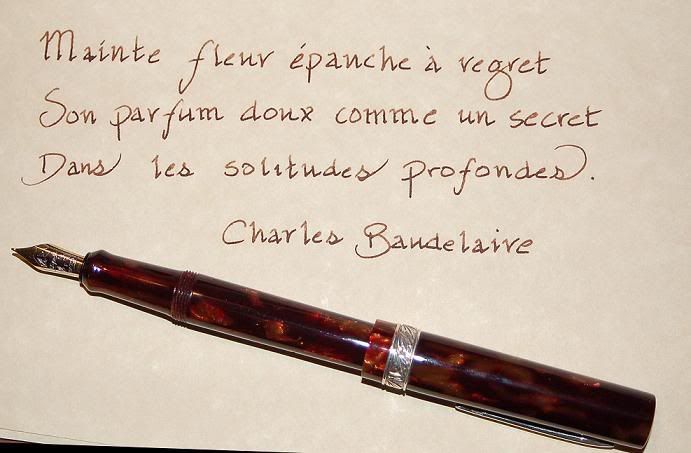 Appearance/design-4.5 out of 5: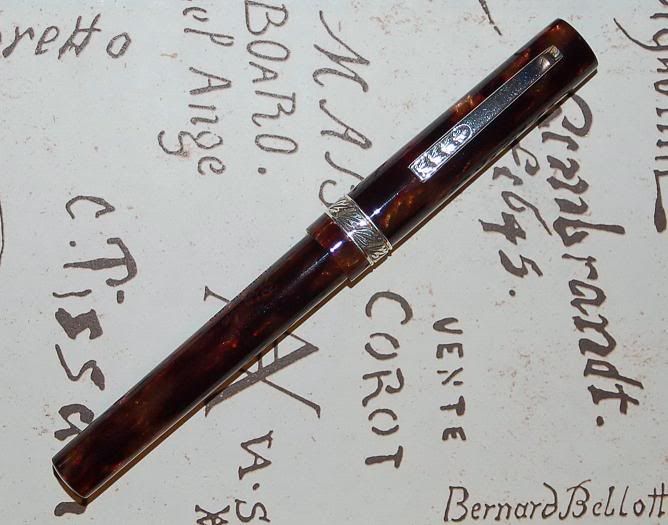 I have always liked this design:straight barrel with ornaments in the middle.Nothing too fancy but enough to make it elegant yet very functional.
The silver compliments the nib and the clip is no-nonsense but stands out.Very nice!!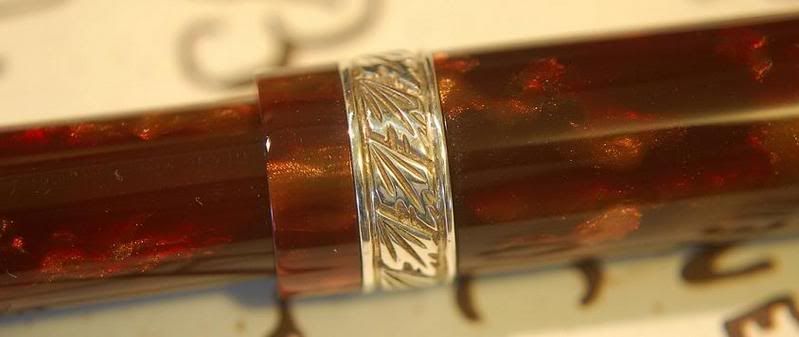 Price/value--5 out of 5:
I paid less than $200 for this pen and considering what prices celluloid can command,thought i did well.I would most certainly buy another one of these,perhaps in an oblique or italic.Good value.
As many here on FPN know,i want an Omas Arco brown very badly.The price is still too far out there.But i figured that this pen might give a similar look and feel at a much less expensive price.I was correct.I have used the Omas before and found it beautiful and a delightful writer.But this Florentia feels the same in my hand,writes very well,and exhibits it's own beautiful celluloid.Very impressive.
Yes,i still want the Arco but at least am not as impatient as i was before owning this splendid writer!
My concluding score for this pen is a 4.25 out of 5.The only sticking point would be the filling system.Other than that,a very good buy.
Now my Etruria has a friend to chat with while lying in that pen case
If you have a Florentia,let me know what your conclusions were.This is one pen i could see myself buying again.
JD
Vancouver,Wa
Edited by handlebar, 09 June 2007 - 18:13.