Now for something completely different…
I didn't plan in the beginning to build my own computer keyboard.  I used a Unicomp for a couple of years, and it was OK.  I mean, it was a creaky and clunky behemoth, but it got the job done.  Then I discovered the whole "mechanical keyboard" hobby that's sprung up in the last few years, and…  Yeah.  It was like fountain pens and cameras all over again, but on an accelerated track.  Soon I had placed a pre-order for a WhiteFox, placed a pre-order for a new IBM Model F replica (both of which I'm still waiting on!), bought a new Matias Mini Tactile Pro, bought a vintage IBM XT keyboard off eBay, and bought a Carpe JD45 mini-keyboard.
And after all that I realized that nobody was making what I really wanted, and I was going to have to build it myself.  Here is the result: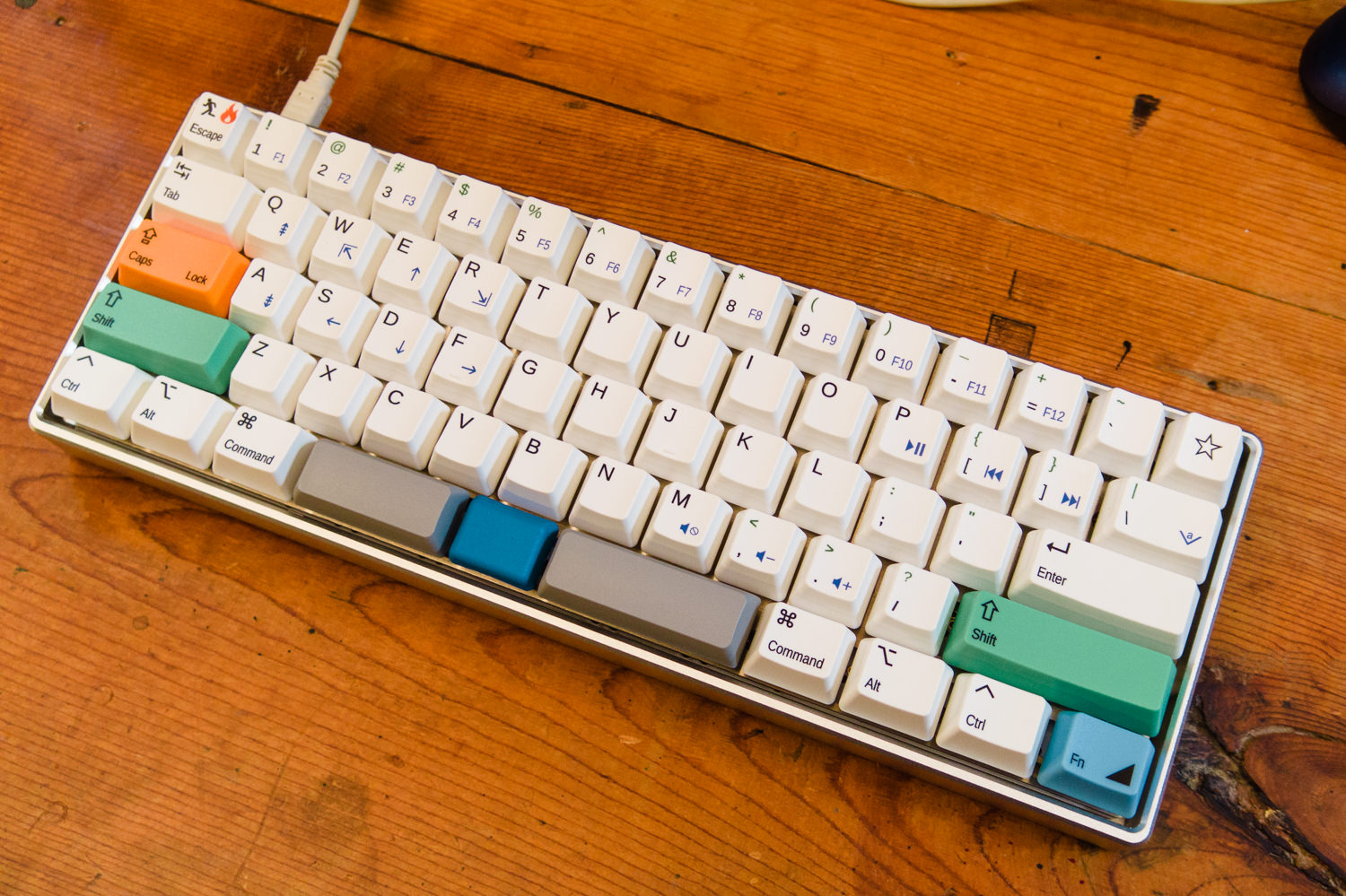 The first thing some of you might wonder is, "Where's the rest of it?"  This is what we call a 60% keyboard layout, although this one actually has 64 keys.  It's done away with the number pad, the F-keys and the navigation keys, but all of those functions are still accessible using the two blue Fn keys.  I am particularly proud of how these navigation keys work: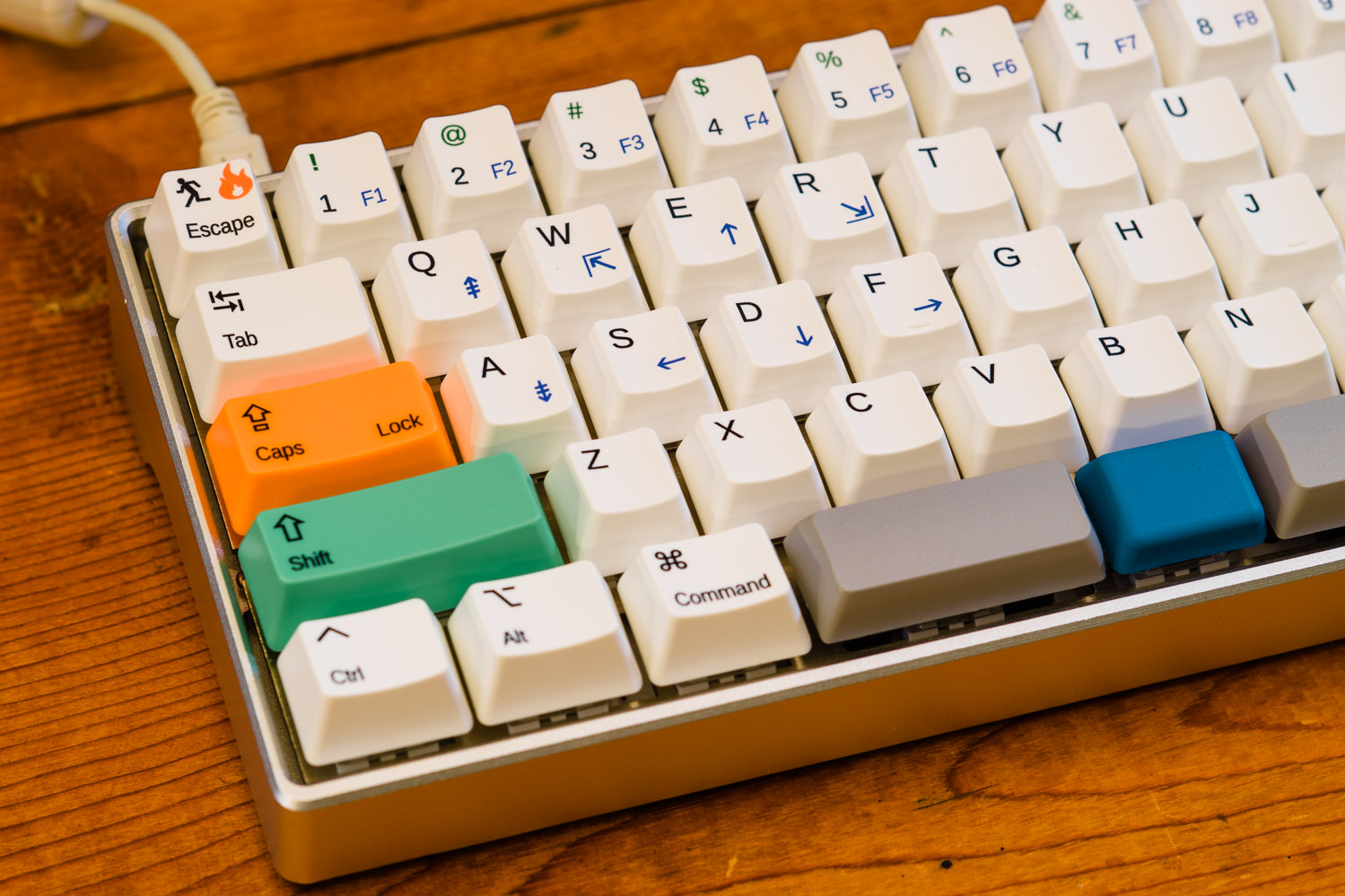 For anyone not fully familiar with those symbols, ESDF are my arrow keys, Q and A are PgUp and PgDn, W and R are Home and End.  Now all I have to do is mash down with my left thumb on that blue key, then I have my entire nav cluster under my fingertips without shifting my hand position away from the home-row typing position.  I can do all my navigating with my left hand, and it doesn't matter if my right hand is in the typing position or not.  After a brief period of adjustment, this can actually be more convenient than dedicated arrow keys!
 
I chose media keys that I thought were easy to remember: P for pause/play, M for Mute, and the adjacent keys for Prev, Next, VolUp, VolDn.  The left space bar is, of course, Backspace, and with Fn it becomes Delete (or Forward Delete as we Mac loonies say).  The star or "any" key in the upper-right is currently working as another Backspace, but I'll probably change that eventually.  It could be programmed for anything.
 
This board has full RGB underglow, and each switch has a white LED backlight.  I don't usually use them, but the one under Caps Lock at least works as an indicator light.  (That's why there's a big gap in the legend between "Caps" and "Lock", which in retrospect wasn't necessary.  I'll change that next time.)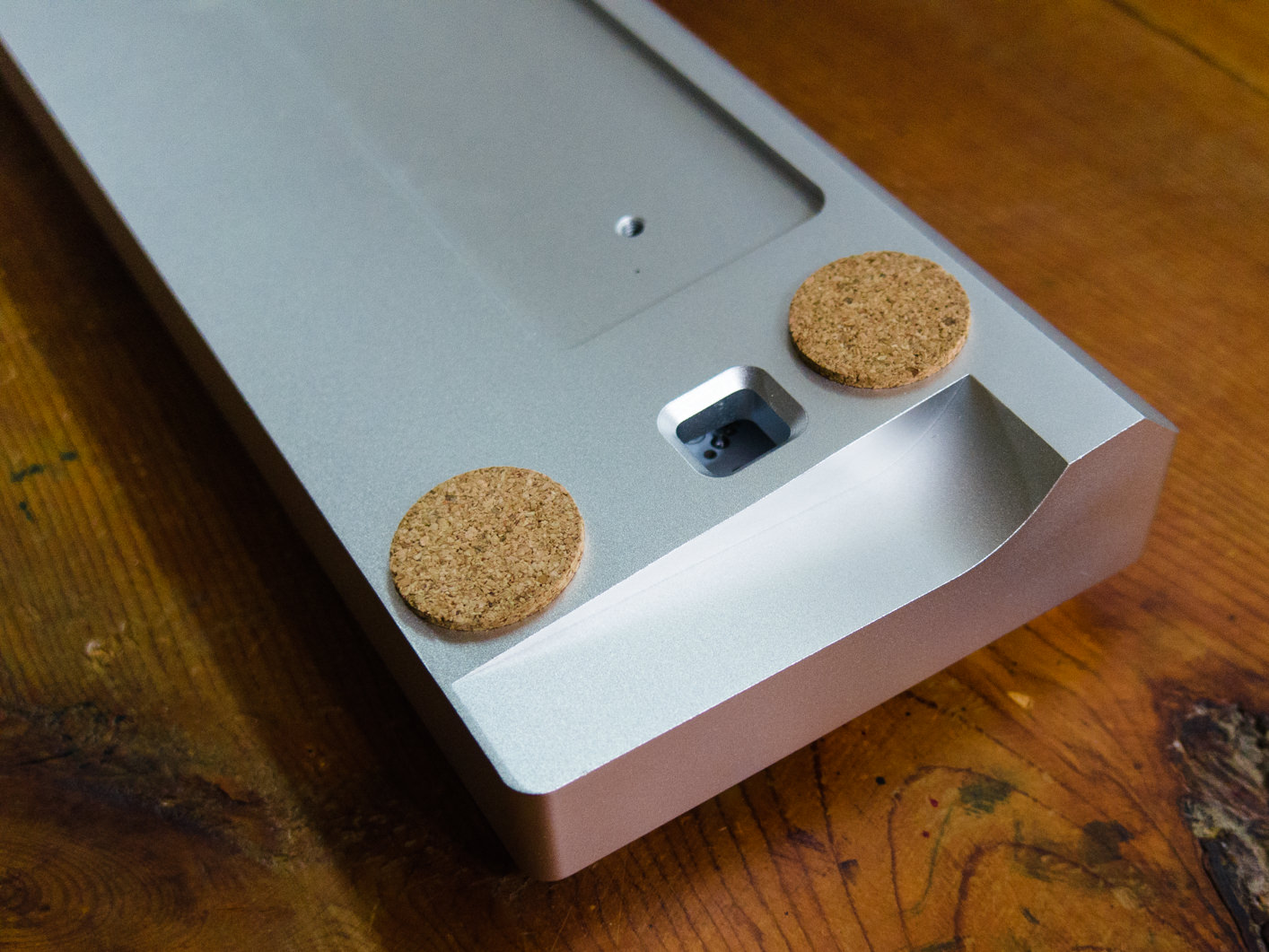 That aluminum case is extra thick and heavy, and it feels as solid as a brick.  (I guess you might say it's Thick As A Brick!)  The completed keyboard weighs over two and a half pounds, and it has an optional steel weight that can attach to the base and bring it to just shy of three pounds.  I really don't think the steel weight is necessary.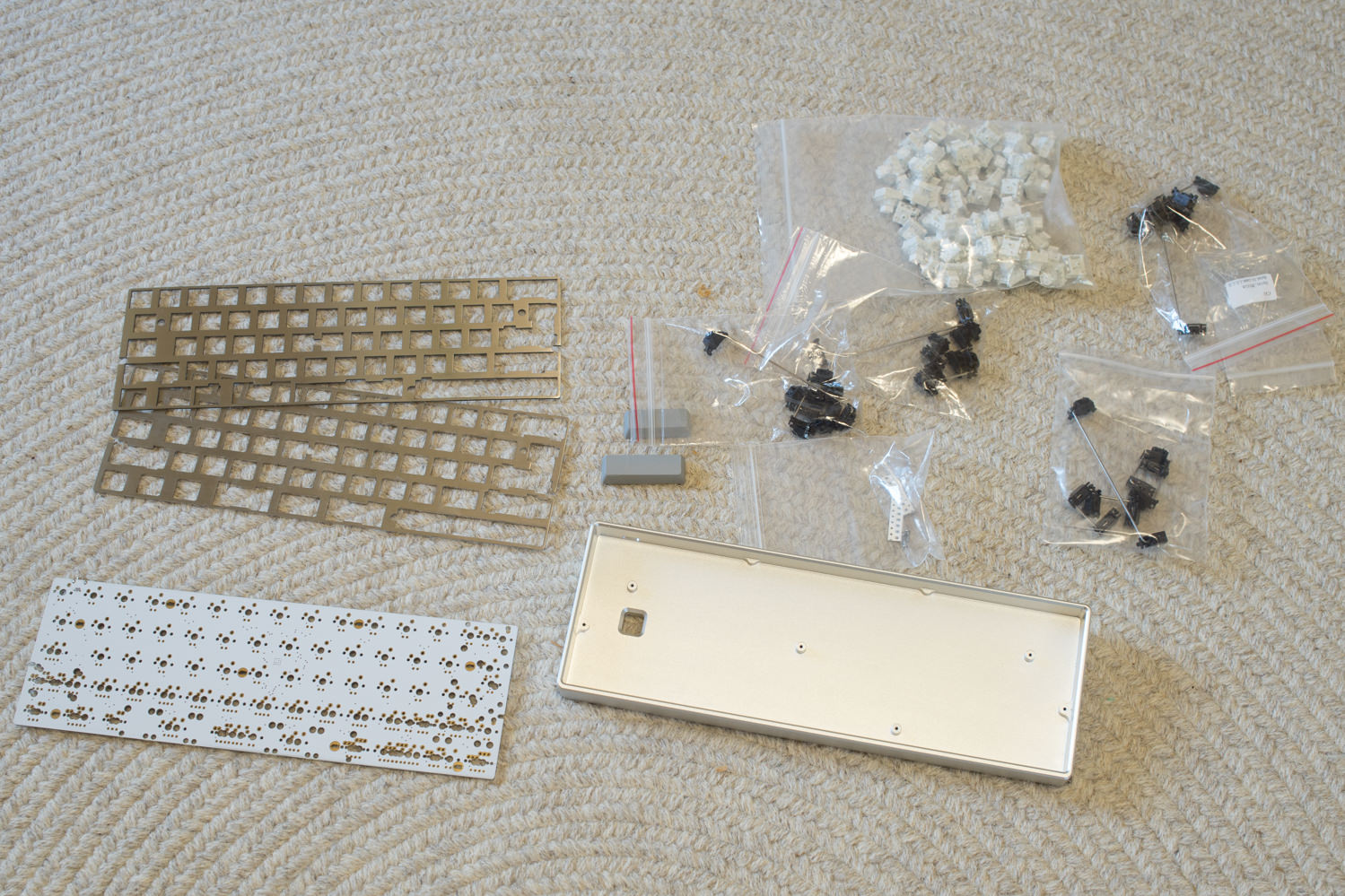 Getting all the parts together for this project was quite an exercise.  The PCB and mounting plate, the short space bars, and the case all came from different vendors in China.  The switches, stabilizers and keycaps all came from US sources.  It's all off-the-shelf components, except for the custom printed keycaps.
Those switches are new Kailh BOX Whites with dust and water resistance and a great double-click sound.  They feel fantastic to type on.  I do think they're a bit light for my hands, so I'll go for stiffer springs next time, and I'm probably going to build a version using tactile (quiet) switches.  I know I'm going to build at least one more of these, since I need one for each of my Mac Pros.
If anybody wants to know more details about planning the layout, creating the custom keycap set, programming it, the assembly process, anything…  Just ask!