You may have noticed when buying a bottle of ink that it generally comes with a glass bottom. This is a useful property in a couple of ways. Firstly, it prevents the ink falling out and secondly, and much more importantly, you can while away an afternoon writing words on the bottom of the bottle. This will, with enough patience and application, transform a paper-cutting nib into one as smooth as the proverbial baby's rear.
This handsome no-name pen came with a very scratchy nib. I think someone might have been using it to play darts. I removed the feed and nib and came to the conclusion that it wasn't beyond repair. It's reasonable now but will need more work.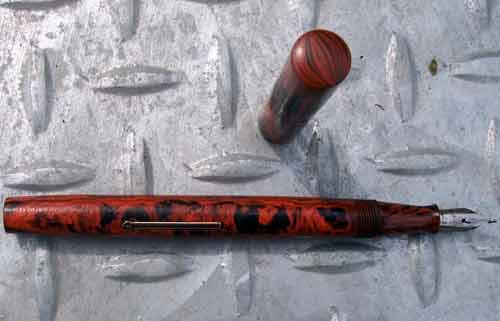 I've lusted after an example of this type of pen for quite a while. It's a - probably 1920s or 30s - promotional pen for Typhoo Tea and bears the legend, " Try Ty-Phoo Tea for indigestion." I don't know whether that's meant to imply that the tea will give you indigestion or cure it. The pens must have been hugely popular because they appear quite often. Not always identical; I suspect that Typhoo had contracts with different suppliers over the years. Amost always they've had a hard life and are imperfect in some way. This one's nib, which is Osmiroid, has lost its plating, the shirt clip's gone and the lever isn't original. If it had a cap ring, it doesn't now. Oh, and someone's been nibbling at the end. With the exception of the tooth-marks the rest can be repaired and the essentials - the cap, barrel, section and feed - are all perfectly sound.
I love the pattern. It lacks the regularity of red ripple and it doesn't make a convincing woodgrain either but it's a splendid abstract design - a pen made of Rorschach blots.

Once I finish refining the nib or replace it altogether if that's what it takes, it will be a daily user. It's the right shape and size and holds a good quantity of ink.
I like to think of that family of long ago, cutting out the coupons from their packets of tea and saving them to claim their shining new red and black hard rubber pen. What events of joy and sadness did it transmit in letters of days gone by? How many hands used it daily before it was consigned to the drawer and ultimately to ebay?