Ok,Ok.So i'm hooked on Omas pens.I might not be able to affored every pen that comes along but when i see a limited edition Omas come up for sale,i consider it very carefully.Is it a good value AND something i will write with.In my opinion,all of the Omas pens i own are an outstanding value.For what i paid.Sometimes the retail prices are just way too inflated.But,prices aside,i love their older pens.The newer styles don't "call" out to me,celluloid models being the exceptions.
I received this pen in the post today.Here are my impressions:
Here it is before the box was opened.I like the Omas design here.Very classy.Perfect companion to my vintage 1930's wardrobe!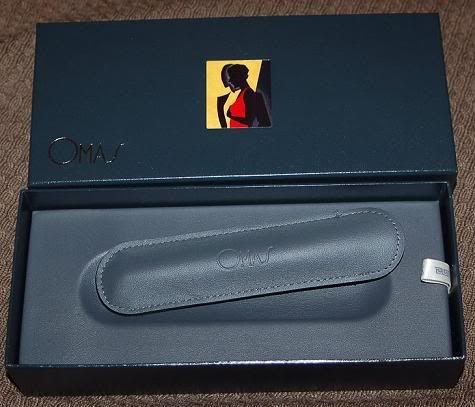 This time the pen came with a small leatherette pen holder.Not much use to me but a nice addition anyway.
Here is the Omas Roma 2000! The blue colour was stunning!! Guess that is one of the things that attracted me to it.I have a variety of celluloid and resin pens,but none this vibrant.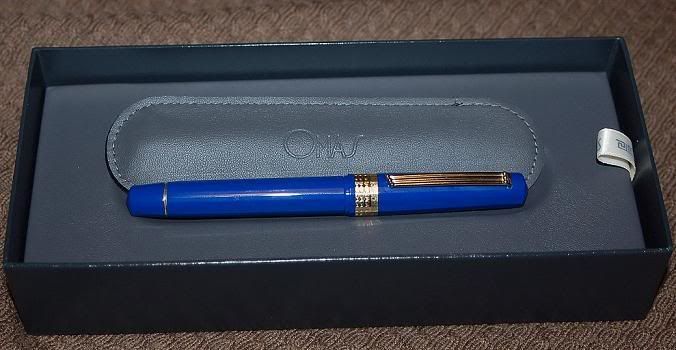 Now for the specifics:
Weight/size: 5 out of 5--- The Roma is a lightweight pen,similar to the Paragon.Maybe just a wee bit lighter.Fits my hand beautifully!! Just the right length and feel.The length capped is 5-1/2" and posted is a long 7".Still,very much like the Paragon.Here is a photo of the Roma next to some other Italians,with the Paragon on the far left and Milord on it's right.The Signum Nova and Stipula Etruria follow ending with the Visconti Van Gogh Midis.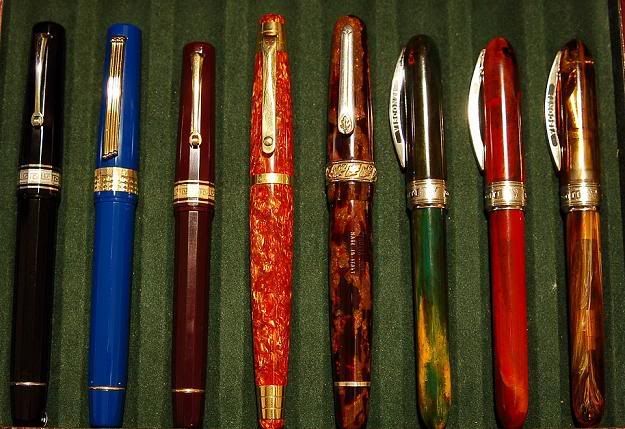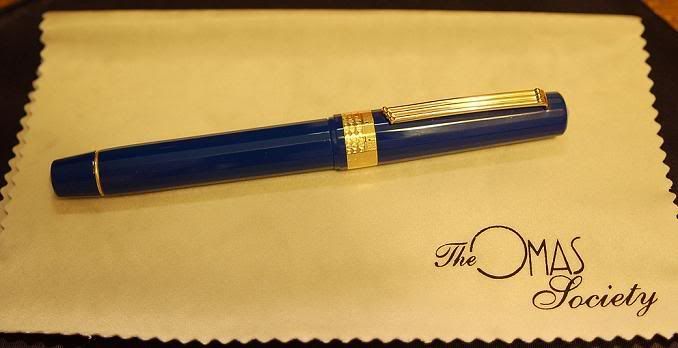 Ink filling system--4 out of 5-The piston filler is quite large.Only my Etruria and Paragon are equal to the task.I like the gold ring at the end near the piston knob.But as with some models,the filling knob is a bit tight.
Appearance--5 out of 5---This is a beautiful pen! In person so much more impressive.The clip is a tri-columned style meant to signify the three centuries of Rome and her history.The centre band a representation of the Coliseum in Rome.The detail is very impressive.With this model there are no Greek key bands near the nib.Of course not!! This is to commemorate Rome,not Greece! That would have been too much anyway,i agree.This pen is also 20-faceted,not the usual 12.It was the first 20 faceted pen Omas has produced.The 20 facets represent 20 centuries.
Omas was picked specially for the Rome commemoration in 2000.There were three FP's made,one of gold,silver and this deep blue resin.They were a limited run due to the collection's January 2000 due date.I was able to retrieve some of this information from the Pensinasia's web site.Thanks to them for this background info.They also have better photographs than mine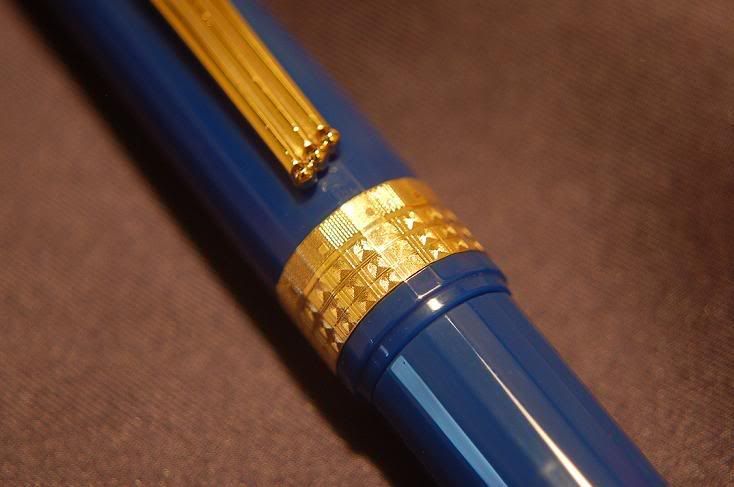 Nib performance/quality--5 out of 5--Other than the colour,this is what impressed me most about the Roma.A small engraved image of the Wolf Goddess Lupa suckling Romulus and Remus,the founders of Rome,adorns the nib.Visually appealing.This pen came with a fine point,my favourite other than an italic.
As usual,the omas nib writes splendidly and with no problems.And no leaks at the nib either,a problem with some models.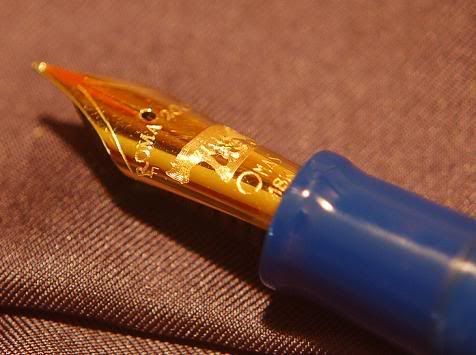 Cost/Value-4 out of 5--I rate this on what it's original retail was in 1999/2000,which was around $500.I paid less but am happy with the pen.
The pen writes well.I decided to fill it up with a colour befitting the Romans and this pen:Private Reserve's DC Supershow Blue.It is a delightful ink and compliments this pen well.Below is a sample of the Roman poet Ovid and some Latin verse.Might as well keep the Roman theme!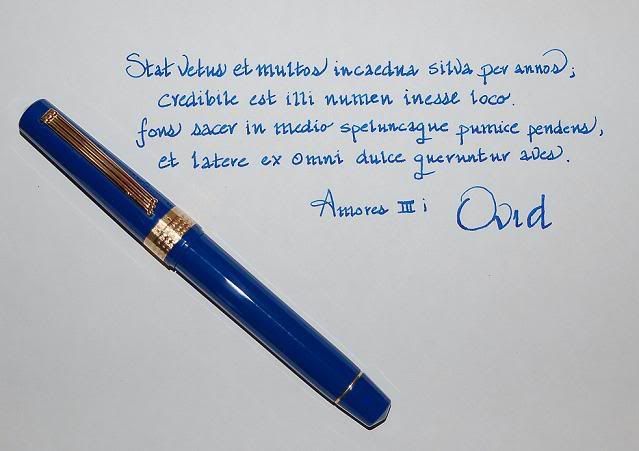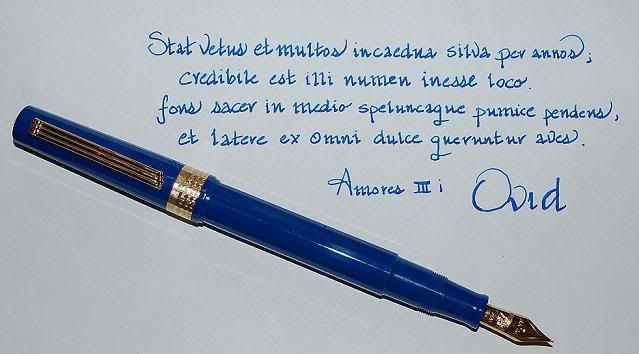 At first i was going to have to re-sell this pen due to some sudden monetary issues that cropped up.But i have resolved them and plan on keeping this gem.
Hope you liked the review.
JD
Vancouver,Wa
Edited by handlebar, 10 July 2007 - 02:05.