Wayne Mason (samuel07 here on FPN), proprietor of WTM Pens created this pen. It is a beautiful fountain pen made with quality materials and crafted with great attention to detail. It is composed of hand-turned curly maple and trimmed in heavy sterling silver plate. The finish is exceptional; the grain of the curly maple absolutely glows through the shine of the wood's softly polished surface.
This is an intriguing looking pen with a short barrel that is meant to be posted. When posted, it is 5-3/4" long. It is a very heavy, thick pen, but it is extremely comfortable to use and it is very well balanced -- the weight of the pen rests comfortably in the V between the thumb and forefinger.
The image below shows the size of this pen relative to an Esterbrook J.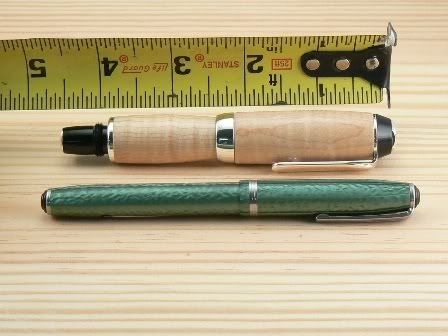 It has a medium steel-with-gold-mask nib and it writes on the fine side. It is a very smooth writer and always starts writing the moment the nib touches paper. I purposely did not write with it for several days and it still started writing with no hesitation. It uses short international cartridges; because of the length of the barrel, a converter does not fit.
Although I usually prefer lighter weight pens, I love this one and it has been inked continually since I got it. If you like thick, heavy pens, I highly recommend it. Even if you don't like heavy pens, I recommend giving this one a try. It just may change your mind, or at least become the one exception in your pen collection.
WTM Pens website:
http://www.wtmpens.com/index.html
Photographs by WTM Pens.