Introduction

I recently had an opportunity to act as an enabler by helping a colleague and friend of mine acquire a special custom fountain pen. This particular gentlemen has a very fine collection of writing equipments including models from almost all premier brands and certainly a few Parkers. But his heart was set on acquiring a classic all ebonite Duofold in glorious orange hues but with a contemporary filling system. Since such a chimera doesn't exist in the real world, we set about creating a pen that looks and behaves like a modern Duofold Centennial but with an orange ebonite cap and barrel with black finials. We approached Mr. Manoj Deshmukh of Fosforpens who was willing to take up the challenge.

Since this pen was meant for someone else. I didn't dip it or ink it to test the nib. Hence I wont call it a full review in the true sense of the term. Instead, let us consider this a  pictorial essay of the pen that was finally created.

Design

The Duofold is a classic design and has spawned innumerable variants and knock-offs for over ninety years ever since it first appeared in the scene circa 1921. Any fountain pen enthusiast is well aware of the design and words cannot express its simplistic but sophisticated elegance. So instead of subjecting my limited vocabulary to unnecessary stress, I will let the pictures do the talking.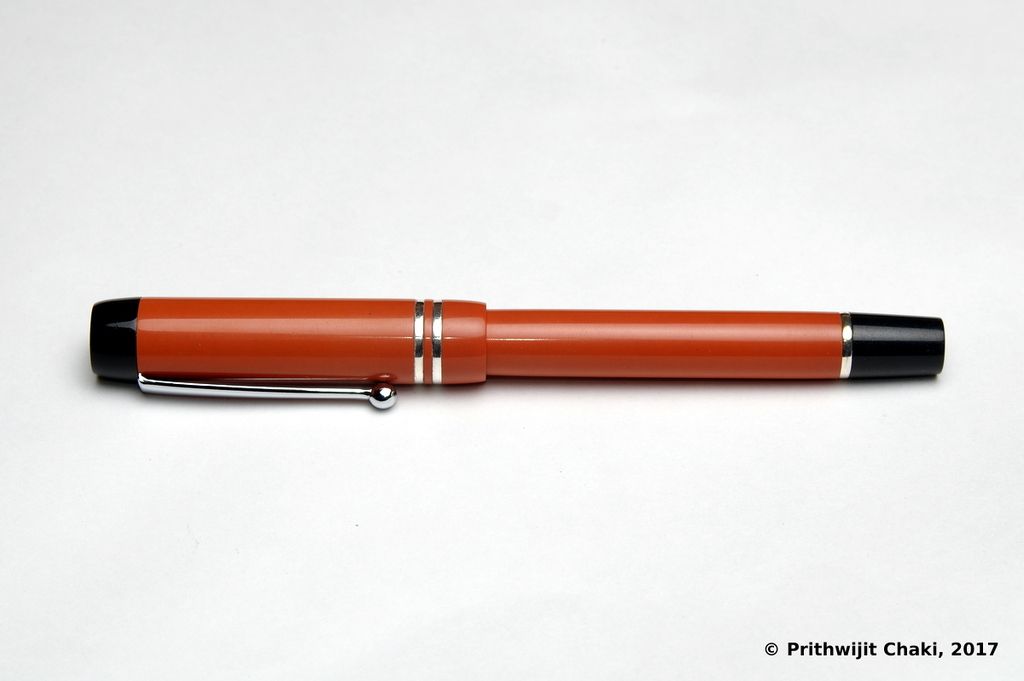 Size and Balance

At 137mm capped, the Duofold would be considered a mid-sized pen by contemporary standards. Being made of ebonite makes the delightfully light and easy to handle. It is superbly balanced and comfortable to write for extended periods. Even with the cap posted, the pen retains its balance and is a breeze to write with.  

For those of you who may seek a size reference, here is a side by side image with the Kaigelu 316 which is a clone of the Duofold Centennial.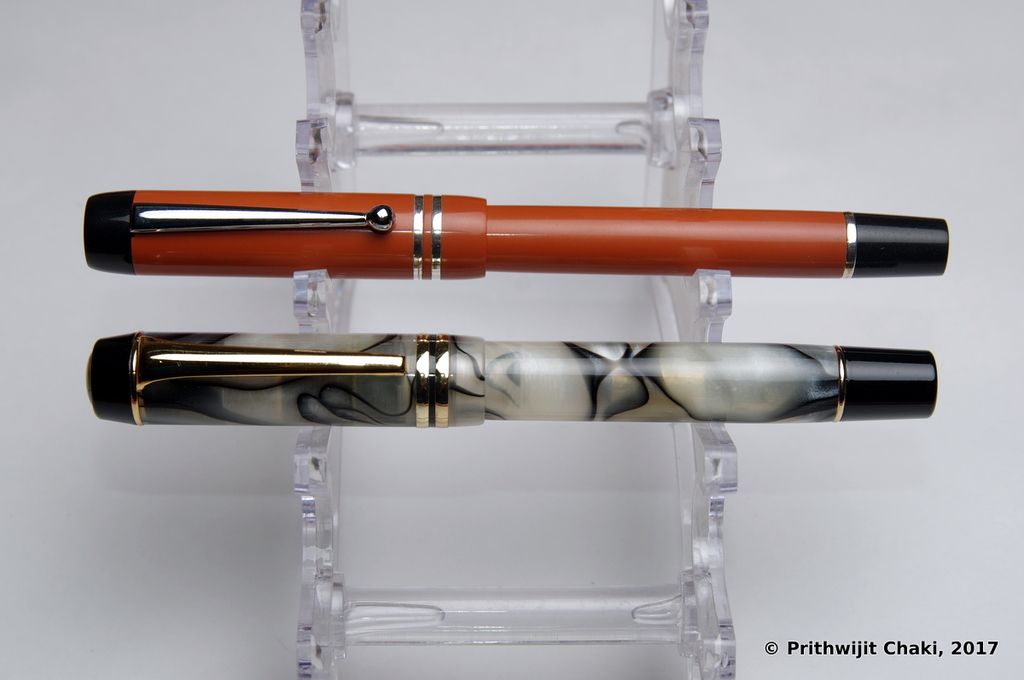 Nib

Since the gentleman in question already had access to other Duofolds, we didn't bother about getting an original nib for the pen. Instead he opted for a 18K Jowo #6 pen in rose gold finish with his initials engraved on the nib. This technique is different from the laser engraving I had done on my Rajendran and arguably better if the limited typeface options available do not bother you.
   




Filling Mechanism

The pen uses the standard international cartridge converter mechanism with a Schmidt converter paired with the WIN/Jowo nib unit. The section itself was custom made by Manoj. The pen can accept any bottled ink as well as cartridges from a host of brands.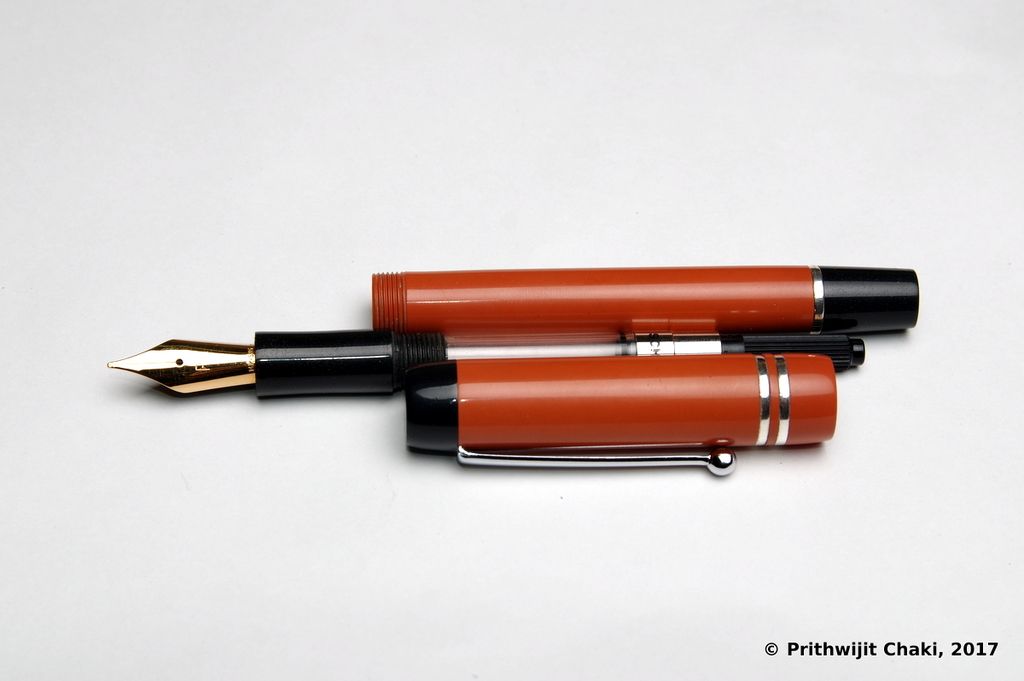 Build Quality

Manoj is synonymous with quality and he amply demonstrated that in this pen as well. All critical aspects of the pen such as the shape, fit, threading, buffing/polishing and the finish are impeccable and gives the overall impression of a high quality product.

Specifications

The measurements have not been taken with any precision instrument or laboratory techniques and should be considered as indicative only .

  Length (capped) – 137 mm
  Length (uncapped) – 130 mm
  Length (cap) – 63 mm
  Length (section) – 20 mm  
  Maximum width – 13.5 mm
  Maximum section width – 10.5 mm
  Minimum section width – 9 mm

Conclusion

I found the idea of this pen pretty intriguing. In one broad brush we have covered 96 years of Duofold legacy from its ebonite origins, big red lineage to contemporary evolution and amenities. The final product has certainly been able to fulfil its design brief. It is a classic mid-sized comfortable and well balanced writing instrument. The SEM ebonite and silver trims are wonderful thing to have and Fosfor quality and finishing comes through.   

Useful Links

Very good orange ebonite blanks can be sourced from http://www.ebonite-a...de/en/index.php
Jowo nibs of your choice can be sourced from www.asapens.in
Pen is made by www.fosforpens.com